The "system" is a two part process. The first part is identifying a universe of asset classes which look promising over the next three to five years. The second part is to rank the assets according to our momentum calculations and invest in those assets which are at the top of the chart. That way, the resulting portfolio concentrates on the portion of the investment universe which shows the most promise at any given time.
Obviously, this sort of investment system is predicated on the belief that the Efficient Market Hypothesis does not accurately describe the way financial markets actually work. It presumes that human emotions, in particular Fear and Greed, drive a significant portion of the investment decisions in the market and the result is trends of varying strength and duration.
In order to keep the universe somewhat consistent and to force me to think a bit harder, I decided to limit myself to just two changes per quarter (out of a 20 ETF universe).
I did not realize how hard that would be until I actually sat down to make the changes. The general observations that I made about my universe is that it was heavily weighted towards Asia, Emerging Markets and Equities.
Developed Markets
Sectors
Emerging Markets
Fixed Income
Currencies
Commodities
Leaving the Universe
The first step was to pick the ETFs that I thought were not adding enough to the universe and therefore we candidates for replacement.
My first reaction was to dump either SPY or FEZ on the grounds that neither was likely to make it into the top 3 anytime soon. I am concerned that they are too broadly based and therefore will not excel. But, with a more than heathy representation of Equity Emerging Markets in the universe, having these two probably gives the universe a good balance.
And what about dumping a couple of Emerging Markets ETF's? Even though the portfolio got a bit roughed up on TUR, I still believe that there will be profitable trades in Turkey in the coming years as that country develops a strong position for itself regionally. FXI also looked a bit ripe for ditching but China is now the second largest economy in the world, so that seemed a bit premature even though a decent slice of the profits made in China get recycled through Hong Kong (NYSEARCA:EWH).
Then Russia (NYSEARCA:RSX) came into the cross hairs. Although the ETF is largely a play on energy prices, I included it originally as one of the four BRICs economies. But in many ways, Russia is carving out a different economic development path from Brazil, India and China. And, its demographic profile is not appealing. Although China may face similar demographic problems in a decade or two, Russia is facing them now. Since I already have a Global Energy Sector (NYSEARCA:IXC) ETF, I think I can safely remove RSX and still get the exposure I want when (for example, now) energy prices are pushing higher.
The next candidate for removal is the Aussie Dollar (NYSEARCA:FXA). It is not that I think the Aussie Dollar is going to fall anytime soon. The fundamentals remain strong despite all the flooding and the government has a strong financial position to fund reconstruction. But the reason I included it was not as a currency itself but as a bet on commodity prices. So, it seems reasonable to go for more direct plays on commodity prices like Brazil (NYSEARCA:EWZ) and Base Metals (NYSEARCA:DBB) rather than wait for the changes to be reflected in a currency which will have limits imposed by various Central Banks.
Adding New ETFs
As I already hinted, I am planning to add Base Metals (DBB) into the universe. The ETF invests about a third each into Zinc, Aluminum and Copper and the prices of these metals have been soaring of late. That probably means DBB will not be in the top 3 in the short term if the underlying metal prices start to correct. However, if the inflation doomsayers are correct that all the quantitative easing will end up fueling commodity inflation, I want to be ready to pick up the ETF when prices starts to break out once again.
The other ETF I want to add is the High Yield offering with the memorable ticker: JNK. Since the High Yield market has done well in the last two years, the fundamentals are probably not going to be right for this one in the short term. However, I want to have a vehicle that will participate in the restructuring that will have to take place in the developed economies over the next five years. Traditional providers of fixed income capital will still be digesting the toxic assets from the Global Financial Crisis, opening up more opportunity for the High Yield Market as companies look to fund new investment.
Did I Consider Others?
I think the universe is a bit better balanced now with two fixed income and three commodity plays but I did consider a few other ideas.
I was tempted to swap GLD into SLV. However I was concerned that a big part of the reasoning was due to having made some good money last year in SLV. As a reality check, I charted the price of GLD divided by SLV. Unless there is a big surge in Gold, it seems that a lot Silver's catch up to a more historical relationship with Gold was achieved last year. There may be more to go but we are comparing two metals with different fundamentals (Silver has a broad industrial aspect than Gold) despite their shared history as stores of value.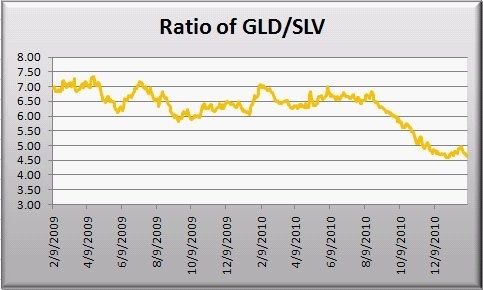 Prices from Yahoo Finance.
I also looked very closely at Poland as I think that is a much more promising long term prospect than Russia. However, I felt that I was pretty loaded up on Emerging Market Equities and that I needed more time to research the top 10 holdings in the two ETFs (EPOL and PLND).
Portfolio Update
The portfolio rose 3.24% last week to finish the quarter down 0.38%. Not a stellar performance to be sure but it is still early days in this "forward test".
EWW drops out of the top 3 (remember that we are bidding RSX farewell) and will be replaced on Monday close with our old friend DBA. I will make the universe changes during the week so if you click through, you should see the changes on our webpage.