With wheat (NYSEARCA:WEAT), cotton (NYSEARCA:BAL), corn (NYSEARCA:CORN), sugar (NYSEARCA:SGG), coffee (NYSEARCA:JO), and the broader agriculture sector (AGF, DAG, DBA) up as much as 250 percent in less than a year, there is no doubt commodities have led the way and will continue to be the center of much attention in the upcoming months. But after such huge run-ups, which have been spurred on by continuing global growth, surging global demand, and a very high degree of speculative buying - is the commodity play about to reverse course? Is it too late to get in?
Admittedly, I have been avoiding the commodity play even as it has continued to soar. Prices have been rising much too sharply for a cautious investor to simply jump in. And since I have been warning of a Gold bubble for a few months, I decided it would be best to avoid joining the overspeculation in the rest of the commodity markets as well. Yet while I have missed the boat thus far, as commodities have soared due to inflationary and demand-driven concerns, I believe we are currently at a saturation level and may be setting up for a sharp correction.
It is true that global demand is growing and that more food and supplies are going to be highly sought-after as the world and emerging markets continue to expand. But at what point can we separate the demand that's driven by real world needs and the demand that's driven by the speculation and expectations of global growth? In other words, much of the spike in commodity prices is due to investors and countries betting on prices continuing higher, rather than actual consumer demand for these products. And since prices may be high due to overspeculation, now may be a good time to at least be cautious, if not avoid the commodity play altogether.
I have already discussed why I think the precious metals space is weakening, and why we should avoid the gold (NYSEARCA:GLD), silver (NYSEARCA:SLV), palladium (NYSEARCA:PALL), and copper (NYSEARCA:COPX) plays among others (See "3 Ways to Play the Bursting Gold and Silver Bubble" or "Gold Bubble: Final Warning?"). But with the emergence of a wide variety of agriculture and commodity ETFs over the past few years, and the ease with which the common investor can now invest in these commodities, we are seeing very heightened speculative behavior by many market participants.
Here's why the commodity theme may be in danger of correction or reversal (click to enlarge images):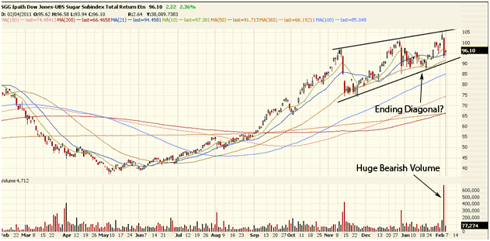 Perhaps there is no greater proof of a commodity price surge than in the case of sugar (SGG) and cotton (BAL). Both are up over 100 percent in less than a year, and have created much strain and potential future burdens on companies who use sugar or cotton in their products. In other words, the higher the cost for the inputs of these companies, the lower the profits these companies can make unless they raise their own prices. And besides for the fact that high commodity prices can severely slow growth, there is some technical weakness in these charts.
In order to understand the commodity markets, then, we can look at sugar and cotton as our main determinants of the overall commodity sector direction. And as you can see above, sugar may currently be in an ending diagonal - which will see price break down through the bottom trendline and enter into a steep correction. Considering we just witnessed a huge down day for sugar which was backed by huge selling volume, the correction may be upon us.
If we do the same analysis for cotton (BAL), we notice the same situation: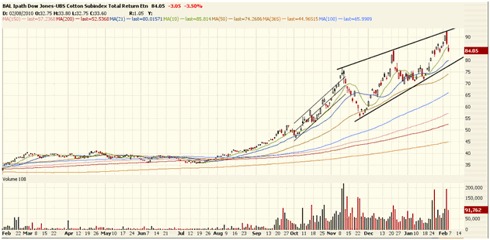 Also in an ending diagonal, and on an even sharper price ascent, cotton had two big down days last week on fairly large volume. Add to that the "outside day" or "bearish engulfing" in terms of candle patterns - which is a very prominent reversal pattern - and we may be right at the top before a severe downturn.
Paying close attention to sugar and cotton, as well as the broader commodity and agriculture sectors, over the next few days or weeks will be vital to predicting future market direction. If we continue seeing weakness, we may be in for some trouble. Our recommendation to investors would therefore be one of caution, profit-taking, and even some diligent short-selling. Inflation and continued demand could cause commodity prices to continue higher, but after such huge price run-ups, at such a critical juncture in global economic growth, and with such tremendous speculation currently involved in these commodity plays, we may be nearing a considerable correction. Caution is key.
Disclosure: I am short GLD. I am also short agriculture through DBA. I may initiate short positions in SGG and/or BAL in the next few days.