The Problem with Chinese Reverse Mergers Listed in the US
I visit this site often and enjoy reading the articles on Chinese companies, but I do not understand why there is so much focus on sketchy Chinese reverse merger (RM) companies.
It seems like every day, there are concerns raised about another OTC or NASDAQ listed RM. The Chinese generally cannot invest in companies listed on American exchanges, and the problem is that investors in Chinese RM companies are mostly Americans and other westerners. Because most of these western investors have never been to China (let alone seen the companies) and don't speak the language, there can be many uncertainties and risks, both real and perceived. Furthermore, the management of these Chinese RM companies are Chinese citizens operating in China, so they likely are not subject to U.S. jurisdiction and punishment if they commit fraud or some other illicit activity. This lack of oversight obviously encourages fraudsters.
Better Exchanges
Given this, I find it very puzzling that there is so much focus here on Chinese RM companies listed on American exchanges, and so little focus on Chinese companies listed on the Hong Kong exchange or the Singapore exchange.
Between the HK exchange and the Singapore exchange, there are over 2000 companies, most of them operating in China. Unlike the reverse mergers, which Americans personally know little about, HK-listed companies are vetted everyday by locals. Furthermore, management is subject to local law. The HK market is a lot more mature than the recent collection of motley Chinese RM companies.
Take OTCPK:CCME or UTA for example. These are hundred million market cap companies, yet they are still (strongly) buffeted by allegations of outright fraud. Is this some kind of joke? Who wants to deal with that nonsense? How can you do proper due diligence on these companies? It is very hard for someone here, thousands of miles away and not speaking the language. I have seen people invest in Chinese manufacturing RM companies only to have questions raised about whether the main factory exists. Are you going to travel to some dusty city to determine if the factory exists, and then watch its output for a month to determine the company's legitimacy? Probably not.
The better alternative is to invest in HK (or Singapore) listed companies.
Instead of worrying/speculating about whether the company exists, you can generally rely on HK-listed financials to help make an informed investment decision. The financials are available in English on the exchanges' websites. All the insider transactions are there too in English.
Your fellow investors are on the ground there, speaking the language, watching with hawk eyes, and management is subject to local law, so the risk of fraud (while always there) is much reduced. You will not wake up to a lame Muddy Waters report "your company does not exist."
There is no foreign exchange risk. The HK dollar is linked directly to the US dollar (and has been for decades) and will definitely not change to your detriment anytime soon. Trading in HK-listed equities is very cheap (typically 2-10USD for my trades) using discount brokerages (don't use eTrade, which costs >50USD for a HK trade).
Past Success Stories
Here are some success stories for HK-listed companies. They helped me outperform, but I certainly (unfortunately) did not participate fully in all of them, and they are not recommendations now.
Bonjour and Sasa - each up ~10x. These companies are like Sephora (a western cosmetics chain). Based in HK and expanding into the mainland.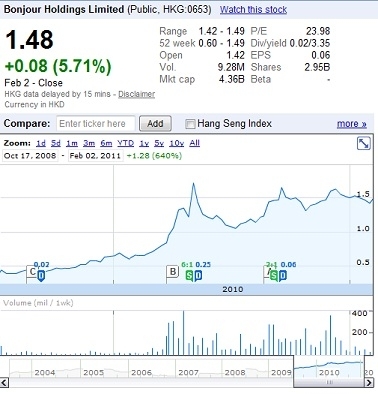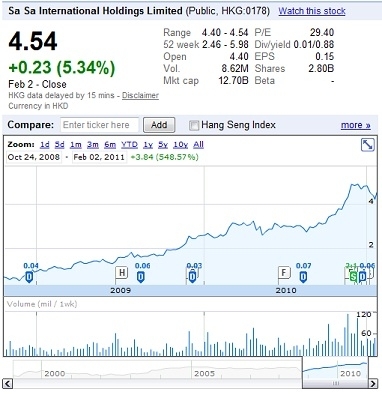 Luk Fook and Chow Sang Sang- each up ~10x. They are jewellers based in HK expanding into the mainland.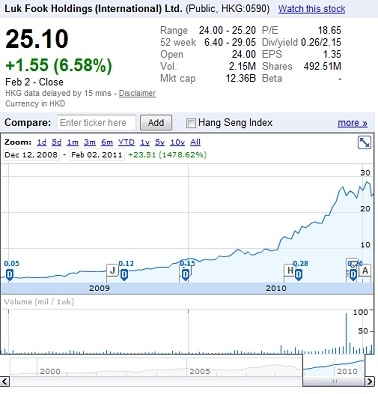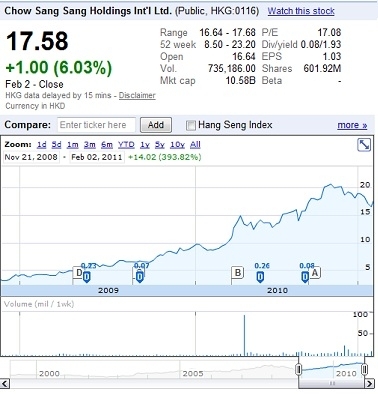 So those are 4 examples, but there are tons more. The beauty is that you know these are real companies. They have been around for many many more years as public companies than the Chinese RM upstarts. If you really want, you can buy a ticket to HK for 800 bucks and check out the foot traffic in many of these stores. Many are based in HK, but they are powered by mainlander buying power, so you are fully participating in China's growth.
By investing in HK-listed companies, you more effectively spend your time - determining whether you like the business, rather than figuring out if the business exists.
Royale Furniture (1198.HK) - Current HK-listed Favorite
Right now, my top HK-listed pick is Royale Furniture (1198.HK). Its most recent financial report is here, which is a pretty typical example of a report from a HK-listed company. As you can see, everything is in English.
The company manufactures upscale furniture and has been doing great. At some point, we'll have to worry about a housing bubble, but I don't think we are there yet. The company is expanding strongly into 2nd and 3rd tier cities where housing is strong and where the government isn't trying to cool the market. The exchange's website also shows continuous insider buying over the last few months. Despite the runup, it is still at a historically low P/E ratio. Momentum is strong right now.
SOKO Fitness and Spa - A Chinese RM exception - My Overall Favorite
Ironically, having said all that, my biggest position is still in a Chinese RM listed on the OTC here. Funny that. But SOKO Fitness and Spa (OTC:SOKF) is a very strong, consistent and good company.
They operate two segments: fitness centers and spas. They attract fitness members quickly, and cross-sell them to their nearby spas. Here is their latest presentation (.pdf).
Growth has been great and steady. 35% profit margins. ~25% ROE and ROA. Management has proven themselves by completely dominating Harbin (pop: 10 million), and now are quickly expanding to similarly sized and situated cities in northeastern China, where there is low competition. SOKO is also starting to open up spas in high-end hotel chains like the Westin in Beijing (ranked ~4th best hotel in Beijing by TripAdvisor).
They have close to no debt. It is 40% owned by the CEO, so while there was a round of financing a year ago, it has been net beneficial.
Importantly, SOKO's legitimacy and performance is easy to gauge - just fly into Bejing/Harbin and check out the foot traffic at their facilities. For other RM companies, it's easy to fake contracts, fudge numbers, over-report sales, or ramp up factories during arranged investor visits. But it is nearly impossible to fake strong foot-traffic during random walk-in inspections.
Furthermore, IDG Capital Ventures, the first venture capital firm to set up in China, took a 15% stake in the company last year. With it, they got the rights to an observer during their board meetings, so they have a close eye on the ground there. Apparently, IDG wanted a bigger stake but SOKO's founder didn't want to part with more (always a good sign), so IDG has been buying more shares on the open market for the last year. They now have a 20% stake in the company.
Global Hunter recently became the first analyst to cover the company, setting a $7 price target, representing a 50% upside. Here is their research note.
Conclusion
So I encourage you to broaden your horizons. It's easy to trade HK-listed securities, and it's a lot safer in many ways. Having said that, there are still some outstanding RM opportunities - just be careful. Good luck.
Disclosure: I am long OTC:SOKF. I am also long 1198.HK (Royale Furniture).