I invested through the internet boom and bust. I have seen, and unfortunately invested in, companies with astronomical valuations before. Many companies during that time never made a profit. Salesforce.com (NYSE:CRM) reminds me of the internet glory days. The difference is that Salesforce.com does make money.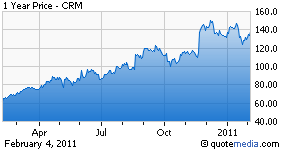 Salesforce.com provides customer relationship management software to businesses worldwide. The company offers unique solutions that can be customized to fit businesses needs. Salesforce.com provides many of its software applications through the "cloud". The cloud refers to groups of servers from which software is hosted. Businesses can access their applications through these servers instead of installing software directly to their own network. This allows businesses to essentially outsource much of their information technology. Salesforce.com has turned this into a highly profitable business.

The stock is widely regarded as being extremely overvalued. It is easy to see why when you look closely at the numbers. Shares of the company have been the target of short-sellers for some time now. The shorts continue to get burned, as shares have continued to soar. Over the past twelve months the stock has risen 120%. Bulls argue that the short-sellers don't understand the business and the growth prospects for the company. Bulls will point you to the 13.88x sales for which shares trade. Salesforce.com trades at a forward P/E of 118. The price to cash flow is even higher at 142x. Even though the company has an $18.1 billion market cap, it only generated $271 million in operating cash flow in fiscal 2010.

Here is a detailed look at the numbers for Salesforce.com
| | |
| --- | --- |
| Metric | CRM |
| Market Cap | 18.1 B |
| Forward PE | 118.33 |
| Dividend Yield | N/A |
| 5 Year Div. Growth Rate | N/A |
| Price/Book | 19.16 |
| Price/Cash Flow | 142.22 |
| Price/Earnings Growth | 9.25 |
| Return on Equity | 7.64% |
| Debt/Equity | 0.49 |
| Revenue TTM* | 1.55 B |
| Operating Cash Flow FYE | 271 M |
| Capex FYE | 54 M |
| Capex/Cash Flow FYE | 0.2 |
| 5 Year Rev. Growth Rate | 49.20% |
| 5 Year Cash Flow Growth Rate | 64.70% |
| Net Profit Margin | 6.18% |
| Current Assets | 1.19 B |
| Return on Assets | 3.28% |
| Long-term Debt | 466.85 M |
Data provided by Charles Schwab & Co.
*Data provided by I-Metrix

Salesforce.com has a stellar five year revenue growth trend and cash flow growth trend. The problem is this is coming off of relatively small numbers for a company that the market has valued so richly. Salesforce.com by almost all metrics is extremely overvalued.

With 9.88 million shares short, Salesforce.com has 10% of its float short. I personally do not short stocks. As the old market adage proclaims, "the market can stay irrational longer than you can stay solvent". Shares of Salesforce.com can stay irrational too. Although I don't short stocks, I do occasionally buy put options on stocks that I feel the market has overvalued. By using put options, I can define the amount of risk I am willing to take. This is the only way that I would recommend attempting to capitalize on Salesforce.com's rich multiple.

Salesforce.com is probably a great company. They have figured out a way to be very profitable in a competitive space. They may be the most promising company in the hot cloud computing space, but even stocks that survived the internet bubble saw their share of pain. I have a feeling investors that hold on too long in this stock will see their share of pain as well.


Disclosure: I have no positions in any stocks mentioned, and no plans to initiate any positions within the next 72 hours.