On January 14th, I made a bullish buy on Radient Pharmaceuticals (RPC). There I claimed that the company is worth $1.23 a share based on equity. Since then, the stock has fallen by almost 100%, so I decided to do a reanalysis.
A week later, the company got a delisting notice from the AMEX (American Stock Exchange). Subsequently, the shares plunged to $0.70 a share. In retaliation, the company's CEO expressed that he is confident that his company will be able to maintain listing when they appeal. He emphasized that the delisting notice was based on 3rd quarter balance sheet. Back then, they didn't meet the index's $4 million equity minimum, but after recent conversions of debt-to-equity, they will have approximately $21 million in equity. He also notes that they currently have 88 million shares outstanding. Plus, he commented on future spin-offs. Their subsidiaries are:
China-based subsidiary Jade Pharmaceuticals (JPI)
Approximately $27 million in revenue last year

Projected $35 million in revenue with approximately $10 million of that expected as earnings this year

Assets $17 million
NuVax
About $250,000 in assets (likely higher after spinoff)
He gives an approximate asset value of the entire company after spin-offs at $75 million. Using the current market cap of $23 million, that is over three times its current net worth.
Even using $21 million (RPC's approximate equity after swap) + $17 million (JPI assets) gives $38 million, $15 million or 65% more than current market. And even giving its net value to equal its market cap gives one times net worth.
Plus, if JPI has projected revenue of $35 million, RPC is selling for less than revenue.
Since then:
$8.4 Million Convertible Notes and Warrants Financing
Private Financing With Gross Proceeds of $7.5 Million
$900,000 Financing for Jade Pharmaceuticals
That is a total of $16.8 million in financing they received, about 73% of their market cap. Thus, if the stock continues falling, downside is limited. Market cap shouldn't be less than financed capital.
But to check if now is actually a good buying (or rebuying) point, I also refer to the technicals.
Click to enlarge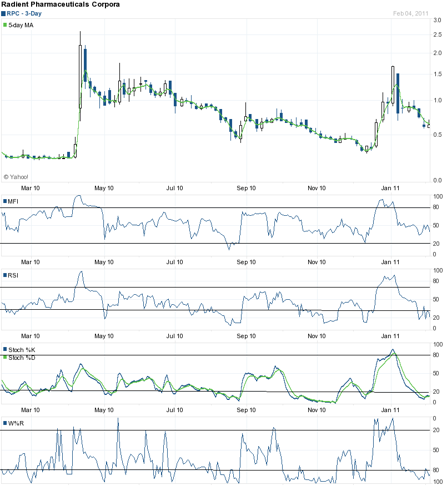 Click to enlarge
Source: Yahoo Finance
Top black line in each technical graph is overbought territory and the bottom black line is oversold territory.
The last time the W%R and the RSI were in oversold territory, and the %K and %D showed a bullish cross, was just before the stock price jumped, as indicated by a red line. The MFI was also low, although much lower than it is today. The technicals are again where they were before the jump. Could it happen again? Very possible.

Disclosure: I am long RPC.