On January 27th, I made a gutsy bet on the rejection of Orexigen Therapeutics (NASDAQ:OREX) obesity drug due to safety concerns. In the last line, I also recommended buying the stock after the fall, stating that "the drug still has promise."
A few days later, the drug got rejected by the FDA and the stock plunged 73%, more than I expected. Since then, the stock has risen over 44%. That means those who took my advice yielded a combined total of 117% in a matter of less than 9 days.
So I come to the question, "Is OREX still a good buy now, and how much further appreciation in the stock can you expect?"
I stand with my initial conclusion that the drug could be approved in the future after a safety study. And if the safety study shows promise, the stock will go back to about $9. The price before the panel decision, which propelled the stock to $9 a month ago, was $4.76. That would by a 31% upside. One can use that for a price target, since the "hope" that the drug would be approved was not present.
A big positive is that the FDA for the first time expressed the need for a new weight loss drug. "With the U.S. obesity rate for adults nearing 35 percent, the FDA has acknowledged the need for new weight loss drugs, and analysts expect any obesity drug reaching the market to have the potential to become a billion-dollar seller." OREX's drug may end up being the best available. Besides its safety concerns, it beats out the competition in new weight loss drugs.
Click to enlarge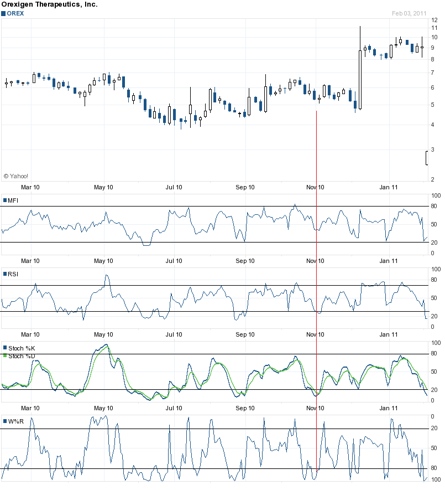 Click to enlarge
Source: Yahoo Finance
All technicals flashing a buy signal. Back in November, technicals were at a similar place and the price jumped not long after. Could it happen again? Possible.

Disclosure: I have no positions in any stocks mentioned, and no plans to initiate any positions within the next 72 hours.