The violence and political unrest in Egypt has pushed the WTI oil price above $90 USD per barrel and caused some to worry about a setback in the supply of oil, due to the possible closure of the Suez Canal. If that were to occur, it would disrupt the flow of oil to the west and cause energy prices to rise even further. Investors also fear that this trouble may spread to oil-exporting countries in the region which could push prices even higher and potentially slow down the global economic recovery.
While there are reasons to worry about a significant rise in oil prices due to political unrest, we like to make investment decisions that have a solid foundation on long-term fundamentals and also have the potential of capitalizing on speculative market-moving events. The price of oil was generally moving upward before the unrests occurred in Tunisia and in Egypt.
Many professionals believed that oil prices would break the $100/bbl mark in 2011 or 2012, with a few forecasting $200/bbl within a couple of years. Reasons provided for their views on a rising oil price ranged from an improving global economy that will demand more oil – think massive emerging markets like China and India – as well as ever-dwindling supplies of reservoirs in "easy" to reach places.
So, it all really boils down to whether the demand for oil will outpace the supply for oil, in the long-term. Companies involved in the exploration & production, drilling, refining & marketing will be affected by the rise in oil prices – either positively or negatively – and their bottom line will either benefit or suffer, depending on whether oil is their final product or an input cost in their operations. We would like to discuss some oil related companies that are likely to see their share price move from an oil price increase.
Companies that we think will benefit most are the Integrated Oil & Gas and the Independent E&P companies, whose production is more heavily weighted toward crude oil and less weighted on natural gas.
Companies that may be negatively impacted are those whose operations are dependent on crude oil as an input cost. For example, refiners purchase oil and refine it to produce gasoline, diesel fuel, heating oil, jet fuel, and other distillates. So far, many of the major companies with refining operations have been successful in passing on the higher input costs to consumers via higher gasoline and diesel prices. But the inflation push-through will not last long and refiners will be forced to eat a lot of the higher oil cost when demand falls off, pressuring already razor thin margins.
Also, the Integrated and Independent E&P companies whose operations are more weighted toward natural gas are not likely to see much of a rise in their share prices, since natural gas prices have remained depressed at less than $4.50/Mcf. Studying the fundamentals in the natural gas industry, indications all point to massive supplies of natural gas and sustained low natural gas prices. This is due to North American companies' very impressive cutting-edge technology that has extracted natural gas much faster in the shale regions. Now, many companies are looking at Europe to transfer their capabilities to shale in Poland and Russia.
Below is a list of companies from within the Energy & Extraction sector of the Russell 1000 that may benefit from rising oil prices. The table below illustrates 12 companies that we find attractive from this space based on The Applied Finance Group's Economic Margin and valuation framework which helps investors better understand the true profitability a company earns as well as identify firms trading at a discount to its intrinsic value. Companies that earn above their true cost of capital and look inexpensive according to the default valuation model have proven to be more likely to outperform benchmarks than companies that don't earn back their cost of capital and trade at a premium to its intrinsic value.
Along with an investment opportunity rating we have also provided a simple reason as to how rising oil prices could affect each firm. From the list below, we like integrated companies like Exxon Mobil Corp.(NYSE:XOM) and Hess Corp. (NYSE:HES). And we don't think that Unit Corporation (NYSE:UNT) (which is a drilling and E&P company but is heavily weighted in natural gas), Valero Energy Corp. (NYSE:VLO) and Chesapeake Energy Corp. (NYSE:CHK) will benefit as much from the rise in oil. All of these companies are attractive on their own merit, but if you are looking to profit from the specific rise in oil, we have provided a way of parsing this list further.
click to enlarge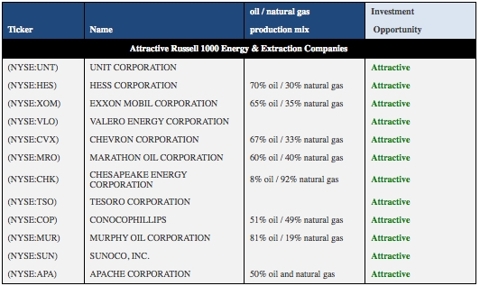 Disclosure: None