On Friday, VirnetX (NYSEMKT:VHC) turned up the heat in its patent litigation case against Cisco (NASDAQ:CSCO), Apple (NASDAQ:AAPL), NEC, and Aastra (AATSF.PK) by filing its first amended complaint. The document expands the lawsuit for VirnetX, which began litigation in the Eastern District of Texas in the fall of last year. The move demonstrates the company's confidence going forward as well as the pervasiveness of their security solutions in wide array of technologies.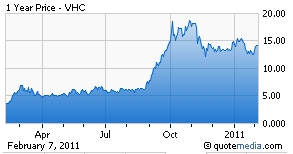 In the original complaint, VirnetX accused Apple of infringing on its '135 and '151 patents. This infringement centers around VPN-implementation used in the iPhone, iPad, and iPod Touch devices.
The new amended filing now suggests that Apple's products also infringe on several claims of yet another patent known as the '504 patent, titled "Agile Network Protocol for Secure Communications Using Secure Domain Names". The invention covers a system for providing a domain name service for establishing a secure communication link. Read more about this patent here.
VirnetX alleges several products utilize this patented system. These include Apple servers, the iPhone 4, iPod Touch, and Apple computers supporting and/or running the FaceTime functionality. FaceTime is an application that provides a simple way to place a phone call with video. Apple aims to sell 85 million FaceTime enabled devices by the end of 2011.
The significance of this amended complaint against Apple is significant. The iPhone alone has sold almost 100 million units. Altogether, the accused Apple products easily add up to tens of billions in sales. Even taking a small percentage of this revenue results in massive sums of unpaid royalties. VirnetX has now added another patent to which they may be entitled damages from Apple.
But Apple is not alone in having accusations against it modified. Aastra is now alleged to have several products infringing on the '504 patent. The initial complaint, however, only included the '135 patent.
Cisco is accused of violating four separate security patents. But now, many additional products appear listed as infringing under these patents, widening the scope of the case against the technology giant. These mostly include additional servers, switches, and routers.
Of course, VirnetX still asks the court for a preliminary and permanent injunction for all products to prevent further infringement. They also reiterate their request for a willful judgment against Cisco, which would treble damages if found guilty of infringement on any claim.
Just weeks ago, VirnetX also filed a separate case against Siemens (SI) and Mitel Networks (NASDAQ:MITL) accusing both firms of violating the '135 and '504 patents in their IP phones and other communication equipment. Both lawsuits follow a Microsoft (NASDAQ:MSFT) settlement earlier last year, after the company was found guilty of infringing VirnetX's intellectual property.
VirnetX's massive lawsuit just got that much bigger. Settlement rumors are pervasive, with over a hundred billion dollars in product sales easily involved in the case. VirnetX appears to have expanded this number even further. The recent aggressive maneuvering shows that VirnetX believes its case is larger and stronger than ever.
Disclosure: I am long VHC.