By Richard Bloch
Last week, I was talking to a friend who works at IBM. He's been there for a long time, has been purchasing shares regularly over the years, and was asking me what I thought about the company's future.
He probably knows better than me. After all, he works there. But I suspect he's thinking that he owns way too much stock in just one company – and he may be right.
He's probably not alone. Many employees of publicly traded companies get discounts on stock purchases (subject to some restrictions as Doug Carey notes here). But just from a diversification standpoint, it starts to get risky if you don't hold other assets to balance your portfolio. (Just ask anyone who got employee discounts on Enron stock.)
With IBM at all-time highs, should my friend lighten up his holdings? And if so, by how much? I don't give specific advice like that, but I did review the company's recent earnings reports and their future plans to see if the stock has potential for further upward moves.
Targeting $20 in earnings per share
Currently, IBM trades at a forward PE ratio of around 11 based on consensus earnings estimates of $14.43 for FY 2012. At an investor meeting back in May, the company announced its objective to reach earnings of $20 per share in 2015 – and reaffirmed that objective in its last earnings conference call (transcript here).
If the PE simply remained at 11, that implies that the stock could be worth as much as $220 by then, perhaps more if the PE rises or the company beats its own goal.
Can they do it? While IBM is a 100-year old firm known to most people as a "computer company," the executive team has been shifting its focus away from hardware to concentrate more on higher-margin software and services.
This chart from the company's 2009 annual report (PDF) shows the difference in pre-tax income by segment from 2000 to 2009. (I made a few modifications to the chart to make it more presentable in this blog.)
Note that additional pre-tax income in 2009 compared to 2000 came largely from these higher margin software and services sectors. That seems to have made an impact on margins as you can see on this chart from the same report.
Yes, it's hard to read the chart, but it's not necessary to read the numbers to see what's going on. While the green bars (total revenue) remain fairly steady over the 2000 to 2009 time frame, the earnings (orange bars) have been rising – as has pre-tax income (white line) and free cash flow (black line). That shows the impact of focusing on higher margin businesses.
Paid to wait
Other smaller tech companies, such as VMWare (VMW) for example, have much higher forward PE ratios (VMWare's is around 39). That could indicate investor expectations for faster growth. But unlike those smaller companies, IBM pays a dividend. In fact, they've paid a dividend each quarter since the 1920s.
Yes, it was certainly scaled back substantially when the company ran into trouble back in the early 1990s, but since 2000 – and especially since 2005 – the dividend has been growing. Here's the dividend and yield based on market price since 2000: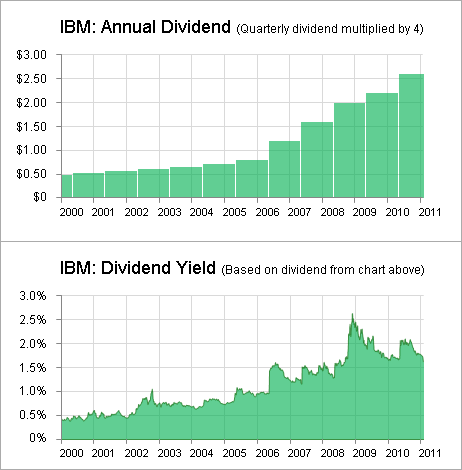 Right out of the (big) blue
Obviously there's a chance the company won't meet its goals. I've listened to a few of the past conference calls where analysts continue to ask questions about margins. If they slip, or earnings targets get missed, the stock could slip, too.
And right out of the (big) blue, anything could happen – accounting irregularities, impact of international exposure, or even a CEO resignation. Consider that after the resignation of its CEO, Hewlett-Packard (HPQ) now trades at a forward PE multiple of around 8. If IBM traded at that level, the stock would fall from around $159 to $118.
So the question of my friend remains: Hold on to IBM – or sell some or all of it? For an employee (or anyone else) who may have accumulated a significant position over the years, what's the best option?
Well options actually provide a way to reduce risk, while still allowing for a bullish bias on the stock. I will outline a few strategies for doing so in my next post on IBM.