In the latest installment of "Best in Breed Dividend Stocks: Core Holdings for the Long-Term Investor," I identified Pepsico, Inc. (PEP) as the Best in Breed stock in the Consumer Staples sector. This choice immediately ignited the age old debate: Coca-Cola (KO) or Pepsi? Let the cola wars began anew.
Judging by both the comment section and my inbox, choosing Pepsico over Coca-Cola is akin to being a Clippers fan in Los Angeles. You are in the right city, just rooting for the wrong team. Why would I build a franchise around Blake Griffin when I could have Kobe Bryant?
Before I take the bait, let me state the obvious. Coca-Cola and Pepsico are both fantastic companies. Any investor would be hard-pressed to find a more consistent long-term holding. I would love to own both of them, but I like to build a full position in one before jumping into another. Additionally, I think Pepsico offers a more attractive entry point at the moment.
Let's run these two soft drink giants through the T20YM gauntlet:
Round One: Consistent Long-Term Dividend Payments:
Both companies are part of the elite Dividend Champion Club, raising their dividend payments for over 25 years. Coca-Cola has a slight advantage in this category with 48 year of increases to Pepsico's 38 years. Let's be honest, both of these payment histories are impressive, putting both companies in the top 50% of American corporations on the list. Still, this round has to go to KO.


Round Two: Dividend Growth Rate
Dividend Growth Rates are one of the most important factors I look for when evaluating long term holdings. T20YM uses seven-year historical averages when determining ratios. In this category, Pepsico has the clear advantage, increasing its dividend payment by an average of 17.3% over that time frame. Coca-Cola has a respectable DGR of 10.4% over the last seven years. This is good, but considerably less than Pepsico. This round easily goes to PEP.



Round Three: Dividend Payout Ratio
A low dividend payout ratio is essential for a dividend growth investor. The lower the ratio, the safer the dividend payment is. Additionally, lower DPR allows the company to increase its payouts at a consistent pace. In this round, Pepsico has a clear advantage with a seven-year average Dividend payout ratio of 40.6% compared to Coca-Cola's 52.3%. Additionally, Coca-Cola has been over 50% for five straight years. So this is not an anomaly. Again, this round easily goes to PEP.


Round 4: Return on Equity
When evaluating long-term investments, one of the most important metrics I use is Return on Equity. Companies that consistently provide investors with 15% or greater ROE have a proven sustainable competitive advantage over their competitors. The average ROE for an American company is 12%. Both PEP and KO excel in this metric, but again Pepsico has a commanding advantage. Pepsico's seven-year average ROE is a staggering 33.4%, crushing the 12% average of the normal American company. Coca-Cola also has an impressive seven-year average ROE of 30.1%. Still, a few percentage points can add up quickly over an investment's lifetime. Again, this round goes to PEP.

Round 5: Sustainable Growth
Warren Buffett used the average rate of return on equity and average retention ratio to calculate a company's sustainable growth rate. The SGR is used to calculate the book value per share in the future. Dividends paid are added to the probable future price to calculate the total gain. We are looking for companies with consistent and predictable earnings. This formula allows us to model future growth. Again, we are looking for companies with a greater than 13% Sustainable Growth Rate. Both companies beat this benchmark, with Coca-Cola coming in with a seven-year average of 14.4% and Pepsico offering a SGR of 19.8%. I realize I'm starting to sound like a broken record, but again, this round clearly goes to PEP.



Round 6: Durable Competitive Advantage
What I mean by this is we are looking for companies with large competitive moats, with high barriers of entry and strong brand equity. Since Coca-Cola has one of the strongest brands in the entire world, I think this is going to be a short section. Additionally, Coca-Cola has global exposure and is clearly the "it" drink. This round handily goes to KO.

Round 7: Discount to Average Price to Earnings Ratio
Simply put, I am looking at companies that are historically undervalued. I realize this isn't a perfect metric, as there is usually a reason behind the multiple assigns and equity. Coca-Cola's seven-year average P/E ratio is 19.1; it is currently trading at 19.2, meaning that it is in line with historic averages. Pepsico's seven-year average P/E ratio is 18.9, while it is currently trading at 16.1, meaning it is currently cheaper than Coca-Cola and trading at a discount to its historical average. Advantage: PEP.


Round 8: Balance Sheets
Both companies offer investors secure balance sheets. Coca-Cola offers one of the strongest balance sheets in the DJIA, with a LT Debt/Equity ratio hovering just above 1%, while Pepsico is creeping closer toward 1%. Neither of these balance sheets are anything to worry about, but Coca-Cola is clearly safer long term. This round goes to KO.


So after eight rounds, let's tally the score.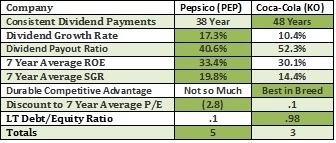 All metric-driven statistics lean heavily in

Pepsico's favor, while Coca-Cola takes Brand Recognition and balance sheets. I would call
Consistent Dividend Payments a wash, but I'll give it to KO on merit. That leaves us with a score of 5-3 in favor of
PEP. Clearly Pepsico is not the Clippers of the soft drink world; as of right now, I stand by my initial statement that PEP is the Best in Breed of the Consumer Staples Sector.
Disclosure: I am long PEP.