W.R. Berkley (NYSE:WRB) has been one of the most consistent long term book value growers I have seen. Since 2000, they've grown book value at a rate of 17.9% annually, with only a slight decrease in one of those years. This is a testament to CEO William Berkley and his tremendous leadership through the years. If you're looking for steady, conservative growth from an insurer, WRB is a name you should give serious consideration to. However, at these valuations your upside may be limited.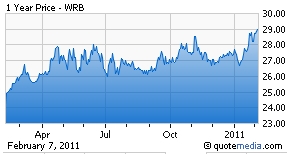 Like some of the other insurance stocks I've examined lately, WRB is near 52 week highs. They reported Q4 and full year 2010 earnings on February 2. Q4 EPS was $0.85 and full year was $2.90. Book value came in at $26.26.
When trying to value insurance stocks, the first thing I look at is price to book. In general, and barring out of the ordinary circumstances, I'm a reversion to mean kind of guy. Because of that, I compare ratios and results over the last ten years. This doesn't work with all companies, especially when there have been serious shocks or major acquisitions or divestitures, but it's a good general policy. If a company has had a serious change, it would be difficult to value anyway. For W.R. Berkley, the ten year average P/B is around 1.5. They're a respected insurer, and that's a slight premium to their competitors. The current ratio is 1.1, suggesting the stock price is undervalued. The relative ratio to the historical level is not as extreme as some of their competitors, but this is because W.R. Berkley has taken a conservative approach through the years. Should another downturn occur, they would help protect you on the downside, but not give you as much upside if the economy continues to improve.
The second thing I always look at is the combined ratio. This is a measure of underwriting profit. This figure doesn't exist in a vacuum, though, and this is where the reputation of an insurer's management is important. For example, W.R. Berkley is a conservative loss estimator, other insurers are not. Just because the combined ratio is good today, if an insurer hasn't properly reserved or priced their policies, there can be unexpected shocks in the future. W.R. Berkley actually released $0.24 share from their reserves in Q4.
Their current combined ratio is 94.1%, if not for the reserve release, it would have been 99.6%. Again, looking back at their historical levels, we can see that the combined ratio has been rising, which is not a positive sign. To pick one trend year out of a hat, they were at 88.1% in 2007.
Let me touch on some positives. W.R. Berkley has continued to buy back stock and in 2010 purchased $130 million at an average price of $27.19. Like other insurers, they have been generating a healthy amount of free cash. Over the past four years, they've repurchased 30% of their float. That's impressive. For pricing, premium rates have been poor, but management expects improvement going forward. W.R. Berkley has less exposure to catastrophe coverage, so they should have smoother results, which are attractive to many investors.
On the risk side, the entire industry has been beaten down at the prospects of high future inflation. Any business where you collect money today, and pay it out tomorrow will be hurt by a quick rise in prices. This should be a primary concern for any investor in the sector. A double-whammy would be the collapse of the municipal bond market in particular, and the bond market in general. This is where insurers play and if there are losses or if inflation erodes the real returns on their investments, they'll be hurt both at the loss payouts and on the investment side. More specific to W.R. Berkley, they've been showing an underwriting loss on their international operations, with a combined ratio at 102.2%. Prices there really haven't been good since 2007.
For a general price target, I come up with a current range of $26 to $34. At $29, they're pretty much in the middle of that range. I came up with the lower end of the range by applying their historic P/E of 9 to earnings. The higher end is taking book value and applying a multiple of 1.3. This is slightly below their long term average, but they also aren't performing as well as they have in the past. If you want to look a year out, you'll want to consider that historic book value growth of 17% and the reversion back to their historic P/B level to come up with a figure.
With that, you're looking more at a range around $40. It should also be noted that their P/E typically runs a bit higher during times of depressed earnings. I'll leave it to you to determine whether that currently applies. Either way, the stock seems to be slightly undervalued, but it certainly does not have a large enough margin of safety for my tastes. As much as I like W.R. Berkley's management, there are better options out there in the insurance industry. For other ideas, take a look at some of my other columns.
Disclosure: I have no positions in any stocks mentioned, and no plans to initiate any positions within the next 72 hours.