A Superb Quarter from Wayside Technology Group
The strangely named Wayside Technology Group (NASDAQ:WSTG) markets software to software development and information technology professionals in the United States, Canada, Europe , and Latin America. It operates in two segments, Programmer's Paradise and Lifeboat. The Programmer's Paradise segment sells to individual programmers, corporations, government agencies, and educational institutions. The Lifeboat segment distributes technical software to corporate and value-added resellers, consultants, and systems integrators.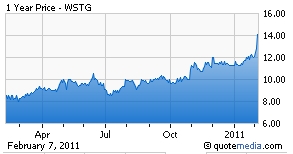 The company is a small player in the software marketing arena. In many cases it profits by covering market segments that the larger players do not deem large enough to pursue. As such, it must operate with focus and flexibility. It lists two customers as accounting for more than 10% of sales in its most recent 10-K filing: CDW Corporation (10.5%) and Software House (10.7%).
Wayside found itself in an unfortunate situation in 2007-8. It had same great success selling VMware (NYSE:VMW) software in the initial roll-out. At one point, about 30% of its revenues came from that single source. But then, other sellers entered the market, cutting margins to the point where WSTG no longer wanted to participate. The company exited its relationship with VMware, but as a result saw a drop in sales and earnings. WSTG seems to have learned a lesson and now states in its 10-K that "We believe that effective purchasing from a diverse vendor base is a key element of our business strategy".
WSTG was founded in 1982 and went public in 1995. WSTG has been conservatively managed over the years and has a solid record of earnings and cash flow over the last 8 years, even with the VMware blip. In its most recent quarter, revenue was up 54% from the prior year and income from operations was up 79% This followed a prior quarter which was also strong. It is likely that a good portion of this recent growth is coming from pent-up demand that developed during the economic downturn. But the company also appears to be doing a number of things right.
In their earnings statement, WSTG states:
"The fourth quarter of 2010 was a tremendous success for us," said Simon F. Nynens, Chairman and Chief Executive Officer. "Our continued high growth rate shows that software publishers and our customers are exceedingly satisfied with our service model, as we continue to expand our offerings."


"Sales for both segments showed strong growth. The increase in net sales for the three months and full year results for the period ended December 31, 2010, compared to the same periods in 2009, was mainly a result of our continued focus on the expanding virtual infrastructure-centric business, the addition of several key product lines, and the strengthening of our account penetration."
WSTG opened a European office in 2010, which is already profitable, and is planning to open one soon in Asia. Management also disclosed increasing activity in Latin America in recent periods on the earnings conference call.
I have owned shares in WSTG for a number of years. I added on the most recent earnings report. WSTG is selling at about 14x trailing earnings, and has a price to sales ratio under 0.5. WSTG has had a history of strong profitability even during the recent economic downturn with trough earnings of 0.65/share. With an improving economy, increased sales outside the US, and expanded offerings, I think WSTG earnings could grow by 15%/year or more over the next few years.
Over the last two quarters alone, WSTG has made approximately $3.6 million in income from operations. The company has an outstanding balance sheet with $15 million in cash and marketable securities and no long term debt. WSTG pays a good dividend, currently at 4.5%. It has increased its dividend payout by 20%/year over the last 5 years. WSTG has a very good level of insider ownership with the CEO owning 8.3% of the float and total insiders owning 27.4%. I prefer companies with good levels of insider ownership since this helps to align management and shareholder interests.
Disclosure: I own shares in WSTG in individual accounts and accounts managed for Freedom Mountain Investment clients.