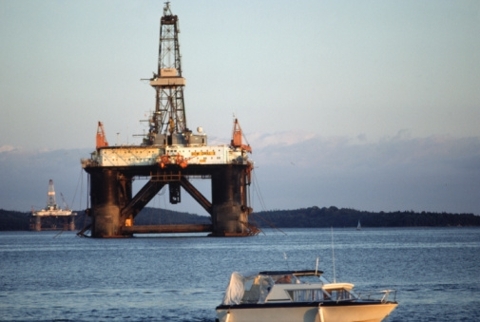 Oil drilling ETFs are moving big today after a blockbuster merger webt through, creating the world's second-largest offshore driller.
Offshore drilling specialist Ensco (NYSE: ESV) said on Monday that it would acquire Pride International (NYSE: PDE) of Houston for $7.3 billion in cash and stock.
According to Andrew Ross Sorkin for DealBook, the merger will create the second-largest offshore driller in the world with 74 rigs around the globe. The combined company will have 21 ultra-deepwater and deepwater rigs.
The deal had an impact on several energy-related ETFs in early market trading. HOLDRs Market Oil Service (NYSEArca: OIH) is up 1.5% so far today – Ensco is 3.9% of the fund, which has just 14 holdings in total.
Ensco's deal is thought to be the first of many mergers among drillers as a rig-building boom kicks off, say Joe Carroll and Meera Bhatia for Bloomberg.
The anticipation of such a boom has other oil-services ETF trading up today, too. SPDR S&P Oil & Gas Equipment & Services (NYSEArca: XES) is up 2.5% today, though it doesn't count Ensco as a holding in any amount. Likewise, PowerShares S&P SmallCap Energy (NYSEArca: XLES) is up by the same amount though it doesn't own Ensco.
Tisha Guerrero contributed to this article.
Disclosure: None