The stock ticker formerly known as J(ust) D(on't) S(ell) U(s) continues its revival as 'Internet Revolution 2: The Mobile Strikes Back' is bringing back a lot of the 1999 names. JDS Uniphase - the poster child for NASDAQ excess in 1999 - reported a stellar quarter with raised guidance, and the stock has gained nearly 25%. I first mentioned the name on the site almost a year ago around $11 [Mar 1, 2010: Fantastic Action in Small and Mid Cap Networking Space] and again a month after [Apr 6, 2010: Just Don't Sell Us Continues Lazarus Like Move] near $13.

This is the highest the stock has traded since 2006, and anyone who has held from the top in 1999 is probably only down 86% after this move up.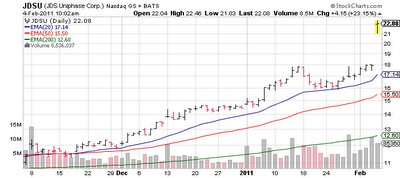 JDSU is taking other optical networking names such as Finisar (NASDAQ:FNSR) and Ciena (NASDAQ:CIEN) right up with it.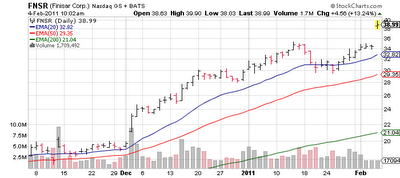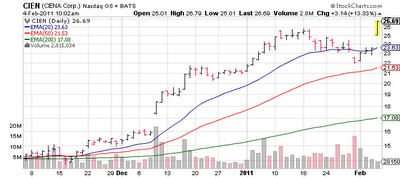 JDSU came in at $0.29 v expectation of $0.19 EPS, and revenue jumped 38% to $473.5M vs expectation of $438.6M. Gross margin jumped nicely to 48.8% versus the year ago 44.6%, and quarter ago 47.4%.
Test and measurement product revenue was up 27% from Q1, and up 30%, year over year. Communications and optical products revenue was 14% from Q1 and up 70% from the prior-year period.
Guidance change vs analysts $420.8M.
For the third quarter of fiscal 2011, ending April 2, 2011, the Company expects non-GAAP net revenue to be in the range of $440 to $460 million.
Full report here
JDSU (NASDAQ:JDSU - News) enables broadband and optical innovation in the communications, commercial and consumer markets. JDSU is a leading provider of communications test and measurement solutions and optical products for telecommunications service providers, cable operators, and network equipment manufacturers.
Disclosure: No position