The main thrust of this analysis is concentrated in three parts. The first two parts are based on free cash flow (current and historical) and the third is based on historical price action as a gauge of investor sentiment.
The three methods used in this analysis are:
Price to Owners Earnings (OE) = Current and future analysis
Cumulative Owners Earnings (COE) = Historical analysis of owners earnings
Statistical Indicator Analysis (SIA) = Historical price action
For those new to this analysis please link here for an introduction:
The main goal of my analysis is first to determine a sell price. With that in mind, we attempt to buy the stock at half its sell price and then hold it for 5 years (provided that no macro- economic negative catalysts force us to sell). Due to the fact that we bought it at par, we can potentially achieve an average annualized return of 15% per year. This may enable us to double our money every 5 years. Occasionally we do find a stock that is not selling at par, but is actually selling at a discount. When this happens, gains are usually higher.
Analysis of Hewlett-Packard (HPQ)
Hewlett-Packard is not a boring company, as far as the press is concerned. More than that, the news that has come out on the company over the last two years is more fitting for the National Inquirer and People Magazine than it is for Forbes and Fortune magazines. Everyone knows about the scandals and the tug of wars with Larry Ellison and Michael Dell, but as far as I am concerned all this created the buying opportunity that I was waiting for.
From our point of view, the company is a well oiled, finely tuned race car, which can be attributed to the culture that was put in place many decades before by Mr. Bill Hewlett and Mr. David Packard and by the excellent employees currently working for the company. You don't put up the kind of Owners Earnings (OE) numbers that Hewlett-Packard does because of a CEO, but because of the firm's employees, who no one seems to talk about. As such, this article is dedicated to the employees of Hewlett-Packard, who as a shareholder, I am proud to partner with and who must have been overjoyed when their CEO got kicked out, as they now have a killer new CEO who came from a no nonsense serious corporate culture in his previous job. Also, having one of the best CEOs in history, Meg Whitman, sitting in the Director chair is nothing to sneeze at either.
Here is an analysis of Hewlett-Packard using my proprietary Mycroft Research (MR) System.
The following is an Owners Earnings (OE) table of Hewlett-Packard from 1973-2011 (with estimates):
click to enlarge images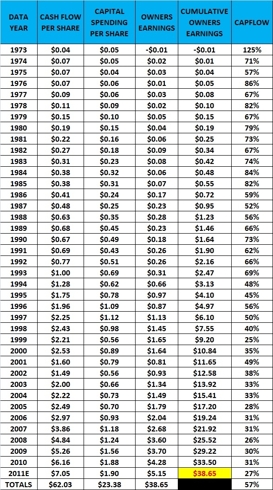 If you look at the last five years (2007-2011E) of Owners Earnings (OE) and Cumulative Owners Earnings (COE), you will notice that HPQ has been knocking the cover off of the ball, generating over $44.60 billion in OE. Apple (AAPL), for the same (2007-2011E) years, will come in with $43.351 billion, but Apple is currently selling for a market capitalization of $324 billion, while HPQ is selling for $105 billion.
This massive accumulation of OE over the last five years is proof that the company is doing very well on Main Street and that the analyst community has got it totally wrong on this stock. The numbers never lie, so with HPQ expected to have OE per share of $5.15 a share in 2011, the stock is trading at 9.34 times Monday's closing price of $48.14 and that is a steal in my book.
How is this possible? Well, most investors operate on pure emotion while most analysts look at the future only (What have you done for me lately?) and totally ignore the past. History plays a large part in my analysis as I am trying to focus on consistency, which is one of the most important points to look for, according to my idol Philip Fisher.
Consistency can be measured in two ways. Here are the charts for each:
CapFlow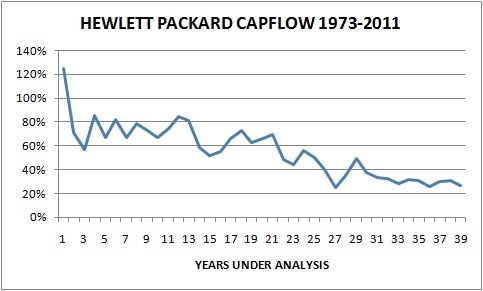 Cumulative Owners Earnings (COE)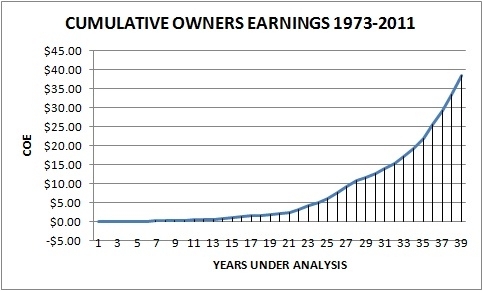 A measure of a great investment is not how the stock performed today or how it is expected to perform tomorrow, but how it performed in the past as well. Analysts tend to throw the baby out with the bathwater when a company misses their expectations; with individual investors as a group doing little if any analysis on their own, a scenario is created that unfortunately leads to increased market volatility. In the end, this volatility creates a buying opportunity for those who look at the world with a long term view, based on a proper balance of historical and future analysis.
The Ancient Greeks used to say that to live a great life, you should practice moderation in everything. Unfortunately, in the world of flash trading this is not so common. I created Mycroft Research based on the four legged chair of Graham/Fisher/Buffett, with the fourth leg being my SIA (which measures investment sentiment). To read more on how to use my SIA in your own portfolio allocation strategy, see here.
In order for this article to not end up the size of a doctoral thesis, let us determine our two OE sell prices before we move on to my SIA analysis of HPQ. We like to sell at 30 times our Price to Owners Earnings (P/OE), so at 30 X $5.15, we get a P/OE sell price of $154.50. I like to sell at two times my COE so 2 X $38.65 = $77.30.
SIA Analysis of Hewlett-Packard
The following are my SIA charts for HPQ: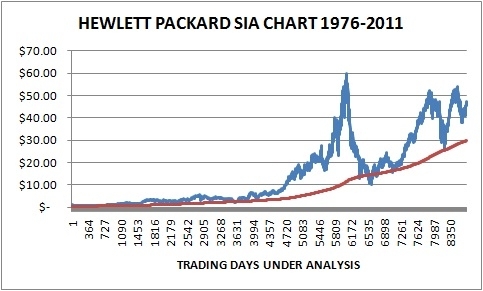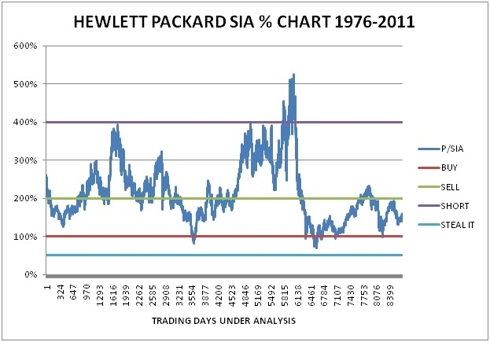 As you can see from the charts above, an investors has had multiple opportunities to buy, sell and short HPQ over the years, even though the company has been a strong consistent performer on Main Street. Unfortunately, Investor Sentiment is based on pure emotion and little research, so if you take the opposite position of the crowd, then the odds will be with you in the majority of investments that you make. I created SIA to give the pro, as well as individual, investors the power to look through the matrix of the market and learn to react accordingly.
Unless you are dollar cost averaging every month as a passive investor, if you are going to be an active investor you need to be vigilant. SIA, with the help of my Mycroft Research (MR) System, incorporates quantitative analysis, qualitative analysis and investor sentiment all in one final buy and sell price. Our current SIA for HPQ is $29.82, so since we like to sell at two times our SIA we have 2 X 29.82 = $59.64.
So we have the three sell prices and can now determine our final sell and buy prices.
P/OE = $154.50 (30 times OE per Share)
COE = $77.30 (2 times COE)
SIA = $59.64(2 times SIA)
Total = $291.44/3 = $97.14= Sell Price
Buy Price = $97.14/2 $48.57 = Thus HPQ is a Buy
Disclaimer: Always remember that these are the results of our research based on the methodology that I have outlined above and in other articles previously published. This research is provided as an educational tool and should not be considered investment advice, but just the results of our research. There are many ways to analyze a stock and you should never blindly follow anyone's work without doing your own due diligence or by seeking the help of an investment advisor, if you so need one. As Registered Investment Advisors, we see it as our responsibility to advise the following: We take our research seriously, we do our best to get it right, and we "eat our own cooking," but we could be wrong. Please note, investments involve risk and unless otherwise stated, are not guaranteed. Past performance cannot be used as an indicator to determine future results. Strategies mentioned may not be suitable for everyone. We do not know your personal financial situation, so the information contained in this communiqué represents the opinions of Peter "Mycroft" Psaras, and should not be construed as personalized investment advice. Information expressed does not take into account your specific situation or objectives, and is not intended as recommendations appropriate for you. Before acting on any information mentioned, it is recommended to seek advice from a qualified tax or investment adviser to determine whether it is suitable for your specific situation.