Brinker International Inc. (NYSE:EAT) primarily engaged in the ownership, operation, development and franchising of various restaurant brands, posted second quarter 2011 results on January 25, 2011.
The company's adjusted earnings for second quarter 2011 outperformed the Zacks Consensus Estimate by 6 cents on the back of continued margin expansion at Chili's and top-line growth at Maggiano's. The recent earnings announcement, subsequent analyst estimate revisions and the Zacks ratings for both the short-term and the long-term outlook for the stock are covered in depth below.
Earnings Report Review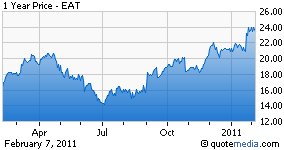 Total revenue dropped 4.8% year over year to $671.9 million and missed the Zacks Consensus Estimate of $673.0 million. The year-over-year decline in revenues was due to sluggish same-restaurant sales. The system wide comparable-restaurant sales fell 3.7%.
Comparable-restaurant sales at company-owned restaurants declined 3.5% and franchised restaurants decreased 4.1% year over year during the quarter. By restaurant concepts, comparable-restaurant sales fell 4.9% at Chili's Grill & Bar, but rose 4.7% at Maggiano's. Chili's Grill & Bar restaurant experienced a 7.1% drop in traffic, whereas Maggiano's restaurant traffic rose by 5.7%.
Restaurant operating margin improved 210 basis points (bps) year over year to 17.4%, driven by contraction in restaurant labor and expenses.
(Read our full coverage on this earnings report: Brinker Beat EPS, Misses Topline)
Earnings Estimate Revisions: Overview
Following the second quarter earnings release, the Zacks Consensus Estimate for the company has increased; implying that the analysts covering the stock have an optimistic view on the stock. The earnings estimate details are discussed below.
Agreement of Estimate Revisions
Over the last 30 days, out of 20 analysts, 12 have upped their estimates for third quarter 2011 and 4 has slashed their estimates. For fiscal 2011 and 2012, out of 21 analysts, 16 and 15 analysts respectively have raised their estimates. None of the analysts have cut their estimate for 2011.
However, one analyst has slashed his/her estimate for 2012. Thus, a positive inclination has been witnessed among the analysts.
In the last 7 days, 9 analysts hiked and 4 trimmed their estimates. For both fiscal 2011 and 2012, 11 analysts have increased their estimates. None of the analysts have moved in the opposite direction for 2011. However, one analyst has cut his/her estimate for 2012.
Positive revisions by the analysts are based on second quarter earnings upside. The third quarter sale is also expected to benefit from the Christmas Eve shift and increased gift card sales and lapping of the last year's three course promotion, which was more margin-dilutive.
The restaurant margins are also expected to expand driven by lower commodity cost in the third quarter and several cost saving initiatives taken by the company at Chili's, such as team service, labor scheduling and food cost management systems and kitchen process improvements. The team service initiative was rolled out 6 months ago and has resulted in a 100-bp benefit for labor expenses during the quarter.
The company has also rolled out the first phase of kitchen process improvements, through which the company will optimize kitchen labor component and improve cost of sales by reducing wastage. Brinker also plans to remodel its restaurants to drive traffic. Chili's also has a number of comparable sales driving initiatives, including new lunch offerings, permanent addition of 2 for $20 and happy hour program.
Moreover, the analysts expect EPS to benefit from share repurchases. In fiscal 2012, the analysts expect comps to turn positive.
Some of the analysts have reduced the estimates as they remain cautious regarding softer sales and sluggish comp. In 2011, Brinker itself projects comparable-restaurant sales to be in a range of flat to negative 2%. The input cost is also expected to be unfavorable in the fourth quarter and escalate in 2012.
Magnitude of Estimate Revisions
The earnings estimates over the last 30 days have increased by 2 cents to 44 cents for the third quarter of 2011. For 2011 and 2012 estimates have jumped by 8 cents and 6 cents respectively to $1.47 and $1.69.
Our Recommendation
We believe Brinker remains one of the strongest long-term players in the casual dining segment. Brinker's major brand Chili's has a certain degree of pricing flexibility, given its lowest per person average check and one of the highest average unit volumes in the industry, demonstrating a strong consumer appeal and a well-received value proposition.
The companyis repositioning its Chili's brand and is endeavoring to offset its declining sales momentum and record more sustainable and stable growth. Brinker also reiterated its goal to achieve 400 bps of net operating margin growth at Chili's and double its EPS by the next five years.
Additionally, to protect itself from the economic downturn, the company resorted to measures such as closure of underperforming stores, divesture of divisions, changing over to franchised operations, focus on international expansion to move away from the over-supplied domestic market and cost-control. The cash flow position is also strong and Brinker continues to remain focused on enhancing shareholder value and reduce debt.
Accordingly, we have a Zacks #1 Rank (short-term Strong Buy recommendation). Our long-term recommendation for the stock also remains Outperform.
One of Brinker's competitors, Ruby Tuesday Inc. (NYSE:RT) is expected to report full year results on February 18, 2011.