GasFrac Energy Service (OTC:GSFVF $11); (GSF.V C$11) offers non water-based fracking services to shale oil and gas E&Ps. Water-based fracking has become very contentious in many parts of the oil patch. GasFrac uses a proprietary propane injected system to retrieve shale oil and gas. GasFrac is a small Canadian-based company that will have strong supporters and probably equally strong skeptics.
As all shale energy investors should know, water-based fracking is controversial at best. The feds have announced a 2 year study of the impact on groundwater of water-based fracking and the State of New York has a moratorium on water-based fracking until their own environmental studies have been completed.
The industry has been working on several alternatives to water-based fracking and one solution is to inject a propane gel to loosen the shale oil. The propane gasifies during the process and is recovered, sold, or reused. GasFrac has commercialized this approach and is building a nice in the fracking services business as an alternative to water-based procedures.
GasFrac's patent-pending process is more expensive, but there is no need for flare off of initial production to purge the fracking fluids; production of the well improves with more effective fracking, there are no residual water issues and site cleanup is faster. Overall, the company claims its fracking procedure enhances well productivity and profitability over its lifetime.
Their website is found here and the January 2011 Investor Presentation is found here.
For the first nine months of 2010, the company completed services on 271 wells, with 134 of those in the 3rd qtr. Most of the wells have been in Alberta, but with the recent delivery of additional capital equipment and the establishment of a Texas office, GasFrac is expanding in the US. The company claims some major E&Ps as clients, such as Apache, Devon, Husky, and PennWest.
Revenues in 2010 are estimated to be C$95 million, based on competing 270 wells in the 4th qtr. At this run rate, revenues in 2011 could surpass C$225 million. Expansion based on added capital equipment will add to revenues. A recent share offering raised additional capital to fund GasFrac's expansion.
Unlike many companies generally found in the oil patch, GasFrac carries no debt. Profit margins appear to be good with 3rd qtr revenues generating 20% non-GAAP EBITDA. GasFrac is expected to earn C$0.18 to C$0.25 per share in 2010, and should announce over the next few weeks. This year, earnings could grow to the C$0.55 range with some calling for upwards of C$1.00+ on revenues of C$400+ million in 2013. There are about 41 million shares outstanding.
The GasFrac procedure of using propane is not without risk nor is it problem-free. There was a small fire at a well site last month that shut down the company for 2 weeks while they investigated, found the cause, and established remedial actions. In addition, the propane is trucked to the well site, adding transportation exposure.
However, overall the GasFrac service may have a substantial advantage over "conventional" fracking fluids, especially with the current scrutiny of conventional techniques.
According to the company website, propane injection is not covered by the New York fracking moratorium and is considered to be a "green" alternative to water-based approaches.
GasFrac was founded in 2006 and came public in 2010 at C$5 per share. While the stock has doubled in price and the easy money has been made, if GasFrac continues with its growth projections, it could double again over the next few years.
As a speculative play on the transition away from conventional fracking methods, GasFrac seems to have an intriguing future. If you own a shale oil or gas company, it is worth your time to at least review the GasFrac website to familiarize yourself with an important part of horizontal drilling success.
As always, investors should conduct their own due diligence, should develop their own understanding of these potential opportunities, and should determine how it may fit their current financial situation.
Well sites competed in US and Canada, as of March 2010: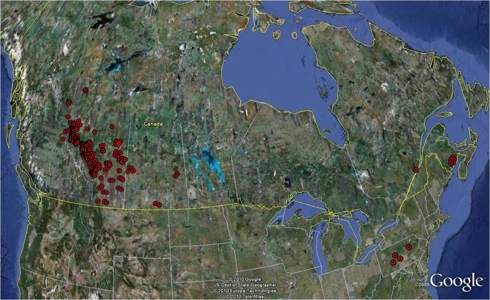 Click to enlarge
Well sites completed in Canada, as of March 2010: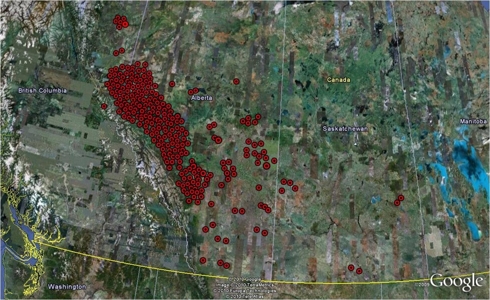 Click to enlarge
Disclosure: I am long OTC:GSFVF and have been a shareholder since 2011.