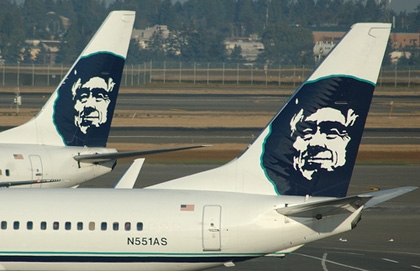 Alaska Airlines? Isn't that the one with the Eskimo on the tail? What part of aviation in the "last frontier", famous for its fierce winter weather and aviation accidents, sounds like a profitable investment? It pays to look beyond the name . . .
Having been a New Yorker, and now living on the West Coast, one of the things I've noticed is that Wall Street loves the the stores they shop at, hates the airlines they hate to fly, and often ignores the franchises that are not visible in the Northeast: Crazy Eddie they knew and loved because the investment community saw the ads, and shopped there-- Wal-Mart (NYSE:WMT) was largely invisible until it got huge.
So while its geographic footprint may make it a less known stock for the investment community, it's worth doing a bit more digging into this airline, owned by Alaska Air Group (NYSE:ALK).
First, things first: "Alaska" is less central to the firm's business than its name would make it seem. "Alaska Air Group" might sound like a regional firm, and if you live anywhere but the West Coast, you'd certainly be forgiven for thinking that its chief business was in Alaska. But, surprisingly, it's actually headquartered in Seattle, and does huge business up and down the West Coast of the US; for example 15 non-stop flights a day from Seattle to the Los Angeles area (eg LAX, BUR, LGB, ONT)
They're very profitable, reporting $7.14 per share in earnings for 2010, with a Q4 that was a huge "beat" ($1.28 per share, vs $1.08 per share First Call concensus).
Despite their profitability, they're trading very "cheap" relative to other airlines, with a P/E of less than 9 times earnings. This compares to Southwest (NYSE:LUV) at 19 times earnings, United Continental Holdings (NYSE:UAL) at 23 times earnings, JetBlue (NASDAQ:JBLU) at 18 times earnings and Delta (NYSE:DAL) at 16 times earnings. That said, by other measures they could be thought as "expensive" -- their market cap is significantly greater than that of larger better known airlines such as American (AMR). You'll have to make your own judgment as to what the value of airline earnings are. ALK is cheap on earnings, but their $2.2 billion market cap may look pricey to some.
At $2.2 billion, ALK trades at roughly the same cap as AMR, for example. AMR has 900 aircraft, while ALK has only 110. But with those 900 aircraft, AMR has had a very difficult time earning money, even as ALK has a business model that works.
Deciding "what's ALK worth versus AMR" ultimately hinges on whether you want to bet on a fundamentally strong company that's making a lot of money today, or the tremendous operating leverage of a much larger but troubled company that's had a very hard time making money.
Let's examine some of the particular advantages that have worked in ALK's favor:
Alaska's routes are chiefly North-South in the Western United States, and have been largely unaffected by the various blizzards and ice storms affecting the rest of the country. In one of the great ironies, Alaska's key hub in Seattle may have rain, fog and gloom-- but it's actually been far less affected by weather this winter than cities to the East and South. Alaska just reported their January performance, which was excellent in every respect, largely unaffected by the weather issues impacting other airlines.
From Alaska Air Group Reports January 2011 Operational Results:
Alaska reported a 15.8 percent increase in traffic on a 12.4 percent increase in capacity, resulting in a record load factor for January of 80.0 percent. Alaska also reported that 85.3 percent of its flights arrived on time in January, a 0.4-point decrease compared to the 85.7 percent reported in January 2010.
Let's look at some factors that are important for driving Alaska's results:
Economy: Alaska is very much exposed to the tech industry: flights from PDX to San Jose are filled with Intel (NASDAQ:INTC) engineers, from San Francisco to Seatac with Microsofties (NASDAQ:MSFT) and Amazonians (NASDAQ:AMZN). If load factors are good today -- and they are very good at 80% - one can imagine much greater profitability as the economy continues to recover and business travel spending picks up.
Labor peace: One of the most common nightmares for airline profitability are strikes and labor troubles; the ugly sagas at United are well known. Alaska is not immune to labor troubles, but has peace at the moment, most recently signing a three year pact with the IAM covering office, clerical, and passenger service employees.
Flies long routes: One of the interesting variables in airline operations is the length of routes. Airlines that fly short routes (say New York to Boston or Washington DC) are subject both to the costs associated with take-offs and landings and more ground delays in the busiest airports, and are also more vulnerable to substitution by other means of transport. A traveller from New York to Boston has lots of choices for mode of travel-- a passenger from Seattle to San Francisco really doesn't. Alaska's routes are generally long routes, cheap to fly, with few if any practical alternatives.
Competes directly with Southwest: Southwest is the benchmark for operational efficiency in commercial aviation in the US; they've successively gutted the majors as they've entered new markets. An airline that can't compete with Southwest is fundamentally compromised. Southwest and Alaska go head to head on many routes, particularly from Seattle and Portland to the Bay Area and Los Angeles . . . and Alaska still makes money, with high load factors. That's empirical evidence of operational efficiency.
Size: To make money in companies, it helps if the company can scale. Too small, and you can't have confidence that they'll be efficient as they grow. Too big, and there may not be much growth to be had. Alaska clearly has room to grow; if you think they're a good operator, you can realistically expect them to be able to add more flights and cities without difficulty.
Exposure to fast growing markets: Alaska is (obviously) the major player in the state of Alaska, a state which is likely to continue to experience fast growth, and demand for aviation. What's much less expected is that Alaska is also significantly exposed to Mexico, with a hub in Los Angeles serving Mexican destinations. Both Alaska and Mexico are expected to grow much faster than the US as a whole, though Mexico's domestic troubles are a worry.
Longer term, Alaska is expanding, adding flights to service new markets in creative ways. One example would be the new Bellingham - Hawaii flight, which draws Canadians from Vancouver and the lower Mainland at much cheaper fares than they can get at YVR, and utilizes a very inexpensive base. That's creative, and building their Vancouver market out of Bellingham would be a big win for Alaska.
One hesitates to recommend any airline stock, ever, for as Warren Buffett remarked after his ill fated US Air (LCC) investment:
So now I have this 800 number, and if I ever have the urge to buy an airline stock, I dial this number and I say my name is Warren Buffett and I'm an airoholic. Then this guy talks me down on the other end.
Airlines do have their fundamental problems of massive leverage, exposure to big fixed costs and highly variable yields-- like mortgage REITs, they're a business model that reliably blows up every so often, their business model makes that almost inevitable. But when they make money, they make a lot of money . . . and right now, Alaska is earning lot of money, probably less exposed to potential problems than others in the industry and has an attractive upside story.
Analyst opinion is divided on ALK's prospect, JP Morgan's Jamie Baker, for example, likes the operating leverage, but still has it as an "underperform", while S &P has reiterated a "BUY". The only thing that unites the analysts is that ALK is earning far more money than any of them expected. Hunter Keay at Stifel Nicholas has had ALK at buy for nine months now, and has remarked that "ALK is underappreciated by investors".
Whatever their opinion, the thing that unites analysts is that none of them have been able to raise their ALK estimates fast enough: Baker at JPM, for example, raised his Q4 estimate from $0.73 to $1.09, only two weeks ago, only to see that increased estimate blown away by the $1.28 actual. If analysts keep making that kind of error, the future does look good for ALK.
For further research, see Alaska Air Investor Relations.
Disclosure: I am long ALK.