I was looking for $0.54 cents for the quarter for Whiting USA Trust I (NYSE:WHX) and thinking I'd probably be a little light, with volumes of 3.565 MBOEpd and a conservative cut at prices and costs:


My production number represented a 3% sequential decline
Production was slightly lower at 3.538 MBOEpd, and while we haven't seen these kind of declines for the trust of yet, we have been expecting them.

Meanwhile the Street was looking for $0.72, a just about unreachable number (again).

The three analysts who cover the name are in group-hatred mode on the name with Sell ratings.

Price targets closer to $12 which they estimate to be the discounted aggregate future stream of distributions.
So in essence they "forced a miss" to help their case that the name should be trading lower.

My game plan? Simply wait for the pillow party on WHX shares to commence and pick up the pieces:

Twice in the recent past, the Street has ganged up on the name, downgrading and/or reiterating underperform and Sell ratings on the same day.
Most recently they did this on 1/24/11 and the stock fell as much as 28% within hours. There was no news event, they simply dog-piled the royalty trust, one after another.
My guess is they will do it again, either today or over the next several days.
For 2011, I model distributions of $2.63 per unit which comes to an equivalent yield of 15.1% on Monday night's closing price of $17.07 or a 19.8% yield if the name gets to $13.
See the updated model below, recomputed for:


declines from this quarter's production level at 5% decline per quarter,
operating costs accelerated to $24 / BOE (you'd expect a little higher cost as the trust gets a little oilier (it was 61% oil this past quarter vs. 58% historically)
full $250,000 per quarter trust costs
and the rest of the assumptions that are listed at the bottom of the model.

I sold the name at $23.10 last October after collecting a couple of nice distributions and my plan is to add it back in the lower teens once the Street has beat it down over this miss.
2010 Was A Strong Year for Distributions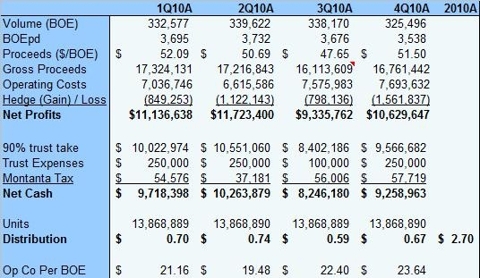 2011 Looking Pretty Stout As Well On Higher Commodity Prices But Also Higher Costs and Lower Production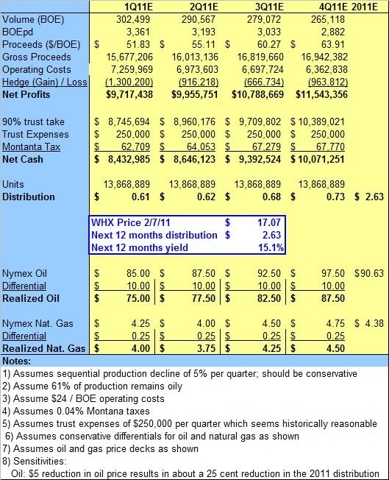 Disclosure: I have no positions in any stocks mentioned, but may initiate a long position in WHX over the next 72 hours.