What are the macro-fundamentals that savvy investors should take into account in order to insure long-term success? I believe there is one main macro theme that will drive investment returns for the foreseeable future. I believe that we live in an era in which worldwide oil supply will have much difficulty keeping up with worldwide oil demand. I also believe the inability of the world's top consumer of oil (the U.S.) to craft a strategic long-term comprehensive energy policy to adequately address these worldwide oil supply/demand fundamentals will push oil prices ever higher and will result in another oil price spike. Sad as this is for Americans and the future of America, investors can profit from it.
In my last couple articles I once again pounded the table for investors to consider Exxon Mobil (NYSE:
XOM
), Conoco Phillips (NYSE:
COP
), Chevron (NYSE:
CVX
), and Marathon Oil (NYSE:
MRO
), among other American energy firms. Today I will focus on a few foreign oil companies.
First up is Suncor Energy, a Canadian firm traded on the NYSE under ticker (NYSE:
SU
). While I have not read the article, I do know that SU was mentioned favorably in this week's issue of Barron's. Suncor has projected its oil sands production growth on the order of 10-12% between 2010 and 2020. Standard and Poor's believes Suncor's merger with Petro-Canada will enable SU to develop oil sands projects at lower levels of external financing. While oil sands accounted for only 22% of revenues in 2009, they were 52% of net earnings. It is clear Suncor will be a major beneficiary of American reliance on foreign oil. Its dividend yield is currently around 1%.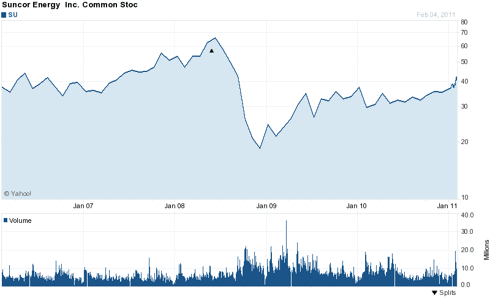 Next is Petrobras (NYSE:
PBR
), the Brazilian energy giant. Petrobras has not participated in the recent run-up in oil company prices as seen in shares of XOM, COP, and CVX. Many readers of my earlier recommendations to buy PBR warned me about government involvement in their business and I should have listened. That said, Petrobras now has the funding to develop its massive off-shore oil deposits. Oil and natural gas production rose 5.2% in 2009 to 2.53 million barrels a day. The company expects production of 3.91 million BOE per day by 2014 and 5.38 million BOE per day by 2020. In March 2009, PBR estimated its 2009 overall reserve replacement at 209% on an SEC basis. Petrobras too will benefit from the lack of U.S. energy policy and the rising oil prices the future will bring.
My last pick today is Statoil (NYSE:
STO
), a Norwegian oil company that has historically paid a roughly 5% dividend. STO's dividend is paid once per year and will be declared at its May 19
th
annual meeting. The stock recently had a near 7% one day jump on the NYSE as traders finally realized higher oil and gas prices bode well for the companies earnings. Since the company has a history of paying out a large percentage of earnings as dividends, expect a nice payout this year. Fourth quarter 2010 earnings will be announced on Feb. 9
th
. Statoil is Europe's #2 supplier of natural gas. Statoil is a more conservative play.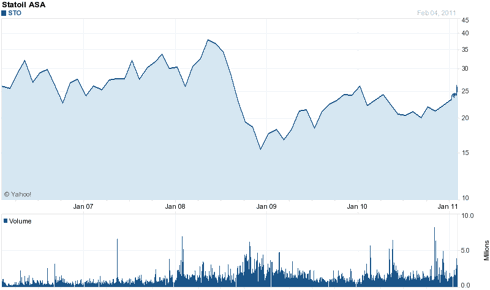 While the S&P500 is basically flat over the last 10 years, energy stocks have been anything but. For example – a $10,000 investment in the broadly diversified Vanguard Energy (VGENX) fund 10 years ago would be worth over $41,000 today. This data is courtesy of Morningstar which has a 5 star rating on VGENX.