In many industries, the amount of free cash flow that a company brings in says a lot about the strength of their business operations. Defined one way as the difference between operational cash flow and capital expenditures, free cash flow shows how easily a company maintains its income. In order to both pay dividends and continue to grow the business, a company typically needs substantial free cash flows.
The following is a list of five dividend stocks that have free cash flow and have consistently exceeded net income.
Microsoft (NASDAQ:MSFT)
Microsoft, the software giant behind Windows and Office, isn't too popular in some circles today, and is at a bit of a crossroads, but quantitatively, no one can argue that in the past and at the present, it is a phenomenal free cash flow generating machine. Operating cash flows have exceeded capital expenditures by up to tenfold in recent years.
Combine that with a strong balance sheet and a low valuation, and investors might have a value stock on their hands. Microsoft has doubled their dividend over the last five years, and recently increased their dividend by 23% while also repurchasing significant amounts of shares. The question is, can Microsoft keep it up, or is the tech environment changing faster than Microsoft can adapt?
Dividend Yield: 2.27%
Five-Year Dividend Growth Rate: 12%
Price to Earnings: 12.0
Price to Free Cash Flow: 10.2
click to enlarge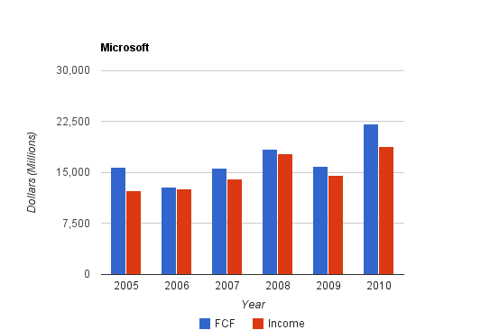 Click to enlarge
Automatic Data Processing (NASDAQ:ADP)
ADP, a dividend aristocrat, provides outsourcing services in the form of human resources, payroll, benefits, and tax services, and computing solutions. Despite having a $24 billion market cap, the company maintains a long-term debt/equity ratio of nearly zero, meaning it has one of the strongest balance sheets among large companies.
Dividend Yield: 2.91%
Five-Year Dividend Growth Rate: 16%
Price to Earnings: 20.6
Price to Free Cash Flow: 15.4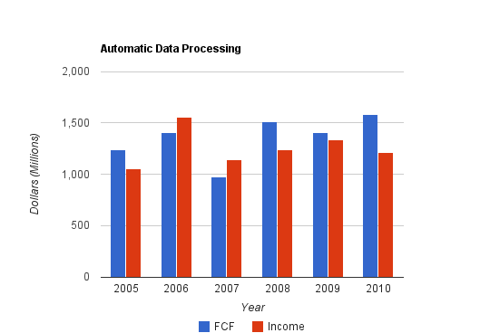 Click to enlarge
Johnson and Johnson (NYSE:JNJ)
Seeing some popular names on this list like MSFT, ADP, and JNJ shouldn't be surprising. The well-known blue chip companies tend to be among the best generators of free cash flow because their history of decades of growth and dividend payments infers that cash flow likely has been quite strong to allow such a feat.
JNJ has experienced a fair amount of negative publicity recently due to revelations concerning poor quality control (and the whole point of the JNJ consumer segment is that its brands are supposed to represent quality), but this hasn't changed the fact that it produces enormous amounts of free cash flow with no signs of stopping.
Dividend Yield: 3.55%
Five-Year Dividend Growth Rate: 10%
Price to Earnings: 12.5
Price to Free Cash Flow: 10.7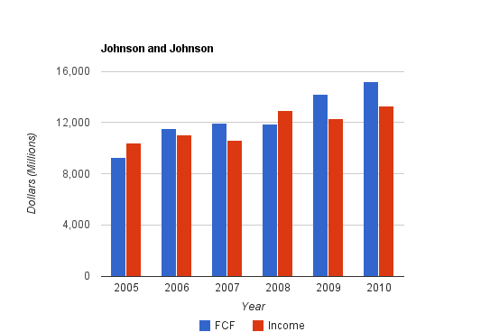 Click to enlarge
Leggett and Platt (NYSE:LEG)
Large companies are often great dividend payers, but to make this list a bit more interesting, I've included two smaller companies. LEG showed up on my list of 4+% yields, and now it shows up on this list with its high free cash flow as well.
With a large dividend and significant buybacks fueled by free cash flow, coupled with a fairly strong balance sheet, Leggett and Platt offers investors a sturdy foundation. Growth has been non-existent over the last decade, but the company recently reorganized itself to be more streamlined and strategic.
Leggett and Platt Full Analysis
Dividend Yield: 4.75%
Five-Year Dividend Growth Rate: 11%
Price to Earnings: 19.7
Price to Free Cash Flow: 11.2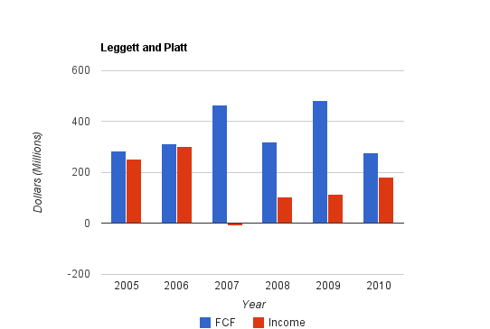 Click to enlarge
Diebold Incorporated (NYSE:DBD)
Diebold has particularly strong free cash flow. The company produces automated self-service machines such as transaction systems and voting machines. The company arguably lacks a significant competitive advantage, and therefore is facing strong competition, but nonetheless has managed to bring in strong levels of free cash flow.
The balance sheet is moderately strong but the dividend growth leaves much to be desired.
Dividend Yield: 3.38%
Five-Year Dividend Growth Rate: 5.5%
Price to Earnings: 19.8
Price to Free Cash Flow: 11.9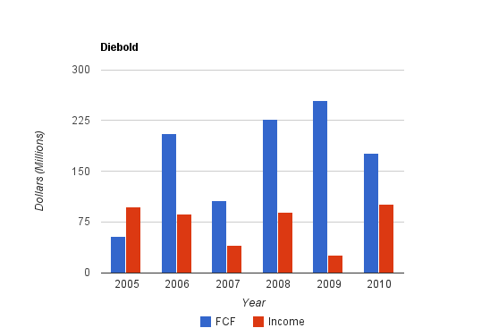 Click to enlarge
Disclosure: I am long JNJ.