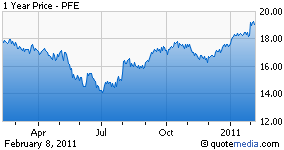 Given its myriad problems and a confessed willingness to shed activities not considered to be at the core of its mission, should Pfizer (NYSE:PFE) consider spinning off its nutritional unit? After all, the business is pegged to grow faster than other units; there may not be tax consequences; a spin off reduces the dividend burden and such a move could bolster the notion that Pfizer execs are thinking new thoughts.
The idea was broached in an investor note by Credit Suisse analyst Catherine Arnold just before Pfizer disclosed plans last week to - once again - reward investors by closing an R&D facility, eliminating several R&D areas and, this time, throwing 3,400 employees overboard. That caused Pfizer stock to hit a 52-week high, yet the shares remain roughly 30 percent below their price at this time two years ago.
"An obvious need is for the company to define its diversification strategy, more specifically its aspiration regarding the extent and mix of diversified businesses it would like to own," she wrote in her recent note about the unit, which is mostly about selling infant formula. "Wyeth's (WYE) nutritional business and consumer assets are obvious areas that are undoubtedly under a strategic review for augmentation, divestiture or spin-off."
Arnold was prompted to explore this possibility, in part, due to the recent management shake-up spurred by the departure of former CEO Jeff Kindler (look here) and, in particular, after the interesting decision to transfer responsibility for the nutritionals unit to Pfizer general counsel Amy Schulman, who previously had no such operational role at the drugmaker.
Why make this move? A Pfizer spokesman says Schulman "helped shape" the business strategy since arriving in 2008 and, moreover, Pfizer believes she is a "strong enterprise leader" who recognizes the unit has "stable revenue and excellent growth prospects." There was no mention, though, of specific creds for running the unit, which notched $1.8 billion in sales last year, or 2.8 percent of the total.
Of course, having the company lawyer run nutritionals may be one way to keep tabs on a business that might well generate unwanted interest for its overseas dealings. The feds, you may recall, are interested in what drugmakers are doing in other countries (read this) and interactions with hospitals - which buy a lot of infant formula - could attract some scrutiny, but that is only speculation.
In any event, whether a spin-off might occur remains unclear. Such a move, however, could buy some time for the newly annointed Pfizer CEO Ian Read. How so? Investors would likely be told such a transaction could boost the earnings multiple and yield considerable value later because the unit could eventually be sold. The same argument was made about Bristol-Myers Squibb (NYSE:BMS) and the Mead Johnson nutrition business, which has outperformed the S&P 500 since a spin off occurred a year ago. Shedding a unit is not exactly a new concept, of course. Before Kindler departed, Pfizer began considering what to do with its Capsugel unit, which makes hard capsules.
Meanwhile, Arnold forecasts the nutritionals unit to generate more than 4 percent of overall sales by 2015, which amounts to a compounded annual growth rate in sales of more than 8 percent, well above the 7.2 percent she estimates for Pfizer's Animal Health business and a stark constrast to the sobering 1.7 percent decline she foresees for pharmaceuticals, thanks primarily to the patent expiration for Lipitor.
Of course, there is an obvious downside to pursuing such a path. Pfizer would lose a growing and stable source of profits which, as Arnold notes, could lead to an increase in earnings volatility. And then there's the notion Pfizer would relinquish a key driver of its emerging markets strategy. About 60 percent of sales are generated in Asia, with about 25 percent of that coming from China, according to Arnold. Another 10 percent of sales comes from Latin America, while the rest are generated in Europe.
Of course, the Pfizer board - led by chairman emeritus Bill Steere (look here) - will do whatever it can to bolster the stock, and perhaps this will involve a rollback in strategy. A fixture of the Wyeth acquisition was the vaccines business, although the consumer and nutritional units were a plus, particularly after Pfizer was criticized for previously selling a consumer business to Johnson & Johnson (NYSE:JNJ). At the time, the thought was to diversify in order to smooth out cash flow in light of the cyclical nature of the pharma business. But Pfizer may be running out of maneuvers to satisfy investors. Perhaps unlocking the nutritional unit will calm the beast.
Disclosure: No position