By David Russell
St. Jude Medical (NYSE:STJ) has broken key resistance, and the bulls are stepping in.

optionMONSTER's Heat Seeker tracking system detected the purchase of 6,000 January 50 calls for $2.25 and the sale of an equal number of January 40 puts for $2.25. Volume was more than 13 times open interest in both strikes.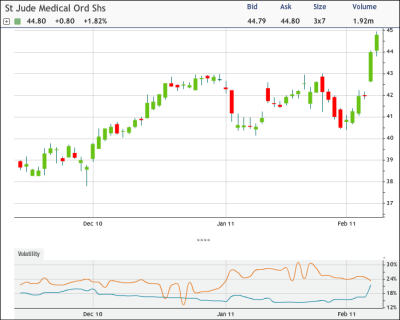 The trade cost nothing to implement and will simulate owning shares in the medical-device company. It will make money if STJ closes above $50 on expiration and lose money below $40. The position, similar to one opened on Jan. 20, will expire worthless between those two price levels.
STJ rose 1.86 percent to $44.80 in morning trading and is up 10 percent in the last month. It gapped higher yesterday after an upgrade from Deutsche Bank, which has a $52 price target on the namest.

The move sent the stock above the $45 level that has held it in check since financial markets collapsed in October 2008. Now that that resistance has been broken, some chart watchers may expected further upside.

The company also reported earnings on Jan. 26 that were slightly better than expected. On Friday CEO Daniel Starks said at an investor meeting that its new products will leave rivals "in the dust" and added that Wall Street analysts don't appreciate the company's growth potential.

Today's bullish trade pushed total option volume in STJ to 11 times greater than average, according to the Heat Seeker.