Menthol cigarette maker Lorillard (NYSE:LO) released record earnings yesterday and discussed the FDA uncertainty. For risk-takers out there, today's depressed prices may be a steal. For the rest of us, waiting for the FDA committee menthol recommendations would be the more prudent thing to do. The committee recommendation is non-binding, but would likely hit the stock price if negative.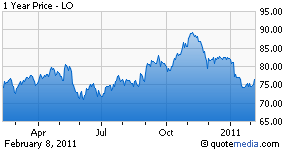 The Tobacco Products Scientific Advisory Committee (TPSAC) was mandated by Congress to evaluate the impact of menthol in cigarettes on the public's health. It has one year to come up with its nonbinding recommendation and evaluation, which ends March 23. At that point, the FDA will examine the impact itself, in a scientific way, and promulgate rules. It's important to understand that the TPSAC recommendation is the beginning of the fight, not the end. If the committee makes a negative recommendation regarding menthol cigarettes, the process will take years for a final resolution. It's also important to note the TPSAC is looking not at cigarettes in general, but how menthol cigarettes could be more dangerous than normal cigarettes.
Lorillard executives have repeatedly said they believe TPSAC is politicized and made up of anti-smoking members. Lorillard comments indicate, although not expressly, that the company believes the recommendation will be negative. The full FDA review, if it should come to that, is much more likely to be positive for Lorillard. The FDA will not act in a politicized fashion and will make rules using scientific evidence. The FDA director has even come out to conferences and told cigarette manufacturers that he has warned the committee that its recommendation must be science-based. Furthermore, CEO Murray Kessler said in the conference call that the FDA director even stood in front of this conference and told attendees that the word "banned" had never come out of the FDA.
This is the overhang on the stock despite excellent earnings. Let me talk about earnings for a moment. In 2010 Lorillard earned more than $1 billion for the first time in its history. Full year diluted EPS was $6.84. The company had net sales of $5.9 billion and U.S. market share increased to 12.9%. The dividend yield stands at 5.9% and share buybacks contributed to an $0.11 gain in Q4 earnings. The company also increased prices on products on November 30.
Ironically, the menthol ban fears may have helped Lorillard. Perhaps partially because of these fears, it released a non-menthol version of Newport on November 1, and results have been impressive so far.
The company has the means for large share buybacks. It generates a tremendous amount of cash and is very investor friendly. The question came up in the conference call about what the company would do if the recommendation came back negative and the stock price was beaten down. CFO David Taylor said, "We don't know when that TPSAC recommendation is going to be and so therefore we don't know what kind of volatility to expect in the share price, but we do have a significant amount of money here to spend in 2011, which we'll do in the most meaningful and prudent way."
That sounds to me like it will come in and provide a floor to the stock price with share buybacks.
If you'd like another, perhaps less risky, way to play the menthol recommendations, I'd suggest taking a look at M&F Worldwide (NYSE:MFW). You can read more about the company in an article I wrote a few weeks ago: M&F Worldwide Hits New Lows: What You Need to Know.
MFW makes licorice extract, 67% of which goes to menthol cigarette manufacturers. What makes it less risky is that they have other businesses, and this segment makes up only 10% of the company. However, I believe MFW shares have been irrationally taken down on fears of the TPSAC decision. They've got a forward P/E of less than four.
If Lorillard's your pick, you have a decision to make. Do you add more now with the long-term view that the recommendation won't have a material effect when looked at over a one year period and with the idea that share buybacks will support the stock price, or do you wait until after the recommendation and hope for a negative decision? The prudent thing to do might be to nibble now and wait to add after the reaction. You'll just have to sit tight for up to a month and half. For income investors, you shouldn't have many worries. The dividend's safe and likely increasing no matter what the TPSAC says.
Disclosure: I am long MFW.