Born August 4, 1945, Alan Mulally grew up in his mother's hometown of Lawrence, Kansas, where he was a member of the Plymouth Congregational Church. He considered Rev. Dale Turner "a mentor and an inspiration." Mulally went on to obtain degrees from the University of Kansas and MIT. In 1969 he started his career at Boeing (NYSE:BA) Commercial Airlines as an engineer. Eventually, Mr. Mulally worked his way up to the Head of Commercial Airlines at Boeing. Shortly after being passed over for the main CEO position at Boeing (awkward moment), Mulally accepted the CEO position at Ford Motor (NYSE:F) on September 5, 2006. The culmination of Alan Roger Mulally's life was about to come to fruition on a global economic scale.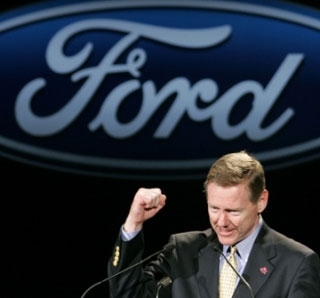 In the fall of 2008, when Ford, if not the entire U.S. economy, teetered on the brink of the abyss, a group of people led by Alan Mulally came together to make history. It was a time you could not go an hour without hearing the phrase, 'there is blood in the streets." Corporations were being offered up as sacrificial lambs. Bear Stearns and Lehman Brothers had already collapsed, and everyone was wondering who would be the next giant to topple. Analysts were spouting about oil going to $300 a barrel, adding more fuel to an out of control fire. The melancholic autumn and bitter winter of 2008 were a surreal whirlwind of economic carnage, leaving human beings everywhere holding their breath, waiting for the next shoe to drop. In the face of overwhelming odds, Alan Mulally and his team gathered together to come up with a disciplined four point plan to streamline Ford.
Tough decisions had to be made, and a new direction charted for an American behemoth that was used to the status quo. Salaries needed to be cut, entire facilities needed to be shut down for modernization. When most executives were ducking for cover, Alan Mulally faced the public with enthusiasm and a smile. What most saw as unsalvageable, Mr. Mulally saw as an opportunity for a solution.
The following earnings call transcripts are evidence to the accomplishments of Mr. Mulally's resolve. The chronologically ordered excerpts speak for themselves to the transformation at Ford Motor.
Q4 2008 earnings conference call:
Alan Mulally:
Thanks, Bill, and good morning everyone. As you all well know, in the fourth quarter, we faced nearly unprecedented challenges across our global markets. Demand weakened dramatically not only in North America but also in Europe and Asia. The worldwide economic slowdown driven by tight credit markets and weak consumer confidence has shaken the foundation of even the strongest companies in the automotive sector and other industries. Clearly, at Ford, the severe economic challenges had a significant impact on our fourth quarter results, with in terms of our operating losses and our cash flow.
In response to these challenges, we took decisive actions, and we saw many positive developments that made us confident that we are on the right plan, are taking the right actions to survive this global downturn. And emerge as a lean, globally integrated company poised for long term profitable growth. In these challenging times, we remain completely focused on our four point plan, aggressively restructured the business, accelerate the development of vehicles people want and need, finance our plan and improve our balance sheet, and work together as one team, leveraging our global assets.
Customers are starting to see that Ford is really different not only because we continue to believe we are well positioned to survive this global downturn, but also because of the growing fuel efficiency, quality, safety and smart technology we are engineering into every new vehicle.
Q3 2009 earnings conference call:

Alan Mulally:
Thank you, Brian, and good morning everyone. We are very pleased to be able to share today our third quarter financial results, which clearly show that Ford is making tremendous progress despite the prolonged economic slung. While we still face a challenging road ahead, our transformation is working, and our underlying business continues to grow stronger.
In the third quarter, we made progress in all four areas of our plan, aggressively restructuring to operate profitably at the current demand and the changing model mix, accelerated development of new products our customers want and value financing our plan and strengthening in balance sheet and working together effectively as one global team.
In the third quarter, Ford recorded net income of $1 billion, an improvement of $1.2 billion from a year ago. For posted a pre-tax operating profit of about $1.1 billion for the quarter, an improvement of $3.9 billion from a year ago. This marks our first pre-tax operating profit since the first quarter of 2008.
Q1 2010 earnings conference call:
Alan Mulally:
Thank you, Brian, and good morning everyone. We are very pleased to be able to share today our first quarter 2010 financial results.
This was another solid quarter for us and further evidence that our plan is working and we are delivering profitable growth. Despite challenging economic conditions and below trend global demand for vehicles, Ford posted a pretax operating profit of $2 billion, our best quarterly pretax operating profit in six years.
The basic engine that drives our business results products, market share, revenue and cost structure is performing stronger each quarter. Each of our Ford business units, North America, South America, Europe, Asia Pacific and Africa and Ford Credit, delivered operating profits and each improved substantially compared with a year ago.
Perhaps, most importantly, we continue to accelerate the development of products people really want and value. Vehicles like the Global Fiesta, the new Figo for India and the redesigned Super Duty pickup here in North America are further strengthening our balanced lineup of cars, utilities and trucks that offer the very best quality, fuel efficiency, safety, smart design and value. Based on our improving performance, the gradual strength in the economy and our present assumptions, we now expect to deliver solid profit this year with positive automotive operating related-cash flow.
Q4 2010 earnings conference call
Alan Mulally:
Thank you K.R., and good morning to everyone. We're pleased today to provide an update on the progress we achieved in the fourth quarter and full year of 2010. We continued to be profitable and generated positive automotive operating-related cash flow in the fourth quarter. We recorded our sixth consecutive quarterly pretax operating profit, although our results were lower than the same period a year ago. We continue to maintain our focus on strengthening the balance sheet with additional debt repayments in the fourth quarter.
We finished 2010 with each of our business segments reporting a full-year profit, all of which were an improvement compared with a year ago. In total, we improved pretax operating profit by 8.3 billion compared with 2009. For the full year, we reduced debt by 14.5 billion. We ended the year with automotive gross cash exceeding debt by 1.4 billion and at the same time improved our overall liquidity position.

In May 2009, Ford chairman William Clay Ford, who hired Mulally, said that "Alan was the right choice (to be CEO), and it gets more right every day."
Ford missed Q4 analyst estimates by 18 cents per share. I looked at the Q4 earnings miss in two ways: 1) analysts did not take into account Ford positioning itself for the fall of 2011, and/or 2) If there is something that needs to be tweaked it will get tweaked. To anyone who doubts Ford's future, take some time to reflect on the answers to the questions that I posed to Mr. Mulally. Focus on how he owned the questions and then proceeded to transform his responses into flourishing, lingering concepts.
Christopher Hawkins: In the winter of 2008/2009 what is the one thing you want people to know about that time period, as far as the inner circle at Ford, that the public does not know about?
Alan Mulally: There isn't much people don't know. Transparency is so important in business. We were as transparent as we could be during that time with all our stakeholders, including the government. And we are so proud of what we did to support the industry and the economy of the U.S. and the world.
C.H.: Have you always had your positive, energetic disposition and how much weight do you give to those qualities for being a successful leader?
A.M.: The purpose of life is to love and be loved ... what could possibly be more energizing than that? An important part of leadership is being able to hold two things in your mind at once: Dealing with the reality, whatever it may be, and focus on hope for the future. Any leader helping an organization through challenges needs to be able to do both.
C.H.: If you could please explain the learning curve going from the airline industry to the automotive industry. Along those same lines, did the apparent status quo at Ford add to your challenges for rapidly overhauling the company?
A.M.: The industries are more similar than they are different. Both are about providing safe and efficient transportation. Both are key manufacturing industries. Both are cyclical by nature. Both industries use similar technologies. The profiles of the segmentation and regional marketplace for both industries are identical. I felt very comfortable moving from aerospace to automobiles.
C.H.: What excites you the most about Ford's future?
A.M.: We are accelerating Henry Ford's original vision ... opening the highways to all mankind. There is nothing more exciting than that.
Ford is a buy, if for nothing else than the CEO premium. Use the charts and technical analysis to determine your best buy entry points.
Click to enlarge charts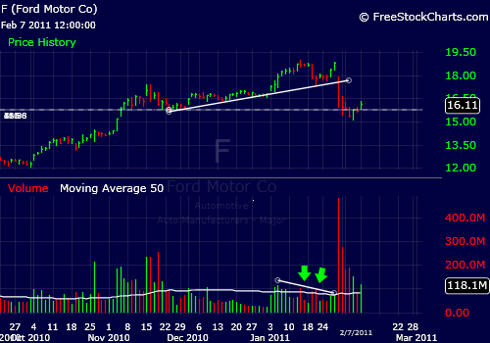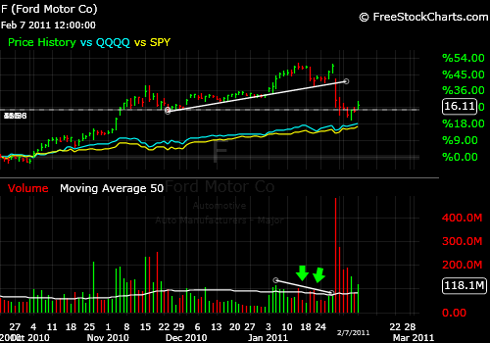 Wait for a trend reversal with volume confirmation to initiate a position. Option liquidity is another nice bonus to owning Ford. If one already has a position, then options strategies are a great way to stay long the stock. Vertical spreads, covered calls and collars are a few examples of strategies to employ in the case of Ford. Closely monitoring the major indexes, and patience, patience, patience will bring a smile to all the Ford bulls. With Alan Mulally at the helm, this company will stay Ford Tough.
Disclosure: I have no positions in any stocks mentioned, and no plans to initiate any positions within the next 72 hours.