Kudos to Rob Fagen for creatively comparing Netflix (NASDAQ:NFLX) to Visa (NYSE:V).[1] We suggest that Netflix is no Visa in the most consequential respect, and bears resemblance to The Huffington Post. Therein lies a valuation.
Visa is the antithesis of Netflix in trading under 50x earnings; exhibiting owner earnings; and, most consequentially, clearly leading an industry.[2] Visa might mess up or suffer from regulatory action, but no competitor should beat it on cost or bang per advertising buck.
In prioritizing a streaming business, Netflix enters the ranks of online entertainment hubs with its 20-25 million customers. Google, Microsoft, Facebook and Yahoo serve an estimated 970 million, 869 million, 648 million and 630 million unique visitors respectively.[3]
In the U.S. alone, there were at least ten online properties with more than an estimated 25 million unique video viewers in December.[4]
AOL (NYSE:AOL) remains among those properties and just announced an acquisition:
The Huffington Post over-indexes on educated, affluent users, reaching the key decision makers in C-suites around the globe. The Huffington Post speaks to this influential audience via a host of prominent voices on its group blog. Among those who have blogged on The Huffington Post are: President Barack Obama, Secretary of State Hillary Clinton, Mayor Michael Bloomberg, Larry Page, Diane Sawyer, Buzz Aldrin, Nora Ephron, Bill Maher, Madeleine Albright, Robert Redford, Katie Couric, Neil Young, Rahm Emanuel, Mia Farrow, Senator Russ Feingold, Senator Al Franken, Ari Emanuel, Harry Shearer, Senator John Kerry, Representative Nancy Pelosi, Madonna, Lawrence Summers, Jamie Lee Curtis, Ryan Reynolds, Craig Newmark, Alec Baldwin, Aaron Sorkin, Natalie Portman, Scarlett Johansson, Russell Simmons, Sean Penn, Bill Gates, Norman Lear, Charlie Rose, Elizabeth Warren, Tavis Smiley, Sheryl Sandberg, George Clooney, and former President Bill Clinton. And the audience speaks back, generating four million comments a month.[5]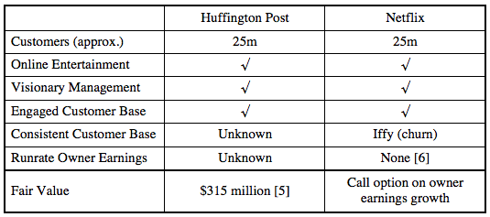 We noted that Netflix exhibits neither liquidation value nor unequivocal owner earnings in the last year and half year.[6] Bullish and bearish Netflix analysts may agree that 100% of NFLX value lies in its uncertain owner earnings growth. That may include synergistic value if a corporate buyer envisions owner earnings growth via combining operations.[7]
AOL's approximately $315 million purchase of The Huffington Post values a growing online entertainment company subject to competition but with visionary management, an engaged user base and approximately 25 million unique users. The description may reasonably capture Netflix.
Valuing NFLX at $315 million would mean $6/share, incidentally a premium to Netflix book value. We may consider that price in the ballpark of reasonable now and excluding the impact of any equity-funded acquisition or secondary offering.
Netflix fair value may correspondingly rise to around $25/share if it soon raises $1 billion from giddy speculators. That's less than 1/8th its current price.
Paint Me Blue Sky
Ultimately any owner earnings/sales margin at capital-light Netflix materially above 10% pretax may be unsustainable. A moderately concentrated supplier base may favor other online distributors if Netflix retains conspicuous excess value. Several alternative paths to internet-connected TVs and screens may remain (Amazon (NASDAQ:AMZN), Apple (NASDAQ:AAPL), AOL ... we're not even on the B's).
Amazon might endeavor to crush Netflix in the streaming business. But let's end on an optimistic note for NFLX bulls:
If Netflix controls streaming content costs and retains 25 million subscribers paying an average of $10/month, with a 10% pretax and 7% after-tax owner earnings margin befitting a non-exclusive distributor admired and valued by customers and suppliers in a moderately concentrated industry, NFLX might reasonably be appraised at a robust 20x the $210m annual veritable owner earnings that result: $4,200 million or about $75/share.
That's only a 66% decline from its current trading price.
Notes and Disclosure
[1] Rob Fagen submits, "He couldn't come up with a fourth option for obtaining pricing power that would preserve margins and make the valuation more reasonable." Rather, I couldn't envision a fourth scenario in which "Netflix becomes 100% necessary for producer and consumer to be able to find each other at all," in the course of our discussion. As to preserving margins that may support a valuation, Netflix exhibits no owner earnings margin to preserve.[6] We commend Mr. Fagen for the quantitative view in his last piece.
[2] Visa Inc. 10-K filed with the SEC November 19, 2010, accessed via 10kwizard.com.
[3] David Murphy, "Facebook Passes Yahoo to Become Third-Largest Website," December 26, 2010 at pcmag.com.
[4] "comScore Releases December 2010 U.S. Online Video Rankings," January 21, 2011 at comscore.com.
[5] AOL Inc. 8-K filed with the SEC February 7, 2011 and accessed via 10kwizard.com: AOL "has entered into a definitive agreement to acquire The Huffington Post, the influential and rapidly growing news, analysis, and lifestyle website founded in 2005, which now counts nearly 25 million unique monthly visitors" for about $315 million subject to certain adjustments.
[6] Netflix: Dismal Owner Earnings, Priced to Plunge here at Seeking Alpha.
Owner earnings may be defined to incorporate estimated average maintenance or actual capitalized expenditures. We used Netflix's actual costs in the absence of predictable future streaming content licensing cost. The cost may be especially unpredictable amidst dynamic competition and inflation. Investors may therefore prefer to think more about sustainable margins than particular outlays.
[7] Tom Murphy's theory of acquisitions: "In bad times, when business is bad, two out of three deals are bad for the buyer. In good times, when business is good, three out of four deals are bad for the buyer." (At Charlie Rose)
Disclosure: The author manages a limited partnership and separate accounts, some of which own NFLX put options that expire in 2013. The author has no position in other companies mentioned. The author may buy or sell any position at any time. The author may change positions in light of emergent facts or considerations, including new price-to-value-estimates of the author's current and prospective investments.