Chip maker Nvidia (NASDAQ:NVDA) is starting to show significant signs of weakness as momentum after a humongous 38% blow-off top run since early January is starting to disintegrate. Those on the momentum side of the trade might want to consider taking some off the table as the stock looks ripe to retrace much of it's January gains.
After taking a beating on Monday, the stock closed sharply lower on Tuesday losing 2.7% of its value as investors continue to take profits despite heavy gains in the broader market. After losing key technical support at $24.50 early in the trading session on Tuesday, the stock sold-off for most of the day closing near the lows of the session.
The first immediate line of support sits at the mid-January gap at $23.00 a share. If Nvidia loses support at this level expect to see a full retest of the $20.00 level and maybe even the 50-day moving average at $18.71.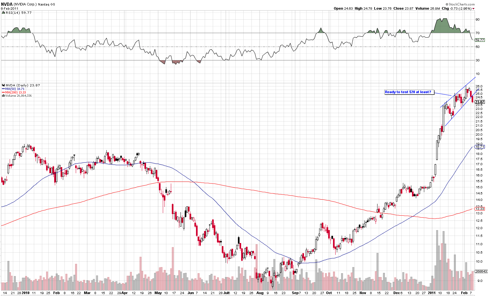 The stock has a lot going for it as the company takes advantage of Intel's (NASDAQ:INTC) current woe's. Expect to see a lot of interest in the name as funds continue to rotate out of Intel and other chip-makers in favor of Nvidia as the company breaks into the tablet market with its Tegra 2.
As tablet makers like Toshiba and Google (NASDAQ:GOOG) increase their efforts to compete with Apple's (NASDAQ:AAPL) iPad with bite-offs of their own, expect a lot of that money to flow to Nvidia. Yet, in the long-term, I don't expect much of these efforts to succeed, and once the market catches on to this reality, we'll see a bigger sell-off in Nvidia down the line. But that is months or even years out.
The current selling pressure is simply an issue of the stock going too far too fast. While the outlook for Nvidia is very positive, the stock is trading at a very rich short-term valuation of 64 times last year's earnings.
Yet, as the year progresses, expect Nvidia to continue to post very strong results which will help alleviate these valuation concerns as its trailing p/e contracts with higher earnings. In the meantime, the stock is setting up for a short-term sell-off as the mid-January through February trend-line has been breached.
Disclosure: I have no positions in any stocks mentioned, but may initiate a short position in NVDA over the next 72 hours.