Take a step back from your trading platform.
Short sellers have been publishing self-serving negative opinions on Chinese stocks that are causing enormous volume and price fluctuations in recent months. Orient Paper (NYSEMKT:ONP) was the first target of Muddy Waters Research. Orient Paper has recently passed an independent investigation by its board of directors with assistance from Loeb and Deloitte, clearing it of the fraud claims.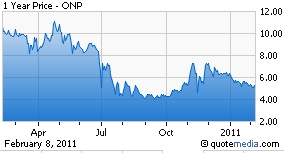 It has also recently provided additional investigation results in the form of appraisal and capacity checks on its machinery. Now that Orient Paper has proven Muddy Water's allegations false, investors are probably asking themselves the $100MM question, "When will the stock price go back to pre-allegation levels?" In this article, I will attempt to answer that question by analyzing a wealth of recent events and information.
Take a minute to think what is really going on. Undeniably, there has been a recent onslaught of fraud claims by online bloggers against Chinese companies. There are two scenarios. One, online bloggers have uncovered an unconscionable amount of real fraud taking place in China. Two, online bloggers have discovered and are exploiting a means to make money fast by essentially screaming "fire" in a crowded theatre.
Here, I will focus on Muddy Waters Research with regard to Orient Paper's valuation, and make mention of CitronResearch.com and WaldoMushman.com, all admitted short sellers and online bloggers operating their own websites.
Let's briefly review components of these three website disclaimers:
"Citron does not guarantee in any way that it is providing all of the information that may be available." - CitronResearch.com, recently writing about CCME.

"No warranty or claim is made as to the completeness or accuracy of information provided on this website…. information presented may be out of date and may contain inaccuracies or errors…" - WaldoMushman.com (a.k.a John Bird), writing about CSKI.

"Muddy Waters…has an investment position in the stock…and therefore stands to realize significant gains in the event that the price of the stock increases or declines… Following publication of any report, we intend to continue transacting in the securities covered therein, and we may be long, short, or neutral at any time hereafter regardless of our initial recommendation." - muddywatersresearch.com (a.k.a Carson Block)
In the case of Muddy Waters, it is outright and in no uncertain terms, telling its readers that it is short when the report is published and may switch to long (not simply cover the short), after publication.

A highly reputable law firm, Shapiro Haber & Urmy, is currently investigating these bloggers and website owners for damages to CCME's share price (Carson Block's latest piece). The law firm's investigation specifically names Citron Research, Muddy Waters and Carson Block personally. It seeks to determine whether "statements in those research reports were materially false and misleading..."
These bloggers or website operators have certain common elements. One, they are anonymous for the most part. WaldoMushman.com provides a P.O. Box in Texas as its sole form of identity. CitronResearch.com provides no information about its proprieters whatsoever. MuddyWatersResearch.com at one point had an address listed. That address was visited by Harry McNamee this summer. Michael Anderson posted pictures and descriptions from Mr. McNamee's visit. It reveals a non-existent office. That address has since been removed from MuddyWatersResearch.com's website.
Two, they have disclaimers that attempt to fully distance themselves from the words that they publish. And three, they all live in an online world with no physical addresses, phone numbers, or in-person appearances. Basically, from the information they publicize through their website facades, there is no way to ever see, meet or speak directly to any of these people. No one can hold them personally liable as they operate with facades. Though, the recent investigation announced by Shapiro Haber & Urmy against Carson Block and others seems to challenge this thesis.

Regardless of these three common elements, their words alone can seemingly move a stock price down in a short time. I would refer to this as a temporary irrational sub component of the market. Mosaic Theory suggests that asset values encompass all information about a company's operations, risks and opportunities. "Country Risk" is often referred to when speaking about international investments. One discount to Chinese stock prices is due to less transparency, since they operate some distance away from the investor. It is simply a risk for which you are paying.
The Mosaic Theory would suggest that these discounts are already baked in to Chinese stock prices, as one can clearly see that Chinese stocks, even ones that have no allegations, trade at large discounts to U.S. stocks. My opinion is that the websites that scream fraud against Chinese companies contain no "new" information that does not exist within the Mosaic Theory (publicly or privately ascertainable). Therefore, the mere fact that their publications affect stock prices so dramatically, given that they provide no "new" information, is irrational behavior.
Additionally, the target stocks tend to move down within seconds of these reports being published. This would strengthen my argument that traders are selling the stocks without reading the reports. Simply the existence of a fraud claim is enough to move stock prices significantly, while the report itself provides little or no new information. Or, if new information does exist in the reports, it is highly contentious and the authors tell you not to rely on it through their disclaimers.
It is a war of words between CEOs and short sellers, with little or no new information being provided to the market from either side, except in rare cases such as Orient Paper's release of an independent appraisal on its machinery. This is new and reliable information. Deal Flow Media reported that Equipnet was the appraiser.
The closest thing we had before was the book value of the plant assets per its balance sheet with Orient Paper's auditor approval. Then Muddy Waters claimed that Orient Paper's equipment was worth some small fraction of the reported values and couldn't possibly produce the volume Orient Paper claimed. Then, this week, we got information from an independent appraisal firm that the plant assets were worth the full value that Orient Paper was reporting. Equipnet did a a value appraisal as well as volume capacity checks. This affirmatively disproves Muddy Waters' allegations on this issue.
Now let's take a step back again. On one side, you have Muddy Waters doing an one-time walk through in which they were not able to physically test the machinery. All Muddy Waters could have done was briefly look at the equipment in passing, and not for more than a few minutes.
Then, on the other side, you have a professional appraisal firm, Euipnet, whose clients include Coke (NYSE:KO), J&J (NYSE:JNJ), Unilever (NYSE:UL), Merck (NYSE:MRK) and Novartis (NYSE:NVS), among others, that completed an appraisal according to the guidelines of the "Royal Institute of Chartered Surveyors ("RICS") and in accordance with the RICS Appraisal and Valuation Manual ("Red Book"), the Uniform Standards of Professional Appraisal Practice ("USPAP") adopted by the Appraisal Standards Board of the Appraisal Foundation, and the Principles of Appraisal Practice and Code of Ethics of the American Society of Appraisers and/or The Association of the Machinery and Equipment Appraisers."

This appraisal would leave no doubt that Orient Paper accurately represented the value and capacity of its machinery.

On June 28, Muddy Waters published its allegations against Orient Paper. Within a few weeks, the stock lost half of its value, or about 100 million dollars. In the months after, Orient Paper went through significant scrutiny to prove itself innocent. In fact, after all the investigations, independent appraisals, undoubtedly auditor initiated reviews and additional sell side due diligence, Orient Paper has been more scrutinized, tested and confirmed legitimate than essentially any other Chinese U.S. listed company.
Deloitte assisted with an internal investigation into its financial reporting, and it came back clean. And now we know that an independent appraiser has given Orient Paper a clean bill of health on its plant assets. This represented the other major claim put forth by Muddy Waters.
The first major claim put forth my Muddy Waters was that Orient Paper's operating subsidiary reported 1/27th of the revenue claimed by Muddy Waters through its SEC filings. Muddy Waters claims it found its Chinese tax filings to prove this. This claim was proven wrong almost immediately when Orient Paper pointed out that Muddy Waters was referencing a company with a similar sounding name, but that had no relationship with Orient Paper whatsoever. In this same response, Orient Paper provided the tax filings for the correct operating subsidiary and published it on its website. Needless to say, it matched the SEC filings. The independent investigation assisted by Deloitte confirmed these points as well.
Make no mistake. Deloitte and a professional independent equipment appraisal affirmatively, undeniably and directly addressed the claims of Muddy Waters and proved them to be false.
Additionally, according to Caron Block's Linkedin profile (that has since been removed after I referenced it in my first article, he is not a licensed securities analyst (series 7, 63, CFA, etc). Essentially, there is no higher securities organization to which he owes an ethical or moral obligation, which should be considered an important foundation when practicing securities research. This is important because securities research relies heavily on the analyst's personal conclusions.
I would liken him to a doctor practicing without a medical license. It is dangerous to practice in the field while owing no one or no thing, a duty of loyalty, prudence or care. Any loyalty, prudence, care or any ethical obligation he may owe to his readers is dissolved in his iron-clad disclaimer. Immediately prior to writing the report on Orient Paper, he worked at a storage facility that he owned. Much more information and background on Carson Block and Muddy Waters can be found here.
Finally, sell-side research, which would entail thorough ground work in China, exists with Orient Paper. Notably, Roth had a "buy" rating on Orient Paper, suspended its rating, and then reinstated at a "hold" after the investigation came back clean, pending the equipment appraisal that has since been completed. It seems Roth is hedging its reputation here with its newest "hold" rating. Now that the final large piece of the investigation, the value of the machinery, came back clean, I would call on Roth to take an affirmative stance behind the company. Even so, a "hold" rating would indicate that Roth has cleared the company of any fraud claims through its additional due diligence process.
Now the 100 million dollar question: When will Orient Paper trade on fundamentals again?
Before Muddy Waters wrote its piece, Orient Paper was trading at double its current share price today. Recently, management gave guidance of $1.40 EPS for 2011 (midpoint of range). At a share price of $5.30, this gives Orient Paper a P/E of 3.8x, obviously still pricing a fraud scenario, despite the strong evidence against it.
Earlier in this article, I speculated that the share price of certain Chinese companies reflects simply gaming the short term volatility surrounding the release of fraud reports. I asserted that no new or unattainable information comes from the reports.
The volatility immediately surrounding the publication of these fraud reports cannot continue. It is too easy for short sellers to profit, while hiding behind the facades of their websites or blogs. Eventually, I believe these reports will flood the market, becoming almost meaningless, akin to arbitragers closing the arbitrage gaps.
Therefore, my answer to the $100mm question would be that Orient Paper would trade at or higher than $9 (pre-allegation) once this gap closes in 2011. I see evidence of this taking place now. Many more reports have surfaced by more anonymous short sellers. I believe the heyday for what essentially seems to be like arbitrage for these short sellers will end this year. Then we will see the good companies, such as Orient Paper, that have gone through significant steps to prove their innocence trade back at normal, pre allegation levels.
As a final thought, I would encourage readers to take a step back and look at the happenings in the Chinese stock space from a bird's eye view. Anonymous bloggers citing no financial credentials whatsoever, belonging to no securities organizations that would hold them to ethical standards, are publishing reports behind the facades of their anonymously owned websites.
In the case of Orient Paper, it has hired Deloitte and a reputable independent appraiser to prove that the bloggers' information is false. Eventually, there will be a victor. Either these Chinese companies values are going to zero (if the bloggers are right), or they are going to correct themselves back to reasonable levels. Which side are you betting on once the dust settles?
Disclosure: I am long ONP.