One of my favorite places to look for companies to research is Forbes Magazine's lists of best small companies and best medium size companies in America, which is where I came across Allegiant Travel (NASDAQ:ALGT). I usually keep each of those issues on my shelf and when things are slow, I start analyzing some of the companies that I'm not as familiar with. The November 8, 2010 edition lists the 100 best small companies in America. I earlier looked at gunmaker Sturm, Ruger (NYSE:RGR), and will occasionally be doing other articles from the list. You can view the Sturm, Ruger article here.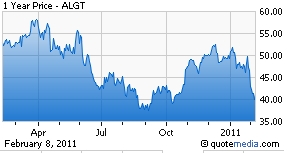 Allegiant caught my eye for two reasons: one, it's cold and snowy outside and I'd love to go on vacation. Naturally, the profile listing air travel to Las Vegas, Orlando, and San Francisco certainly sounded good. Two, the fast fact saying Allegiant had 30 consecutive quarters of profitability was a bit shocking. Was I clear that Allegiant was an airline? Make that 32 quarters now, with another $0.64 share in earnings that came in Q4, and $0.67 in Q3.
The thing that sets Allegiant apart from other airlines is that they have limited competition in their routes. People in Peoria, IL want a direct flight to Vegas or Tampa Bay just as much as someone in New York. Allegiant makes sure that happens. They cater to hundreds of small towns throughout the country and focus on direct flights to nine major travel destinations: Las Vegas, Los Angeles, Myrtle Beach, Tampa/St. Pete, Orlando, Fort Lauderdale, Punta Gorda, Phoenix, and Bellingham, WA. Forbes notes that on many of these routes, there's no non-stop competition at all. United (NYSE:UAL), Delta (NYSE:DAL), and Southwest (NYSE:LUV) don't want to touch them.
Allegiant is different in another way as well. They remained profitable in 2007 without doing fuel hedges. The natural fear, as commodity prices rise, is that airlines will be hurt, especially airlines that don't hedge. Allegiant's margins held up throughout the oil shock in 2008 and through the downturn later that year and in 2009. Their EPS was actually higher in 2009 than in 2010. I'll be honest with you, I first saw these facts in their management presentation from a few days ago, and I had to double-check them in three or four other places to make sure they were right. I couldn't believe it.
How do they keep their margins up during both fuel shocks and deep recessions? Variable capacity. Unlike other airlines, Allegiant has figured out a way to easily cut capacity and simply not run the route if they aren't making money on it. During the period of high fuel costs in 2007, they cut half of their average daily scheduled flights in just two months. Then, as the economy improved and demand increased, they sharply increased their average daily flights by 35% over a two month period starting in May 2010. They're now running twice as many flights as they were in 2007. That doesn't mean they can't or won't ramp it down quickly again if they need to.
Looking at their balance sheet, they've got $150 million of cash and equivalents, and little debt. They bought back $54 million shares last year with an overall share count around 19 million, and they pay a 1.8% dividend.
I haven't been this impressed with management in a small company in quite a while. If you would have told me that a small $780 million airline would have been able to stay profitable during a fuel shock and a deep recession, I wouldn't have believed you. As higher fuel costs come again, I fully believe that Allegiant will continue to shine and even increase their market share. They have no need to hedge fuel costs, because they're so adept at adjusting their capacity. Allegiant has found the keys to profitability for an airline: no leverage, variable capacity, and routes with little competition.
Disclosure: I have no positions in any stocks mentioned, and no plans to initiate any positions within the next 72 hours.