The refiners are really moving right now. The inflow of cheap shale oil is being sent via pipeline, rail and truck. The inflow only looks to get better as the Bakken/Three Forks, Eagle Ford, Niobrara and other large oil finds get daily production levels up. Most importantly, the Bakken is looking to increase production by over 300% as soon as the infrastructure is in place.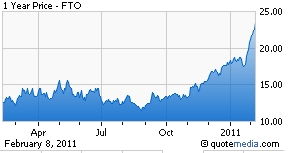 Frontier Oil Corp. (NYSE:FTO) is an independent refiner and wholesale marketer. They have two complex refineries. One refinery is located in Cheyenne, Wyoming. El Dorado, Kansas is the location of the other refinery. They have 187,000 bbls. per stream day. They market to the Rocky Mountains and Plains States.
The Cheyenne refinery has been owned and operated since 1991. It has a crude oil capacity of 52,000 bpsd. This refinery's flexibility is 90% heavy crude to 100% sweet. It has an 8.9 Nelson rating. Product yields at this refinery are 51% gasoline, 36% diesel, 3% asphalt and 10% other. These product yields translate to 17,000 bpd of gasoline, 11,700 bpd diesel, and 1,000 bpd of asphalt. Crude supply is 59% light, 32% heavy, and 9% other. This translates to 20,500 bpd of light crude, and 11,000 bpd of heavy crude.
The El Dorado refinery was purchased from Shell Oil (NYSE:RDS.A) in 1999. It has a crude oil capacity of 135,000 bpd. Crude slate flexibility is 30% heavy to 100% sweet. It has an 11.8 Nelson complexity rating. Product yields are 49% gasoline, 41% diesel, and 10% other. This equates to 70,100 bpd of gasoline, 57,900 diesel, and 15,000 bpd other. Crude supply is 41% intermediate, 37% light, 13% heavy and 9% other. This translates to 59,000 bpd intermediate, 54,050 bpd light, 19,300 bpd heavy, and 13,500 bpd other.
Frontier has several advantages over their competitors. They have product pricing premiums derived from their niche markets. Most important is their location. They are near major oil hubs like Cushing, Oklahoma and Guernsey, Wyoming. They also have pipeline access to refineries from the Bakken and Canadian oil sands. They also have the flexibility to change from sweet, sour, heavy or high acid - whichever has the best margins.
With respect to light product yield they can change 10% to 15% of diesel and gas in several days. Due to the complexity of their refineries they can option to use cokers at either facility to convert discounted, heavy crudes into premium products. Frontier's cokers are important as only 42% of refineries in the United States have them. They have expanded vacuum distillation units to improve light product yields.
Market fundamentals have improved at year over year 4.9% for four weeks ending December 24th, 2010, and up 3.4% year over year for year to date ending December 24th, 2010. Gasoline demand is also improving as the four weeks ending December 24 was up 2.9% and up .4% year to date for December 24th of last year. This is important as not only has demand picked up for the year, it seemed to be accelerating in the last month of 2010.
Margins are also picking up for Frontier as Canadian crude production has been increasing and additional discounts are realized. Cheyenne margins have increased significantly. Heavy crude differential is also improving. Frontier will also continue to get increased production from the Bakken and Canada as production growth through 2014 is significant.
The Niobrara is very interesting as the Cheyenne refinery is located there. I have highlighted this area several times with articles on Samson Oil and Gas (NYSEMKT:SSN), Chesapeake (NYSE:CHK), Haliburton (NYSE:HAL) and CNOOC (NYSE:CEO). If Chesapeake is correct on their assessment of this area, the Niobrara may be able to provide mini-Bakken like numbers. Current production estimates for this area are:
2010: 8-10 mbpd
2011: 20-100 mbpd
2016: 60-200 mbpd
Although I believe these numbers to be a little low, they are substantial nonetheless.
The Cheyenne refinery is working to increase profitability through initiatives. Frontier believes they can improve margins by $3-$4 per barrel in 2011. They are working on yield improvements, operating cost reductions, and margin capture. As of the third quarter of last year they had reduced opex by $16 million, or 14%. During the same time frame, they also improved overall margins by $2 per barrel. This is 50% of their current goal. Their capital budget has three parts and is a total of $96 million in 2011:
Maintenance and Reliability: $46 million or 48% of total
Growth: $28 million or 29% of total
Environmental/Safety: $22 million or 23% of total
Frontier has the lowest overhead when comparing SG&A per barrel (.85) of crude capacity:
Tesoro (NYSE:TSO) $1.02
Western (NYSE:WNR) $1.09
Holly (HOC) $1.27
Valero (NYSE:VLO) $1.62
Alon (NYSE:ALJ) $1.65
Sunoco (NYSE:SUN) $2.64
Frontier is also among the top in net income per barrel ($3.32):
Holly (HOC) $3.75
Sunoco (SUN) $1.53
Valero (VLO) $1.46
Tesoro (TSO) $1.33
Western (WNR) $0.73
Frontier has the lowest debt to capitalization (26.1%):
Holly (HOC) 34%
Valero (VLO) 34.3%
Tesoro (TSO) 36.5%
Sunoco (SUN) 43.6%
Western (WNR) 61.6%
Alon (ALJ) 74.2%
In summary, Frontier is very well positioned. They have made and are continuing to make margin increasing changes at their facility. The most important aspect of their business is the Bakken and Niobrara. As highlighted earlier, their two refineries are in prime position to benefit from the sweet crude coming from the Bakken.
They are also in a good position to receive the intermediate crude estimated in the Niobrara. Although I do not own this stock, I think it is a good purchase here, and with the Bakken and Niobrara crude, think it may be the best long term bet in the space.
Lowest overhead and net income per barrel were averages from 2006 to the end of the 3rd quarter of 2010.