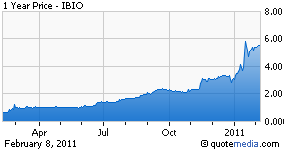 Two years ago, in February 2009, iBio Inc. (NYSEMKT:IBIO) traded for 20 cents a share. It has recently reached as high as $6 a share, representing tremendous 3,000 percent gains for long-term shareholders. However, the company's stock price appreciation has far outpaced the operational growth of the company, and as such, the company is highly vulnerable to sharp contractions in its share price should anticipated positive catalysts fail to materialize.
Investors have been drawn to the story at iBio. It is one of only a handful of companies exploring the cutting-edge scientific research frontier in recombinant proteins. One of the largest and most widely-known of these companies is Protalix (NYSEMKT:PLX) which has an upcoming FDA decision on its Phase III drug candidate Uplyso. Protalix has provided outstanding returns to investors who have stuck with the company over the past few years. Is similar optimism at iBio justified, or is iBio merely riding high on the coattails of a much more accomplished competitor?
iBio has two research firms that cover the stock. Both firms are bullish on the company's shares and have price targets of $6 and $8 on the company. You can find the Goldman Small Cap Research (not affiliated in any way with Goldman Sachs bank) report here, and the Noble Financial report here. These reports cite several reasons for their bullish outlooks.
For one, the company has a Phase I H1N1 vaccine in its pipeline, and is currently performing several studies. But having a Phase I H1N1 vaccine is not sufficient justification for iBio's tremendous rise in the past two years.
The company has also announced a deal in January with Fiocruz/Bio-Manguinhos of Brazil that gives that company the opportunity to develop and manufacture vaccines based on iBio's proprietary iBioLaunch platform. However, the product that would be generated by this partnership, a yellow fever vaccine, is also only entering Phase 1 testing. It will be quite awhile, if ever, until the company is able to significantly monetize anything from this partnership.
And from this comes the crux of iBio's problem. Like many small biotech firms, the company does not have much cash, and it's drugs under development will require far more funding than the company presently has available to it. As of its September 30, 2010 filing, the company had a mere $314,000 in cash. The company addressed this capital shortfall by completing a 4 million share private placement at $2 a share, with warrants for the purchasers to buy more stock at any point at in the next five years at $2.20 a share. This will provide the company working capital for a few quarters, though as the AIDS studies get going, the rate of cash burn should rise.
Despite iBio's incessant talk of licensing deals and the continual reminders of investments and third-party commitments by the U.S. government and the Bill & Melinda Gates Foundation, the company failed to generate any revenue whatsoever in its latest fiscal year. This marks a significant decline from the more than $1 million that iBio generated in revenue in 2009. The operating loss for the company swelled to more than $6 million in the fiscal year 2010 as revenue evaporated. This loss includes, as reported in the company's last 10-K (note 6, page F-13), a $1.4 million loss due to the change in the value of outstanding warrants on the company's stock. In addition to this loss, the company's management and board of directors have been granting themselves more equity in the company at levels far below the current $5.50 a share market price, further reducing shareholder value.
The company simply is not developed enough nor does it have enough near-term revenue prospects to justify anything close to its current $175 million market cap. The company has a mere three full-time employees according to its most recent 10-K. It had no revenue in the 2010 fiscal year. It spent a pittance, a mere $2,517,000, on R&D in the fiscal year of 2010, and it had less that half a million dollars of cash at the time of that report. The dilutive financing of last fall will give the company enough cash to last a few quarters, but it is not a long-term solution. The company will need much greater funding sources to get its Phase I candidates down the long and costly road to FDA approval. And the company's recent financing left a significant warrant overhang at $2.20 a share – far below the current market price.
The bullish case is a case of faith in an untested company. Proponents of the stock, such as Ian Cassal, herald iBio as having a "true paradigm shifting technology." This may or may not be true. However, it is clear you are paying a high price for the potential of paradigm-shifting technology at the present. The company's $175 million market cap bakes in a whole lot of optimism. While the company's technology has the potential to do great things in the future, iBio's stock has acted as if the technology has already been successfully proven. Very rarely does one see a $175 million market cap company with no revenue whatsoever in its latest fiscal year. Additionally, even other analysts with buy ratings on the stock don't see many more gains forthcoming. With price targets of $6 and $8, neither Goldman Small Cap Research nor Noble Financial predict great upside from current prices.
Given all the above commentary, iBio stock appears to be significantly overvalued, and is vulnerable to large corrections in the coming months. Potential downside catalysts include but are not limited to:
iBio needing to go to the capital market for more financing.
The FDA's decision on Uplyso which is being heralded as a test for the whole research field of recombinant proteins (see this informative article for more background).
Any failures or setbacks in the various Phase I projects iBio is involved in.
The potential for massive profit-taking from insiders who are holding stock from far lower prices.
A dumping of shares from recent promoters of the stock. IBIO has been receiving a flood of promotional pumping both at SeekingAlpha and on internet message boards.
I presently assign a "sell" rating to IBIO shares and have a 12-month price target of $2.50. If you wish to invest in the recombinant protein field of research, Protalix is a much more reasonably-priced investment option.

Disclosure: I have no positions in any stocks mentioned, and no plans to initiate any positions within the next 72 hours.