Last week's exposure in this weekly ETF Pullback strategy was a bit scary: Two ETFs focusing on the Middle East and two on the U.S. consumer sector. How could I not be concerned that events in Egypt would continue to roil regional equity markets and that a potential spillover into the price of oil would agitate consumer-related equities?
As it turned out, Egypt remains tense, but the ETFs did exactly what this technical model hoped they would do: Bounce following a pullback ( see Appendix below for explanation and performance data).
We see this in the most recent data in Figure 1, a screen shot from the FolioInvesting.com account I use to trade the model (click to enlarge images):
Figure 1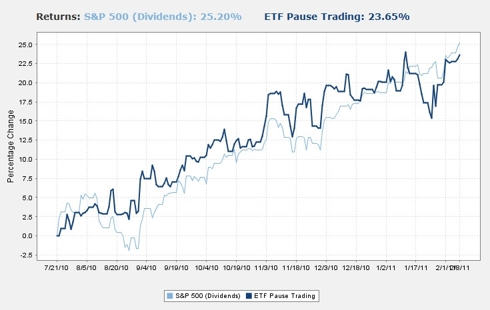 I'd still like to see the model do what it did early in its incarnation; outperform or match the broad market with less volatility. But that may be too much to ask as equities in general continue to power ahead with such vigor, something I doubt can persist much longer. (If or when equities slacken, the model may move to other asset classes, as it often had in the past.)
Here's this week's list:
This was last week's list:
This week's selections seem ordinary enough. That doesn't at all mean they're slam dunks. The Hong Kong ETF can be expected to react to China's efforts to use monetary policy to cool its still-too-hot economy, and the Colombia ETF can add an ongoing trucker's strike to inflation as cause for worry. Sweden, meanwhile, seems a bastion of stability within Europe, but investors are paying for it in terms of stock valuations.
But such worries pale in comparison with the sort of heavy Egypt exposure I was looking at a week ago. And the performance of the past week serves as an important reminder to the effect that the trades I make do not presume anything has been solved. All I'm looking for is a one-week bounce, even if it's in the context of a newly emerging downtrend, as often occur as uptrends move through the process of reversing course.
The two coal ETFs may be part of a longer-term positive investment story. In this context, the model presumes the recent drops we've seen are temporary pauses in the context of uptrends that still have legs.
Coal gets a lot of bad press on the environmental front. To some degree in some places, steps are being taken to burn coal as cleanly as possible, but for the most part, the environmental concerns are for real. But for now and the foreseeable future, the world has no choice but to cope as best it can. For better or worse, coal is still something that's abundant and with major swatches of the developing world getting serious about the "developing" part of the phrase, demand for energy figures to soar. Oil, which is more limited in supply, is apt to rise in price, making a long-term compelling case for coal.
SPECIAL NOTE: Due to travel plans (if any of you plan on being at the World Money Show in Orlando this week, I hope you'll drop by my low-priced stocks workshop on Friday and say hello), this is appearing a day earlier than usual. I don't worry about the "purity" of implementation as a result of this. As big a fan as I am of disciplined investing protocols, I never carry it to extremes. No matter how effectively studied and tested a model may be, we can never be sure the future will match the past, so the best any of us can do, using any strategy at any time, is approximate. I plan to rebalance next week on Thursday.
APPENDIX
To create this model, I started with a very broad-based ETF screen I created in StockScreen123.com.
Eliminate ETFs for which volume averaged less than 10,000 shares over the past five trading days
Eliminate HOLDRs (I don't want to be bothered with the need to trade in multiples of 100 shares)
Eliminate leveraged and short ETFs (I think of these as hedging tools rather than standard ETF investments of even trading vehicles)
Then I sorted the results and select the top 5 ETFs based on the StockScreen123 ETF Rotation - Basic ranking system, which is based on the following factors:
120-day share price percent change - higher is better (15%)
1-Year Sharpe Ratio - higher is better (15%)
5-day share price percent change - lower is better (70%)
The idea of using weakness as a bullish indicator is certainly not new. But often, it's an add-on to other factors that, on the whole, emphasize strength. Here, the weakness factor is dominant, with a 70 percent weighting.
This model is designed to be re-run every week with the list being refreshed accordingly. I trade through FolioInvesting.com, where I pay a flat annual fee rather than a per-trade commission, so I don't care about the fact that turnover form week to week is often 80%-100%. If you want to follow an approach like this but do have to worry about commissions, the strategy tests reasonably well with three ETFs, or even with one. (Cutting the number of ETFs is far preferable to extending the holding period.)
Figure 2 shows the result of a StockScreen123 backtest of the strategy from 3/31/01 through 12/30/10.
Figure 2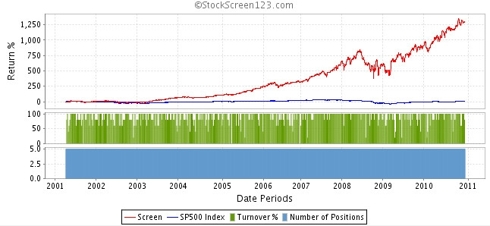 Figure 3 covers the past five years, a very challenging market environment that witnessed the fizzling of many strategies that had succeeded for a long time.
Figure 3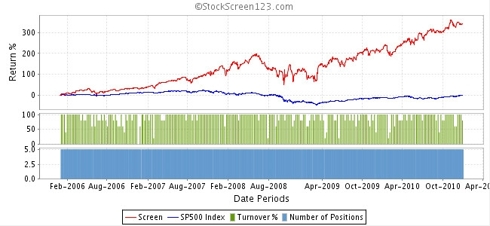 Disclosure: I have no positions in any stocks mentioned, but may initiate a long position in EWD, EWH, GXG, KOL, PKOL over the next 72 hours.