By Alexander Moschina
For three years, Sunrise Senior Living (SRZ) shares have been all over the place.
Following a bankruptcy scare in March 2009, the stock slumped all the way down to $0.30 per share. Just a few months later it shot up to $2.93. Then it was back down to $1.28 … up to $5.54 … then down to $2.41.
Talk about a rollercoaster ride, as illustrated on the chart below: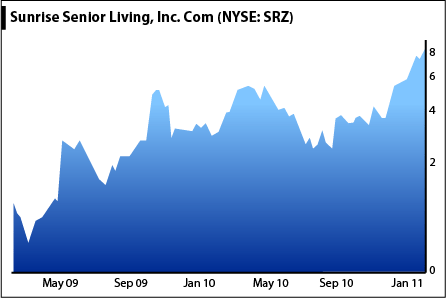 But in September 2010, Sunrise shares finally stabilized. Not only that, they launched into full-on rally mode. Since September 1, shares have bounced from a low of $2.72 to a high of $8.64 on February 7 – a gain of 217%.
But is the company truly back on its feet? Or is it just riding the bullish market? Let's take a look.
Sunrise Hacks Off $368 Million Worth of Debt
With more than 320 facilities worldwide, Sunrise Senior Living is the single largest senior communities operator in the United States. Unfortunately, its size couldn't protect it from the recession.
Senior care providers across the board took a major hit at the start of 2009. In the two months ending March 2, competitor Brookdale Senior Living's (NYSE:BKD) shares dropped more than 43% and Assisted Living Concepts (NYSE:ALC) fell 39%.
Things looked even worse for Sunrise. Not only had its shares slumped by more than 75%, the company had amassed a debt of $636 million. Investors feared the worst when it then announced that it "may be forced to seek reorganization under the U.S. Bankruptcy Code." Fortunately, that never came to pass.
But by selling off assets and cutting expenses, Sunrise managed to cut more than $196 million worth of debt by the end of 2009. Less than a year later, the debt was down to just $267.2 million.
Thanks to these measures, the company is on track to be debt-free as soon as mid-2012.
But this company may find itself back on top even sooner. In 20 years, the number of Americans aged 65 or older will nearly double. As a result, demand for long-term care is growing at a rate of 7,000 units annually, turning a $175 billion industry into one worth as much as $350 billion by 2030.
And once Sunrise clears its debt, it will be in an excellent position to capitalize on this growing market.
Disclosure: Investment U expressly forbids its writers from having a financial interest in any security they recommend to our subscribers. All employees and agents of Investment U (and affiliated companies) must wait 24 hours after an initial trade recommendation is published on online - or 72 hours after a direct mail publication is sent - before acting on that recommendation.