By David Russell
DaVita (NYSE:DVA) has had a nice run, but now one investor is positioning for a drop ahead of tomorrow's earnings report.
optionMONSTER's Depth Charge tracking system detected the purchase of 2,575 February 70 puts for $0.30 and the sale of an equal number of 2,575 February 80 calls for $0.35. Volume was more than 8 times open interest in both strikes.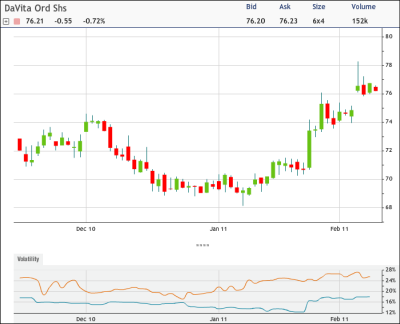 DVA is down 0.72 percent to $76.21 in morning trading but is still up 10 percent in the last month. The provider of dialysis and medical-testing services hit an all-time high of $78.28 on Friday after announcing that it would purchase closely held DSI Renal.

The shares have been climbing despite worries about possible changes in Medicare payments. More clarity on that issue may emerge when the company reports earnings after the bell tomorrow.

Today's option trade is essentially bearish and will make money if DVA pushes toward or below $70. It could have been the work of a shareholder who wants to hedge against a drop. In that case it would be known as a collar and ensure a minimum exit price of $70.05 and a maximum of $80.05.

It could have also been done naked as an outright bearish play, in which case it would lose money if DVA rallies over $80. If the stock remains between $70 and $80 on Feb. 18, the position will expire worthless.

The trade pushed total option volume in DVA to 24 times greater than average so far today.