Shares of Coinstar (NASDAQ:CSTR) have taken a nosedive over the past two months. The stock has been in a free fall after releasing some disappointing earnings news a few weeks ago. Investors abandoned ship and sold the stock for a variety of reasons. Today, I would like to take a look at shares of Coinstar to see if the company is a value stock or a value trap.
Let's start by looking at the history of Coinstar.
Coinstar's Background
Coinstar is the company with those green interactive kiosks that let you convert your change into cash for a fee. You will often find these kiosks at your local grocery store. This has actually become a smaller part of Coinstar's business as the company derives the largest portion of its earnings from DVD rentals. You have seen Coinstar's DVD kiosks at your local grocery store, convenience store, and McDonald's under the name Red Box.
Coinstar's Stock Crash
The stock has been absolutely slaughtered over the last two months losing nearly 38% of its value. Back on December 10, 2010 Coinstar traded at $66.62. Today, February 10, 2011 Coinstar trades for $41.75 a share. Investors started dumping the stock on January 13th. Coinstar dropped from $54 a share to $41 a share. Why the drop?
The company announced that it would miss its forward earnings projection by a mile. Coinstar was expected to earn between $415 million to $440 million next quarter. The company is now expecting revenue totals of just $391 million dollars. Earnings per share was expected to come in between 79 to 85 cents a share. EPS estimates have been changed to between 65 cents and 69 cents per share.
Coinstar's Redbox division is actually seeing its sales suffer due to its 28 day delayed rentals. The company claims that they "underestimated the impact that the delay would have on demand during the fourth quarter". I don't understand how the company could underestimate the impact that a four week delay would have on a business that is based entirely on convenience.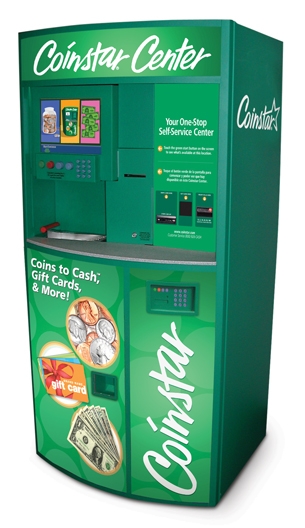 Is Coinstar Cheap?
I think that Coinstar's stock is actually a decent trade right now. Shares appear to be bottoming out and would make a decent short term buy at $39. Even with a restated EPS, Coinstar should be able to earn $2.50 for the year. The company is forecasting $2.77. I discounted earnings another 10% in case of another earnings miss. That would put a 16 multiple on the stock which is substantially below the industry average.
The past five years have seen growth of 9.5% which I believe is sustainable for the next five years. DVD revenue may have missed analyst estimates but it was still up 38%. The company's coin business remains strong with 10% same store sales growth. Margins rose 10% and the company's market share is near 30%. I like the potential for a short term bounce.
I would not buy shares of Coinstar as a long term investment. I don't like the company's long term prospects. Stock investing requires looking at investments over a five to ten year time period. I have a hard time seeing Coinstar as a relevant player in the movie distribution business in 2020. I think that the projected earnings growth of 23.5% is unrealistic considering the competitive nature of the industry and the move to movie streaming and on demand videos. Movie studios like Time Warner (NYSE:TWX) are looking to bypass Redbox altogether by launching their own on demand video service.
Coinstar should pay close attention to what happened to Blockbuster (BBI). Unless the company starts is proactive and stats to shift its core business model, the company could easily lose its share of the movie distribution business.
What do you think? Is Coinstar a good long term stock for building wealth or should investors abandon ship?
Disclosure: I do not own shares in Coinstar