LM Ericsson Telephone Company (NASDAQ:ERIC) reported earnings of 28 cents per share from continuing operations for the fourth quarter of 2010, exceeding the Zacks Consensus Estimate of 25 cents.
Revenues in the quarter were up 8% on a year-over-year basis to SEK 62.8 billion ($9.25 billion) and were up 32% sequentially. Comparable sales after adjusting for currency effects decreased 7% compared to the prior-year quarter.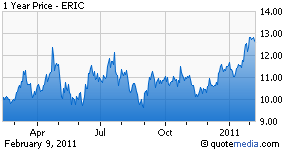 Sales in Networks increased 14% year-over-year and 40% sequentially, driven by increased demand for mobile broadband and investments in 2G expansions in China.
Global Services sales decreased -1% year-over-year and increased 20% sequentially. The year-over-year decline is a result of lower levels of network rollout following the industry wide component shortage earlier in the year as well as a negative impact from a strong SEK.
Managed services grew 5% year- over- year and with 16 contracts signed in the quarter. Multimedia sales recovered and grew 3% year-over-year and 50% sequentially with positive development within revenue management.
In 2010, mobile broadband subscriptions increased 30% to approximately 500 million, representing 10% of total mobile subscriptions. The company expects strong uptake for mobile broadband in 2011, with the number of mobile broadband subscriptions expected to double and hit one billion.
Gross margin in the quarter, excluding restructuring, increased year-over- year to 37% and was down from 39% sequentially. Gross margin in the quarter was positively impacted year-over-year by cost reductions and a lower proportion of services sales of 36%.
Operating income, excluding joint ventures and restructuring charges, amounted to SEK 8.4 billion ($1.2 billion) in the quarter. Operating margin was flat at 13%.
Net income amounted to SEK 4.4 billion ($648 million).
Cash, cash equivalents and short-term investments amounted to SEK 87.2 billion. The net cash position increased sequentially by SEK 15.6 billion. to SEK 51.3 billion, mainly due to increase in net income affecting cash, as well as good collections.
As a technology and market leader in wireless equipment (based on the GSM standard), Ericsson stands to benefit from the continued growth of the wireless industry, especially in the emerging markets. GSM-based network expansions in the emerging markets (including Latin America, Eastern Europe, Africa and China) are expected to drive moderate revenue growth over the next several years.
Having established partnerships with local companies and having set up R&D centers in numerous locations, Ericsson is well positioned to win additional network expansion contracts in Asia over the next couple of years. In addition, Ericsson has been winning more than its share of 3G contracts, including a contract to provide High Speed Downlink Packet Access (HSDPA) technology to AT&T Inc. (NYSE:T).
However, we expect the continued consolidation in the telecom industry to hamper growth and squeeze margins over the long term as competitors that cannot compete on technology will begin to cut prices to win business.
Going forward, "catch-up" capital spending by the wireless carriers is likely to be replaced by lower-margin 3G equipment rollouts and network builds in price-sensitive emerging markets. In this environment, Ericsson finds it prudent to plan for flattish development in the global mobile infrastructure market and good growth in the professional services market.
Risk factors include potential negative effects of the continued uncertainty in the financial markets and the weak economic business environment on operators' willingness to invest in network development.
Another risk factor involves uncertainty regarding the financial stability of the suppliers due to a lack of borrowing facilities, or reduced consumer telecom spending, or increased pressure on Ericsson to provide financing.
Headquartered in Stockholm, Sweden, LM Ericsson Telephone Company is a multinational company engaged in manufacturing and selling wireless infrastructure equipment to the telecom sector. It is a total network solutions provider, serving wireless and wireline operators, enterprises and consumers. The company is primarily a supplier of global systems for mobile communications (GSM)-based equipment, and looks to benefit from the next generation systems as more broadband content is being streamed to mobile devices, prompting network providers to upgrade their networks. Alcatel - Lucent (ALU) is a major competitor.
We currently maintain our Neutral recommendation on Ericsson, with a Zacks #3 Rank (Hold recommendation) over the next one-to-three months.