UBS AG (NYSE:UBS) has returned to full year profitability in 2010 for the first time since 2006. For full year 2010, the company posted net profit attributable to shareholders of CHF 7.2 billion ($7.5 billion) or CHF 1.87 per share, compared with a net loss of CHF 2.7 billion or CHF 0.75 per share in 2009.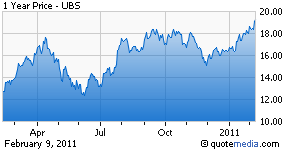 For fourth quarter 2010, UBS AG reported net profit attributable to shareholders of CHF 1.29 billion ($1.35 billion) or CHF 0.33 per share, up from CHF 1.2 billion or CHF 0.31 per share in the prior-year quarter. However, results were down from the prior quarter when the company reported net profit of CHF 1.66 billion or CHF 0.43 per share.
Quarterly results of UBS AG include a credit charge of CHF 509 million, net credit loss expenses of CHF 164 million and a tax credit of CHF 149 million, considerably lower than the CHF 825 million tax credit reported in the prior quarter. Total litigation provisions were CHF 230 million.
We are encouraged to see the positive flows that UBS AG reported in the quarter. The company reported inflows of CHF 7.1 billion, compared with CHF 1.2 billion in the prior quarter and outflows of CHF 56.2 billion in the prior-year quarter. Inflows were seen across all asset-gathering businesses.
UBS AG maintained its cost discipline and achieved its fixed cost target of less than CHF 20 billion for 2010. However, for the fourth quarter 2010, the company reported a sequential increase of 2% in expenses to CHF 6.0 billion. The company has reduced its bonus pool by 10% to CHF 4.3 billion from CHF 4.8 billion in 2009.
UBS AG's invested assets were CHF 2,152 billion as of December 31, 2010, down from CHF 2,180 billion as of September 30, 2010 as positive market movements and net new money inflows were more than offset by the depreciation of the US dollar and euro against the Swiss franc.
UBS AG's capital ratios increased for the seventh consecutive quarter to 17.7% as of December 31, 2010, from 16.7% at the end of the prior quarter, while core tier 1 capital ratio increased to 15.3% from 14.2% over the same period. The company would, however, not pay any dividend for 2010 in an effort to retain its earnings to meet its capital requirements.
Outlook
UBS AG is optimistic that overall positive net new money inflows will persist in the first quarter of 2011. For the full year, the company expects net new money to build up distinctly. The company does not expect its Investment Banking department to match the seasonally strong fourth quarter results, especially for its advisory business.
UBS AG expects client activity in the first quarter to be above fourth quarter levels in its wealth and asset management divisions, thereby augmenting transaction-based revenue in those divisions. The company has been investing in some of its securities trading operations in the recent quarters and expects such efforts to support its earnings in the upcoming quarters.
Competitors
Last week, Deutsche BankAG (NYSE:DB) reported its fourth quarter and full year financial results. The company was in fact the first of the major European banks that reported this month.
Deutsche Bank reported fourth quarter 2010 net income of €605 million ($823 million) or €0.63 per share, down 54% from €1.3 billion or €1.82 per share in the prior-year quarter on the back of acquisition-related costs and restructuring expenses. For full-year 2010, the company reported profits of €2.3 billion ($3.1 billion) compared with €5.0 billion in 2009.
Another rival, Credit Suisse Group (NYSE:CS) is scheduled to report its results this Thursday (February 10, 2011).
Our Take
The global economic turmoil had a severe impact on the Swiss banking major's balance sheet when the subprime crisis led to record losses. Additionally, the issues emanating from alleged tax evasion investigation and the dilution of Swiss banking secrecy significantly impacted UBS AG'sperformance in the past several quarters, as worried clients looked for a safer refuge. Ultimately, the company agreed to transfer details of thousands of clients to U.S. authorities.
Increasing profitability and inflows remain UBS AG's top priorities. The company has taken several restructuring initiatives, which should support its results in the upcoming quarters. Yet, we believe the volatile capital market conditions will restrict the top-line growth to some extent in the near term.