CTS Corp. (NYSE:CTS) is poised to generate strong growth, based on increased R&D driving new program wins, new products and additional markets. R&D, when effectively managed, is frequently a telltale sign for improved growth prospects. Based on the company's past success and management's commitment to the process, increased R&D can be expected to lead to double digit growth going forward.
I wrote the company up favorably in October 2008, when the stock traded at 5.53, suggesting a target price of 13, based on potential 2010 earnings of .76. The company earned .63 for 2010 and closed yesterday at 11.99. This article updates my opinion, developing a target price of 17, within two years.
It should be carefully noted that CTS was the manufacturer of the accelerator module implicated in Toyota's problems with unintended acceleration within vehicles. CTS defended itself capably on the grounds there were no real problems and the parts were built to Toyota's specs. Toyota has since been exonerated, on the grounds there were no real problems.
Overview
CTS operates in two segments - Components and Sensors (51%) and EMS (49%). Many of the applications for components and sensors are in the automotive and off-road vehicle categories, while the EMS has been focused on higher margin areas of medical, aerospace, defense and industrial. CTS is a strong player in two difficult industries, both of which are experiencing renewed growth and opportunity.
The company makes a presentation available on its website - it's a good one and provides considerable insight into a relatively complex set of operations.
R&D
From my 2008 article:
CTS spends about 2.5% of revenue on R&D. Based on the conference call, my sense is that this money is effectively deployed, along the lines of what I call "creativity-to-order."

R&D can be a troublesome area for investors – the situation in bio-tech and pharmaceuticals is the primary offender. Some companies have massive R&D expenditures, well over 10% of revenue, yet there is no predictability of when something important will come out of the pipeline. The question is, can R&D create a new breakthrough, the next blockbuster drug? All too often the answer is, not yet.

Innovation, something new and not previously thought of, is illusive.

Creativity-to-order consists of experienced engineers or scientists extending existing technology in ways both they and their customers know are possible. The customer knows what they need, they know who can reliably produce it, and good things follow. What I read in the conference call suggests that this desirable state of affairs exists between CTS and its customers.
Here's a snip from the company's most recent investor presentation:
Click to enlarge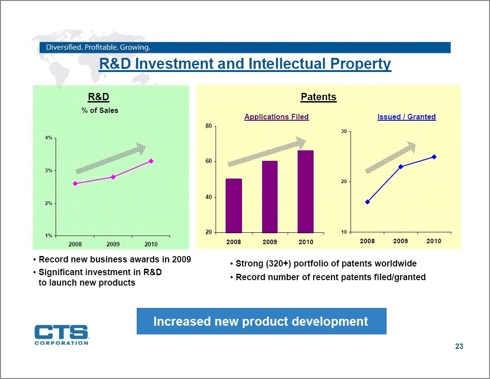 Clearly, management is committed to a process where the interaction of R&D with customer requirements produces program wins and next generation products. R&D expenditures, currently increasing to over 3% of revenues, can drive growth. Based on this line of thinking, I subscribe to management's goals of 10-13% growth for the next four years, and plan to invest accordingly.
Valuation
For a company growing at a double digit pace, when driven by strong technology, a multiple of 23 is a good rule of thumb. Using the midpoint of 2011 guidance, I see .72 X 23 = 17, within two years. The increase in R&D flows through expenses in GAAP accounting, while the sums expended actually benefit future quarters, and are in reality investments. Under this entrepreneurial type of thinking, a higher multiple is appropriate, because the R&D will contribute to future growth.
From 2003 to 2007, CTS grew strongly and traded at PEs around a midpoint of 23.
A valuation of this type is a projection, and requires continued global economic expansion and strong participation by CTS, with management achieving its objectives. Progress needs to be evaluated on a quarterly basis and expectations revised accordingly.
Strategy
Beta checks in at 2.0, with implied volatility at 49.7%. The stock is optionable, but there isn't enough open interest and liquidity to make options attractive. There is a dividend - 1% - but with definite uses of cash to fund growth initiatives, there is no reason to look for an increase.
Buying at today's prices, an investor has a reasonable expectation of gaining a profit over time due to share appreciation. Noting that the market is in the area of 52 week highs, and that higher beta stocks may bear the brunt of a correction, if any, it may be possible to get a better entry point.
With that in mind, I have taken up a starter position, planning to accumulate and monitor performance over the next few quarters.
Disclosure: I am long CTS.