Bill Ackman's hedge fund Pershing Square Capital Management held its annual investor dinner recently and went through a slideshow of their investments. In particular, they highlighted their activist position in retailer J.C. Penney (NYSE:JCP). In the past, we'd posted up Ackman's potential JCP real estate thesis. This time around, we've got rationale direct from Pershing Square.

Ackman began purchasing JCP shares at $20.01 in late August, 2010. Pershing filed their activist 13D on JCP in October and then J.C. Penney promptly proceeded to hire bankers. The hedge fund's cost basis on JCP is $25.28, but that excludes options (we've broken down Pershing's JCP stake here). Shares of JCP today trade north of $35 per share. Below we'll take a glance at Pershing's slides on JCP.

Investment Thesis

According to their annual investor dinner slideshow, Pershing Square "recognized in JCP an opportunity to invest in a cyclically depressed national retailer at a significant discount to fair value." While shares of J.C. Penney are up almost 10% from Ackman's cost basis, he still sees shares as inexpensive when you consider the company's asset base and earnings power.

Ackman's thesis on JCP can be summed up in the points below:

"Cheap relative to trailing earnings (adjusted for year end cash and non-store real estate portfolio): The stock currently trades at only 4.9x 2010 EBITDAP."
"Sales productivity and margins remain depressed creating material leverage to a recovery. Sales per square foot are at 2002 levels. 2006 EBITDAP was ~50% higher than 2010 level."
"Company's reported pension expense masks true cash flow."
"JCP owns substantial core and non-core fee and long-term leasehold real estate interests."
"Vornado brings relevant experience in retail and real estate and is a party we've worked well with in the past." If you're not familiar, Vornado Realty Trust (NYSE:VNO) also bought a large stake in JCP.
And today in an interview on CNBC, Andrew Ross Sorkin asked Ackman what he thought J.C. Penney was worth. Ackman's response? "Somewhere meaningfully higher than where it trades." He also said that the company's margins and revenues are lower than where they could be.

Shareholder Activism

And in recent developments, Ackman joined J.C. Penney's board. When he first took the stake, it appeared as though JCP was going to push back against Ackman's activist advances. The hedge fund manager notes that activism often requires patience and that was the case here. Pershing Square has been involved with a long list of companies on the activist front and have built up credibility as an agent of enacting change.

Below you'll find a slide of Pershing's typical sources of opportunities for activism: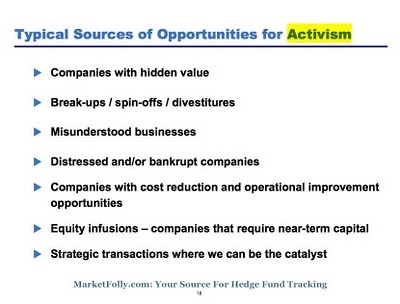 (Click to enlarge)