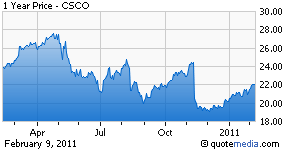 Cisco Systems (NASDAQ:CSCO) allayed concerns about its second quarter results with earnings that topped expectations.
The networking giant reported fiscal second quarter earnings of $1.5 billion, or 27 cents a share, on revenue of $10.4 billion. Non-GAAP earnings were 37 cents a share. Wall Street was expecting earnings of 35 cents a share.
As noted in a preview, analysts were expecting Cisco to rebuild its order backlog. Demand throughout the quarter looked solid. Indeed, Cisco CEO John Chambers said "the quarter played out as we expected."
Cisco projected plodding revenue growth. Chambers said third quarter revenue will increase 4% to 6% in the third quarter. In the fourth quarter, Cisco is projecting revenue growth of 8% to 11%.
On a conference call, Chambers said the following:
Cisco put a lid on hiring and added only 300 people during the quarter.
New products - data center, collaboration, security, wireless and video - saw revenue grow 15% in the quarter. These new areas represent 39% of Cisco's revenue.
Switching was positioned well against competitors, but there is a product transition underway. "We fully intend to own the transitions in routing and switching," said Chambers. But switching revenue fell 7% in the second quarter. Chambers said Cisco is seeing pricing pressure in its older Catalyst switching line. He added that Cisco intends to own the evolution to its new Nexus switches and will protect market share.
Enterprise sales grew 10% in the quarter. Public sector sales grew at 7% to 17%. Chambers said Cisco saw weakness in municipal and state IT spending and expects that the federal government will follow.
The consumer business fell 15% in the quarter.
By the numbers:
Product revenue was $8.24 billion in the second quarter, up from $7.97 billion a year ago. Service revenue was $2.17 billion, up from $1.84 billion a year ago.
Research and development spending was $1.48 billion.
Days sales outstanding were 40 days, up from 38 days at the end of the first quarter.
Inventory turns were 10.6 in the second quarter, down from 11.2 in the first quarter and 12.1 a year ago.
Cisco generated cash flow of $2.6 billion in the second quarter, up slightly from a year ago.
The company ended the quarter with $40.2 billion in cash.