It has been a bad nine months for Cisco (CSCO). After trading near $28 per share in May of 2010, the company has managed to disappoint Wall Street's expectations for three straight quarters. After yesterday's report (see conference call transcript here), it looks like investors have had enough. In after hours trading, the stock is now trading under $20 per share to as low as $19.77.
Back in June 2009 when General Motors (GM) filed for bankruptcy, the keepers of the Dow Jones Industrial Average replaced GM with CSCO. At the time, many said the move was done to show the Technology sector's increased importance in the US economy.
CSCO itself echoed this sentiment when it issued a statement saying that, "We believe our inclusion in the Dow demonstrates not only Cisco's role as a broad technology indicator, but how remarkably the Internet and networking have transformed the way businesses and consumers connect, communicate and collaborate."
The only problem with this view is that CSCO is no longer representative of the Technology sector.
The chart below compares the performance of CSCO to the overall S&P 500 Technology sector since CSCO was added to the DJIA in June 2009. As shown, while the Technology sector has rallied more than 50% over that time, CSCO, including last night's after hours decline, is down 0.5%.
click to enlarge images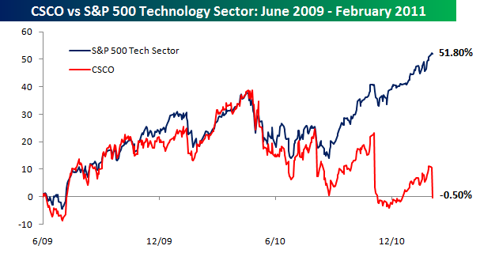 To add insult to injury, since CSCO was added to the DJIA, it is one of only six of the 76 stocks in the Technology sector that are down.
CSCO is often referred to by the press as a bellwether for the Technology sector, but based on the last several months, the stock has become increasingly irrelevant. Perhaps one bright side to CSCO's after hours decline is that even though the stock is down 10%, because of its low share price, its downside impact on the Dow 30 translates to only 15 points.