ITT Corporation (NYSE:ITT) has announced that it intends to use a stock spin-off process to separate the company into three parts: water technology, defense technology, and the rest of ITT that will be left with those two off on their own.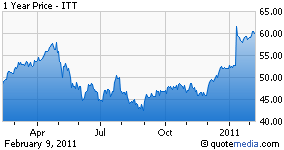 The is no lack of coverage or awareness of this or most other stock spin-offs now. Perhaps there was a time when spin-off stocks traveled under most investors' radars, but that advantage for savvy value seekers has been diluted by websites, blogs, and even highly touted, heavily sold "all-you-to-do-to-beat-the-market" e-books and courses.
The ITT spinoff even has its own website that explains exactly what is going to happen. "Three Strong Businesses Positioned to Create Significant Value for Shareholders as Standalone Companies" is apparently their motto. The pro forma revenues are reported at $3.6 billion from water, $5.8 billion from defense, and $2.1 billion from ITT which they describe as "a diversified global manufacturer of highly engineered industrial products." So you and everyone else has more than enough data to get totally bored or confused.
So what's an individual investor to do? Other than give up the whole thing, of course.
First off, you can just read the information, draw your own conclusions and make your best estimates of the potential for the parts of the transaction, parent stock and spin-off stock. That can work quite well actually. Do you think defense spending will be cut? Do you think that the world demand for clean water will be a profitable area in the future? No one has a chart with data on the right hand side that goes beyond today's date. Take a deep breath and make your own predictions. They're likely to be as good as anyone elses.
As far as I can tell at this point, this spin-off does show signs of being a situation in which the sum of the parts could turn out to be worth more than the whole.
Though the underlying theme is engineered solutions to complex challenges, each is working in an identifiably different area of application.
All three entities are in the business of keeping an increasingly efficient flow of limited natural resources flowing to the world's economies.
It doesn't look like the spin-offs are an attempt to dump toxic assets.
Top executives from the current ITT are going with the new companies.
On the other hand, none of them seems as though it is going to be so different from the current parent company that they will necessarily be automatically dumped by current shareholders creating value that way and they haven't told us how debt will be apportioned among the three companies. So, watching, reading, and trying to put it all together is going to be necessary.
Another way to go is to pick some measurable characteristic(s) of the companies' operations that make sense to you for which you have access to accurate information.
This can take a bit of digging, but if you find something that others may not be taking into account, it can be well worth the effort.
Ratios can be helpful in this regard because they allow you to compare the data across several companies. The challenge here is to make an accurate decision about what companies to compare each component to. It's fairly easy to find them for the current configuration in free content on the internet. For the current ITT the Morningstar website lists the price/book ratio to be 2.6, price/sales 1.0, forward Price/Earnings 12.7, and Price/Cash Flow 12.8. And often, others will even do some calculations for each component of the spin-off for you, especially for the high visibility spin-offs like this one.
Take advantage of those.
As with most stock spin-offs, there is plenty of time to watch the process unfold and decide if, when, and where to enter. Make the trade come to you.