Act after having made assessments. The one who first knows the measures of far and near wins- this is the rule of armed struggle
--Sun Tsu, "The Art of War"


Whole Foods Market, Inc. (WFMI), an Austin, Texas, $9B market cap supermarket chain, moved sharply higher on Wednesday, making a new 52 week high. After WFMI reported earnings that topped estimates, volume spiked to over three million shares traded and the stock closed out the day at 58.72 in after-hours trading. Four new stores have been added so far this year with an average size of almost 44K square feet. This is up from the stores that opened in fiscal year 2010 at 42,600 square feet. The bottom line moved up over 75% over the same period last year on an increase of revenue of about 40 percent. Earnings per share was reported at $.51 compared to the street estimate of about $.45.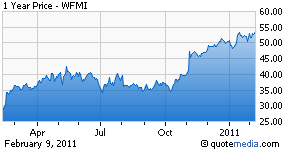 The investors took the earnings report as a reason to bid up the price of WFMI in after-hours trading with the final price up about 11% from the previous close. Even Jim Cramer felt this was a good company in the Lightning Round tonight on CNBC. It is no small wonder why. WFMI stated during the conference call they see their long term target to be 1,000 stores. Canada could reach $1B in sales during the next 10 years and to top it off the existing same store sales are up 8%. The sales per square foot were about $856.
Moving forward WFMI gave some encouraging guidance numbers. For fiscal year 2011 a sales increase of 7.2%-9.2%. WFMI has an expected $1.76 to $1.80 earnings per share including this reported quarter. It would appear that margins during the last half of the year will feel pressure as contracts for products get renewed and are expected to rise based on the transcripts of the conference call.
Here are some key points of the conference call that I thought noteworthy:
John Heinbockel - Guggenheim Securities, LLC
The input cost to you that you are seeing as you buy product, would that be materially different than the average selling price change or no?
Walter Robb
Not in the first quarter. I mean, actually, the increase -- both of them were fairly not material in the first quarter, not particularly significant. The inflation question, just to get it out there, it's pretty clear. I think we're pretty well buffered for Q2 because of contractual arrangements and so forth, but I think it is a concern for the back half of the year, and we're just going to have to see how that plays out in the marketplace. I mean, the competitors are behaving very rationally right now. We saw some increases happen in the last number of weeks and so there's some thought that some of this can be passed on. But in the first quarter, it wasn't particularly meaningful, either on the cost side or the sell side.
John Heinbockel - Guggenheim Securities, LLC
And as a follow-up to that, how do you think about pricing power and price elasticity? I assume you're willing to take a little bit less volume to get some pricing through. And do you think compared to 2008, do you have more pricing power today or less, or how would you compare the two?
Walter Robb
I think on that question, the marketplace ultimately sort of dictates where the pricing is going to go, and we saw the consumer, in the last couple of years, learn how to trade down or trade up in the other categories and resist price increases. And I think they've still learned that behavior and still have that flexibility. But at the same time, it looks like the marketplace is generally moving forward rationally and incrementally with these price increases. You've got corn and soy and these sorts of things, which are coming. We're a little more insulated from that in the traditional conventional grocer. But there's some incremental movement on those things coming ahead.
There is a lot more information in the transcript and I highly recommend you read it over carefully. Lots of clues about headwinds and issues often come out in the finer details. One thing that I could not help but take away was that it appears inflation is a big part of why sales and profits are up. I can't help but think that while inflation makes the numbers look good, inflation also masks problems that might otherwise be seen. It is easy to lose that competitive edge when all you have to do is open the doors and sales will go up due to inflation. That is not true growth and that comes back in ways that are very business unfriendly. Like loss of purchasing power for consumers.
With a price of $59 per share which anyone that is still holding the stock hopes to see or I would think they would sell, and calculating the earnings per share on the top end of management guidance we see that the PE is a whopping 32.7. That may be fine for a fast growing growth company but the Fed stated yesterday that QE2 can be stopped at any time. I believe at some point increasing record pricing of food products like sugar, coffee and wheat will turn the corner on retail including supermarkets. Perhaps supermarkets more than average as people hunt for bargains at other venues.
The price action with WFMI is much like what happened with NATI when I called for a pullback in price. I felt then about NATI (see article) as I do with WFMI that the stock price increase rate is unsustainable. This is largely a result of the earnings being already priced into the stock before they came out. With $48.60 the ending price for 2010, WFMI is up already over 20%. Looking back at a year ago the price has about doubled in price. Those that are buying now are chasing the stock and are paying ever increasing forward PE multiples.

Those buying are also going against what management is doing. Looking at EDGAR Online it appears very quickly what management thinks about owning the stock. I feel that actions speak much louder than words. Management can tell us how things are going well all day long and how the stock is great but if at the same time they are selling I tend to question why. Those that have read my short bias articles know I like to include insider selling activity. Sometimes insiders are not selling much and sometimes they are. Many still cling to the notion that you can't learn much from tracking insider sales. That is like telling me the stock market is a random walk and you can't predict the future price of a stock. This thinking is total hogwash by those that simply haven't been able to figure out how to read the data. With that being said, insiders are off the chart in selling stock.
I believe WFMI is selling stock at a faster rate than any other stock I have reviewed and written about. Almost 32M shares in the last 12 months. Wow! I think I will agree with management and sell the stock. I believe that no one knows the company better than those in management. If they think the stock should be sold I feel like I am in good company when I do. While a few shares were bought by insiders in the last 12 months not one share was bought in the last three months.



Click to enlarge
I use a proprietary mix of technical analysis, financial crowd behavior, and fundamentals in my short term trades. While not exactly the same in longer swing trades to investments, the concepts used are similar. I believe the company and the company stock correlation have separated, thus leaving the stock to be over-priced relative to the performance of the company. I was not able to short call options due to the options market being closed, but I was able to short the stock into the closing of after-hours trading.
The round number price of $60 will be the next big psychological price point for WFMI and I will be looking to sell the February and/or March 60 strike price calls. Looking at the volume traded yesterday, and what I expect tomorrow this should provide plenty of liquidity.The volume of WFMI and excitement will be strong tomorrow and especially the open with a gap higher. This will normally quickly fade and without further news to keep the light shining on the name I will expect profit taking to come to the forefront of investors minds as volume slows down.


Disclosure: I am short WFMI.

Additional disclosure: I will be looking to short Feb and or March WFMI $60 strike price calls within 72 hours.