Chevron Corp. (NYSE:CVX) is the second largest integrated energy company in the United States, and the world's fourth-largest oil company based on proven reserves. Yet in spite of its immense size, we believe this top quality company has plenty of opportunity to grow worldwide.
Chevron's balance sheet is strong and their cash balances exceeded their debt by over $5.6 billion at the end of 2010. Additionally, we are confident that their strong cash flow generation will allow them to continue to repurchase shares, aggressively invest in their future and continue to grow their dividend as they have for the past 23 years.
We believe that Chevron's stock is undervalued with a PE ratio of just over ten times earnings, a debt to equity ratio of 10% and the dividend yield of 3%. Over the last decade, since the recession of 2001, Chevron has grown earnings per share by 8.8% per annum.
In contrast, the S&P 500, representing the average company, has only grown earnings at 4.9% per annum. Nevertheless, the current PE ratio of the S&P 500 is 15.6, which is approximately 50% higher than Chevron's PE of 10. Chevron has almost twice the growth rate, almost twice the dividend yield, a debt to equity ratio of 10 versus the S&P 500's 49, and yet ludicrously trades at a discount valuation to the index.
click to enlarge images
Chevron vs. S&P 500: Historical Earnings and Price Correlated F.A.S.T. Graphs™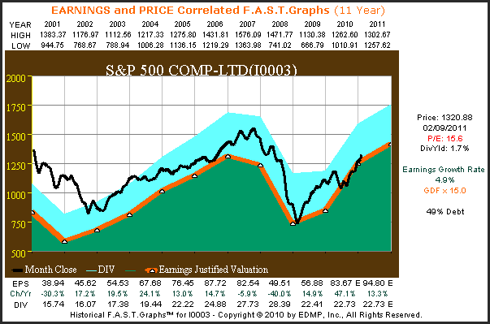 Click to enlarge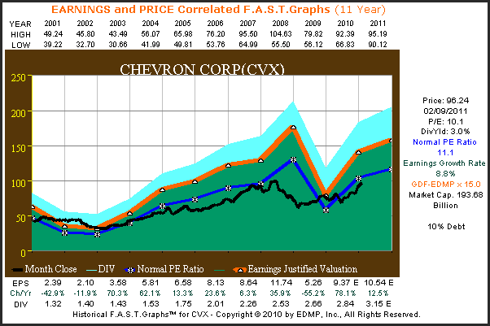 Click to enlarge
The calculated performance results for Chevron since 2001 illustrate remarkable outperformance versus the S&P 500 even at today's low valuation.
The dividend cash flow table below illustrates the growth yield that Chevron has produced over this last decade that included two recessions. Since calendar year 2001, Chevron shareholders have received three times as much dividend income as they would have received from an S&P 500 index fund.
Moreover, their capital appreciation, which averaged 8.7% per annum, is in stark contrast to the losses that S&P 500 owners experienced.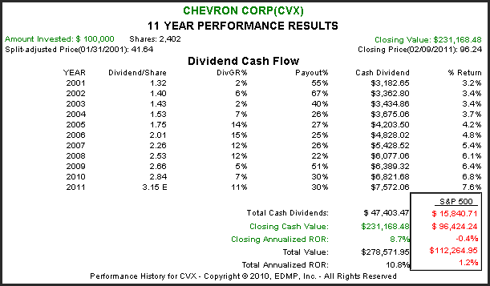 Click to enlarge
Thesis for Growth
The following slide, slide 3, from Chevron's fourth quarter earnings conference call on January 28, 2011 (see transcript here) was presented by John Watson, Chairman and Chief Executive Officer of Chevron. Mr. Watson shared Chevron's remarkable strategic accomplishments for 2010. To summarize and paraphrase some of his remarks, Mr. Watson pointed out that Chevron achieved their safest year ever setting records in both upstream and downstream operations.
Importantly, Chevron exceeded their production growth guidance, and sanctioned major capital projects which are listed on the slide. Mr. Watson also reported adding a significant amount of new deep water and shale acreage to their portfolio.
Regarding their downstream businesses, they've restructured into a new organization focused on improving operating performance.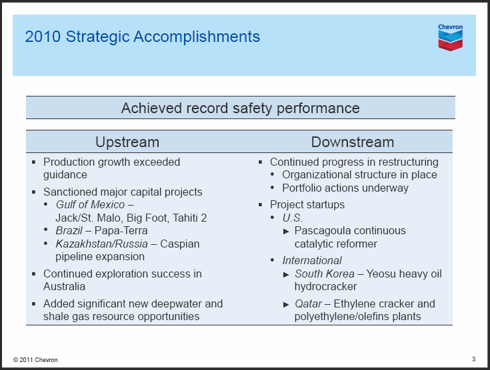 Click to enlarge
After his brief report, John Watson turned the conference call over to Patricia Yarrington, Chief Financial Officer and Vice President of Chevron. Ms. Yarrington reported that Chevron increased their earnings over 70% for the quarter, and earned over $19 billion or $9.48 per diluted share for the year. She went on to report that Chevron's return on capital employed for the year was over 17%, and that the company paid over $5.7 billion in dividends, marking the 23rd consecutive annual dividend increase with an average annual growth rate of over 7%.
Patricia Yarrington ended her portion of the presentation by reviewing Chevron's outlook for 2011. She had previously announced Chevron's capital program for 2011 at $26 billion, a 20% increase over 2010. About 85% of its capital program would be for "Upstream" activities related to large multiyear projects that she felt were consistent with the firms "Upstream" growth strategies.
These major projects are listed in slide 16 below. We believe that their "Upstream" growth initiatives are not only well defined, but long-term attractive as well. We are further encouraged by their "Downstream" continued focus on restructuring, cost reductions and international expansion. All in all, we believe that Chevron's long-term growth prospects for 2011 and beyond are very attractive.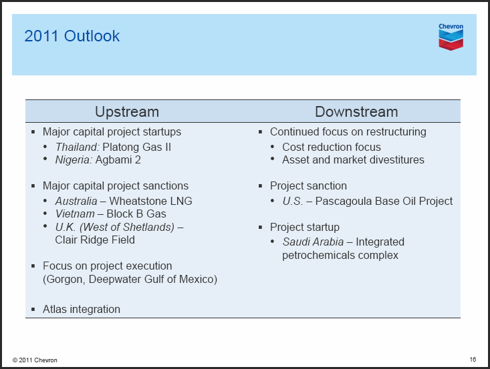 Click to enlarge
Risks
Like all companies involved in the exploration and production of energy assets, Chevron's business is closely tied to oil and gas prices. As an international company, Chevron also faces the political risks of operating abroad. With many foreign companies favoring their own, mostly state owned, energy companies, Chevron faces challenges in developing future reserves.
On the other hand, few companies have the resources or technology prowess that Chevron possesses which should enable them to overcome these challenges. Furthermore, with energy prices beginning to rebound worldwide, growth potential is there.
Another potential risk that Chevron faces, are allegations that they have created environmental harm in the Amazon region of Ecuador. Chevron vigorously denies these allegations and has been taking aggressive actions to vigorously defend themselves. Although, the outcome of this lawsuit is probably years away, there is a potentially large contingent liability that perspective investors should be aware of.
Conclusions
We believe that the market is currently overstating the risks and understating the opportunities that this high-quality energy company possesses. Therefore, we believe that Chevron Corp. (CVX) is an undervalued holding at today's levels. A well protected and growing dividend yield, coupled with an opportunity for above-average earnings growth make this quality company an attractive candidate, in our opinion, for investors seeking growth of both capital and income.
Of course, as always, we recommend that each investor conduct his or her own due diligence before investing.
Disclosure: I am long CVX.