Yesterday's Treasury auction saw a reversal of the recent trend (see especially the fourth chart below). Here's the WSJ lead:
U.S. Treasurys broke a seven-day losing streak Wednesday, rallying after a stellar sale of 10-year notes that was met with the strongest demand on record from foreign buyers.
The charts below are updated through February 9.
The behavior of Treasuries is an area of special interest in light of the Fed's QE2 strategy. The first chart shows the daily performance of several Treasuries and the Fed Funds Rate (FFR) since 2007. The source for the yields is the Daily Treasury Yield Curve Ratesfrom the US Department of the Treasury and the New York Fed's website for the FFR.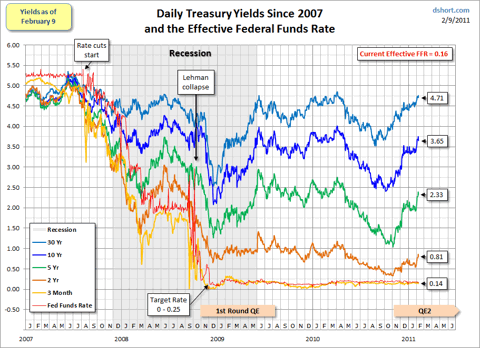 (Click charts to enlarge)
Here's a closer look at the past year with the 30-year mortgage added to the mix.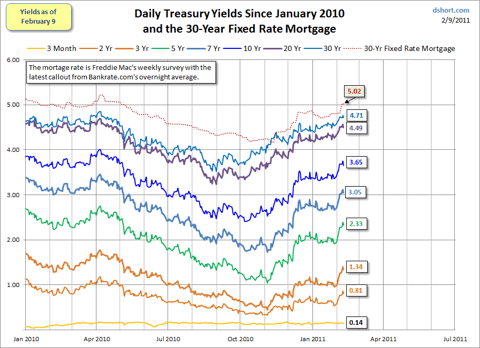 Here's a comparison of the yield curve at the time of the Fed's QE2 announcement and the latest curve.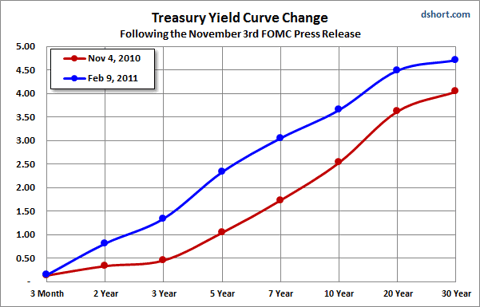 How much have yields risen? This chart shows the percent change over the same timeframe for a basket of eight Treasuries. As we readily see, yields are accelerating dramatically.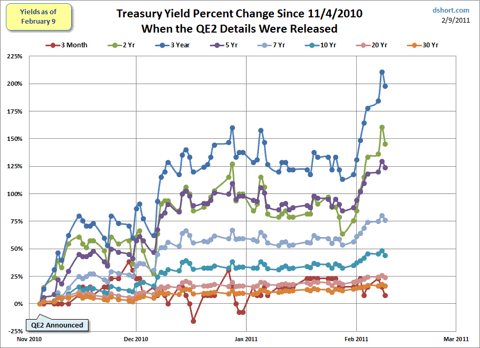 The yield spread had been widening in November and much of December, then contracted, and now show renewed signs of widening. The next chart shows the 2- and 10-year yields with the 2-10 spread highlighted in the background.
The final chart is an overlay of the CBOE Interest Rate 10-Year Treasury Note and the S&P 500.
For a long-term view of weekly Treasury yields, also focusing on the 10-year, see my Treasury Yields in Perspective.