Today the news is full of uncertainties in the petroleum industry, especially with the political turmoil all across the North African continent. What will all this mean for U.S. energy security in the long term? Using Horace Greeley's now famous quote to make my point, we may have to start thinking about using an American Continental approach to resolve our seemingly never ending oil dependency on overseas crude oil imports.
This may be "the" cathartic moment in which decisions will be made by our leaders which we will have to live with for a long time. The future of the Middle East is hanging in the balance of being controlled by governments unfriendly to the West and oil is the currency that keeps that area important for our energy security.
Wikileaks recently published cables exchanged between Saudi Arabia Consul General John Kincannon and the U.S. State Department and officials at the Department of Energy. It reveals Mr. Kincannon's concerns about the nation's actual crude oil reserves. Click here for the details.
These cables were sent at the end of 2007, indicating the consul's concerns that crude oil reserves in Saudi Arabia may have been overstated by as much as 40%. At that time the Saudi oil minister was throwing water on oil speculator forecasts of higher oil prices by threatening to increase production. In the past most of the spare capacity for the production of crude oil in the world has been attributed to OPEC and Saudi Arabia. This revelation could have loosened the grip OPEC holds on crude oil pricing and the price we eventually paid for fuel at the pump in 2008.
On the other hand Richard H. Jones, deputy director of the International Energy Agency in Paris, recently said that OPEC's share of global supplies will rise to 50% in 2035 from a current 40% as production in most non-OPEC countries has peaked or will soon peak. Following is a chart published by BP early this year showing that crude oil exports from Saudi Arabia actually decreased by 16% in 2009:
Click to enlarge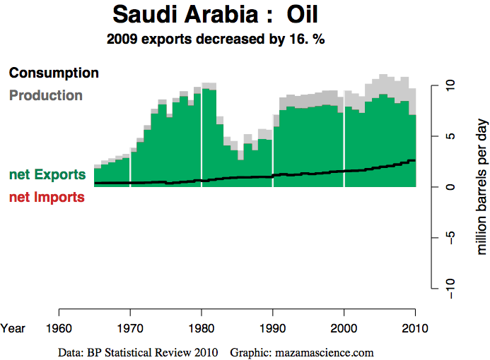 Whom do you trust when we hear and read so many opposing opinions on the production capacity and pricing of crude oil? The world's total endowment of oil is large enough to support the projected growth in output, but it will require substantial levels of investment and development of more technically challenging and unconventional resources.
Horizontal drilling and hydraulic fracturing techniques are significant developments for oil-bearing shale. Oil production will rise significantly in the U.S. and Canada where shale oil is being produced, including production in the Bakken-Three Forks and the Alberta oil shale areas. The Keystone XL pipeline being build by TransCanada will add to the infrastructure to bring that crude oil to Gulf Coast refineries.
Crude oil will need to stay above $60 a barrel for that to be economically feasible and stimulate development of new technologies to recover crude from previously inaccessible sources.
Countries like Canada and the U.S. have successfully stimulated the development of new technology in this way. In the end the answer is right here in our own backyard: Increasing crude oil imports with Canada, a country friendly to the U.S., and cooperating to assure our mutual long term energy security.
We may now have to follow the new mantra "go North, young man, go North" and look for more oil in states like Montana, North Dakota and Canada's Saskatchewan to fulfill our immediate thirst for oil.
Disclosure: I have no positions in any stocks mentioned, and no plans to initiate any positions within the next 72 hours.