The United States Commodity Index Fund (NYSEARCA:USCI) has now been trading for half a year, and I thought I would take a look at how it's been doing.
The United States Commodity Index Fund tracks the SummerHaven Dynamic Commodity Index (SDCI). This index attempts to manage both spot returns and roll returns by selecting which commodities it has exposure to and also the tenor of the futures.
The fact that USCI's underlying index manages roll return, has helped to give it the name of a contango-killer ETF as well as a sizable $200 million in assets. Contango, where futures contracts with a longer tenor have higher prices than those close to expiration, has been a serious problem for several commodity products including the $1.75 billion United States Oil Fund (NYSEARCA:USO) and the $2.37 billion United States Natural Gas Fund (NYSEARCA:UNG).
While USCI is not unique in respect to managing roll return (DBC does that also), it is in the selection of commodities. Instead of having fairly static allocations to individual commodities like most other exchange traded commodity products, USCI takes a more active approach, selecting commodities monthly based on roll yield and momentum.
So far, the methodology of USCI's underlying index has performed spectacularly. Since inception, USCI has outperformed the iPath Dow Jones-UBS Commodity ETN (NYSEARCA:DJP) by 17%. While it would be foolish to expect outperformance of this magnitude all the time, the unique methodology among commodity ETFs means USCI will likely outperform over time.
(Click to enlarge)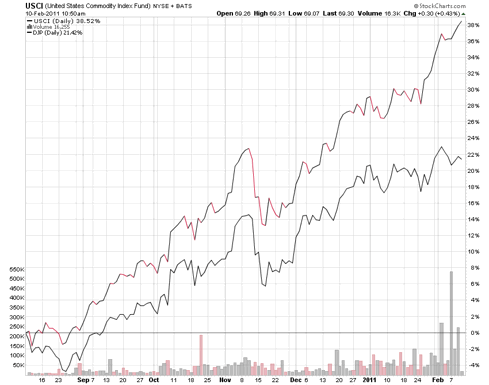 Disclosure: I am long USCI.