In the bigger picture we expect gold make new highs this year mainly due to the devaluation of currencies but in the near term, in our opinion, the current correction could take the metal much further down. Shares of big miners like Goldcorp and Agnico Eagle are technically facing strong resistance.
Based on this prediction, this is the trading strategy that we are taking. If in the mean time fundamentals change, we will revise our plan.
1. Hold on to the core positions and sell the underperformers and stocks in other industries that are over bought to secure cash [seen Lululemon (NASDAQ:LULU) lately?].
2. Buy 1/3 at $1,260 to $1,290 area. This is the old resistance level to 200 day moving average (that is rising).
3. Buy 1/3 at $1,200 the psychological support.
4. Buy 1/3 at $1,150. This is the Fibonacci retracement level that also corresponds to the support for the July 2010 rally.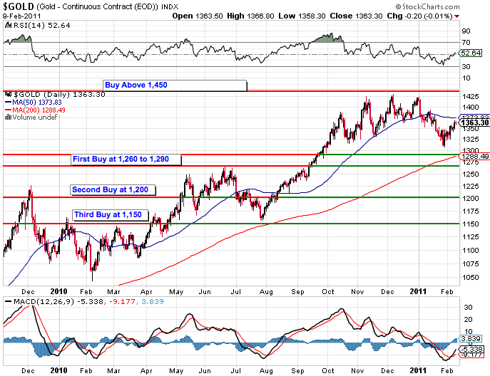 (Click to enlarge)
If prices go below $1,150 we will look at Options.
The metal may not hit our buying targets and keep climbing up to make a new high, we get in once it crosses $1,450 to ride with the trend.
Therefore, the $1,300 to $1,450 is a no trading zone.
What to buy?
Fundamentally sound stocks that have high momentums and historically outperform GLD. As discussed in our previous analysis the momentum players were the most promising. GDXJ is also a good option but we like to hand pick stocks. For those criteria, NovaGold (NYSEMKT:NG) and U.S. Gold (NYSE:UXG) are at top of the list. But at the time we'll have a closer look at both the fundamentals and technicals of those stocks.
Physical buyers have an easier job to do!
What is on YOUR buy list?
Disclosure: I am long LULU.

Additional disclosure: No position in GLD, GDXJ, NG, UXG