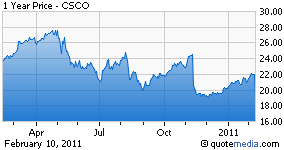 Last night Cisco announced earnings of 27 cents per share for the second quarter of fiscal year 2011 and projected full year guidance of sales growth of 4-6% for the third quarter and 8-11% in the fourth quarter. The company's gross profit margins, however, slipped below 63%, which apparently concerned the market enough to drive the price down more than 13% based on intraday prices.

However, Benjamin Graham, the father of value investing and perhaps of security analysis as a whole, reminds us that a single quarter, or even a single year of results, tell us little about a company's ultimate earnings power (unless the company declares bankruptcy in that quarter, of course). Although a single quarter of results are useful, as they are the most up-to-date figures, a real assessment of a company's ability to generate earnings for its shareholders should be considered with reference to historical data going back for some time.
It would therefore be fruitful to look at the longer-term historical data alongside the view of the near future, as it gives us better perspective on Cisco's earnings power than a single quarter would.
Most notable about Cisco is that according to its latest earnings announcement it has $4.9 billion in cash and $35.3 billion in investments sitting on its balance sheet. Cisco has habitually kept a large amount of cash on its books in recent history, and most companies do find keeping money on hand to be more convenient than borrowing it for short-term needs. So a conservative assumption would be that Cisco does not view its cash holdings as superfluous to its operations, despite talk of instituting a small dividend in the near future.

The short-term investments, however, have definitely increased by billions of dollars a year over the past few years, and I believe that Cisco does not require any of these short term investments to fuel its operations. As a result, their investments, or some combination of investments and cash, can be considered available for distribution to shareholders (although owing to tax issues relating to the repatriation of overseas profits, perhaps up to 35% of that money will go to the Treasury if it is repatriated. Cisco has vowed not to actually repatriate it unless Congress changes the repatriation rules.) At any rate, Cisco's portfolio is not part of its core operations and does not indicate its earnings power from actually doing business. Cisco's market cap of roughly $105 billion based on Thursday's intraday prices, then, can be reduced by the excess financial assets to $70 billion. This figure represents the equity value of the operating assets as such, and may be considered the current baseline value in assessing Cisco's earnings yield and return on investment.

Of course, if the financial assets of Cisco are taken out of the picture, the income thrown off by those assets should also be removed in order to get to the value of the company's operations. Between 2006 and now, the company's interest and capital gains have ranged between $800 million and $1.3 billion per year. It would also be appropriate to strip out non-cash expenses such as excess depreciation and amortization and certain merger-induced write-offs, in order to arrive at the firm's true power to generate cash for its shareholders.

Cisco's earnings from operations:

| | | | | | |
| --- | --- | --- | --- | --- | --- |
| | 2010 | 2009 | 2008 | 2007 | 2006 |
| Sales | 32420 | 29131 | 33099 | 29462 | 28484 |
| Pretax earnings | 9415 | 7693 | 10255 | 9461 | 7633 |
| Interest income | 635 | 845 | 1143 | 1092 | 755 |
| Portfolio profits | 223 | -80 | 103 | 210 | 124 |
| Excess depreciation | 1022 | 763 | 476 | 162 | 521 |
| Other noncash expenses | 0 | 63 | 3 | 81 | 91 |
| Tax rate | 17.5% | 20.3% | 21.5% | 22.5% | 26.9% |
| Free cash flow from operations | 8086 | 6180 | 7448 | 6512 | 5384 |
These figures indicate that Cisco has shown fairly strong growth over the last few years, and did not, like so many other market participants, show a loss as a result of the recession that began 2008 (the company's fiscal year ends in July). One would not expect such a juggernaut of a company to trade at a multiple of roughly 8.75x based on the last full year of earnings, particularly when management is still forecasting sales growth. For a company this size, with so many diversified product lines that comprise the backbone of all networking, such a multiple would normally be unheard of.
Last quarter's figures, as well as the 2011 year-to-date figures, are not inconsistent with these historical results. Sales are actually up from 2010 figures, but margins have indeed slipped, as operating expenses, particularly research and development and sales and marketing, have increased. Management explained this in the conference call as due to "planned increased investments in product innovation, strategic growth opportunities and our plan to increase investments in sales coverage," and did acknowledge the need to bring operating expenses growth more in line with sales growth.

Cisco's earnings from operations, 2011 year-to-date:

| | | |
| --- | --- | --- |
| | First quarter 2011 | Second quarter 2011 |
| Sales | 10750 | 10407 |
| Pretax earnings | 2425 | 1730 |
| Interest income | 160 | 156 |
| Portfolio profits | 108 | 154 |
| Excess depreciation | 227 | 361 |
| Tax rate | 20.4% | 17.5%* |
| Free cash flow from operations; | 1898 | 1459 |
* As adjusted for retroactive tax changes

Based on the current market value of Cisco's operations, and assuming the second half of the year looks like the first, this is a multiple of 10.4x, which is still almost unheard of given Cisco's commanding market position. Multiples of that level are typically reserved for companies that are stagnating or even in decline. Although I am normally skeptical about growth projections, if Cisco's growth only tracks the rate of inflation, which should be a trivial task for a market-leading company, Cisco's earnings power as indicated by its historical results should produce an attractive return for investors. If management's investments in research and development and marketing bear fruit, we may expect these figures to improve still further.

I cannot explain why the market so regularly punishes a company with a strong competitive position, products integral to network infrastructure on all scales, and strong cash flow generation abilities. However, based on the strong record and bright outlook, Cisco's operations are set to produce at least comparable returns in future. As such, I am confident that Cisco is attractively priced at this time, and the post-earnings selloff is a gift to purchasers.
Disclosure: I have no positions in any stocks mentioned, and no plans to initiate any positions within the next 72 hours.