All we need for the introduction is this ...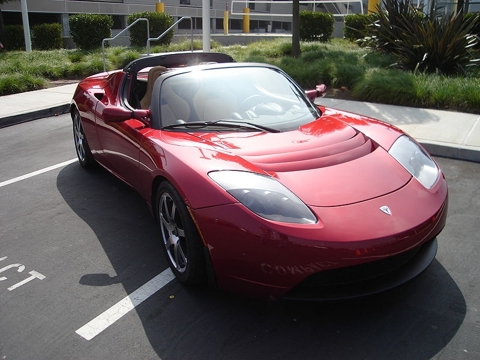 Click to enlargeMidterm Trade of the Day: Tesla Motors (NASDAQ:TSLA)

Analysis: Tesla Motors is reporting earnings next Tuesday evening, and we are looking for the stock to make a move into the earnings report. Tesla, which is an electric car company, is a company full of speculation, and future growth appears to have some value at current levels and could make a nice move into earnings. In the last quarter, the company reported EPS that beat expectations by 14% for their first public reporting, and the stock rocketed up 40% post-earnings. Since then, the stock has been beaten down and has fallen back below where it was before the last quarter.

Now, the stock has significant undervaluation and looks poised to pop moving into earnings. If investors remember what happened after last earnings, this stock is going to make a nice move before earnings. The company is looking to report an EPS of -0.50. This will be the company's second reporting, and the expectations are lower than estimates. The company, though, has a lot going for it moving forward. The company have its S vehicle due out in 2012. Further, it is slated to be the prime deliverer of batteries to Mercedes A-Class and Freightliner trucks. They will be the prime supplier to Toyota's Rav-4 EV and other companies as they move into the electric market.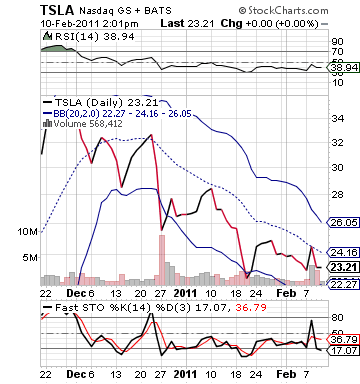 Right now, though, this means the stock is in a waiting game. EPS and current revenue is not as important as what the stock can do in the future. Fundamentals are scrapped. As we see what the last report did to the stock in bringing attention to it, and how they've given up all those gains, it looks like a great time to enter is now.
Further, the stock on Tuesday rallied significantly on news that the electric vehicle industry could be helped by an Obama tax incentive for electric vehicles. That news was quickly squashed out of the stock, and it seems to have found a solid support line at 23.10. If we can get a green day, this thing will fly back up for sure, and its post-earnings movement should be eerily good.
Technically, the downside risk on TSLA is limited. The stock seems to have hit a nice support level, the bands are starting to narrow, and the stochastics look like they are ready to bounce off the 20 line. We should be excited to get in at this level as this looks like a natural bottom.

Get electric today!
Entry: We are looking to get involved at 23.10 - 23.30.


Exit: We are looking to exit for a 3-5% gain (23.89).

Stop Loss: 3% on bottom (22.50).

Timeline: Midterm Trade.


Oxen Entry: 23.19.




Disclosure: I have no positions in any stocks mentioned.